My biggest curiosity was whether the 2022 Grand Wagoneer could live up, not only to its name, but to the established competition. After all, Cadillac's Escalade and Lincoln's Navigator have solid reputations, while three-row SUVs from Mercedes, BMW, and others are plush and rewarding ways to transport a sizable family.
The reality is that yes, Jeep's entrant does more than enough to compete in such company, albeit with a price tag to match. The party kicks off at $88,640 (plus $2,000 destination) for the Series I, but if you want the nicer leather and potent 1,375 watt McIntosh audio system with 23 speakers you're looking at the Obsidian spec, and that starts at $103,490. Active Driving Assist isn't standard until the flagship Series III, and that's a whopping $107,995.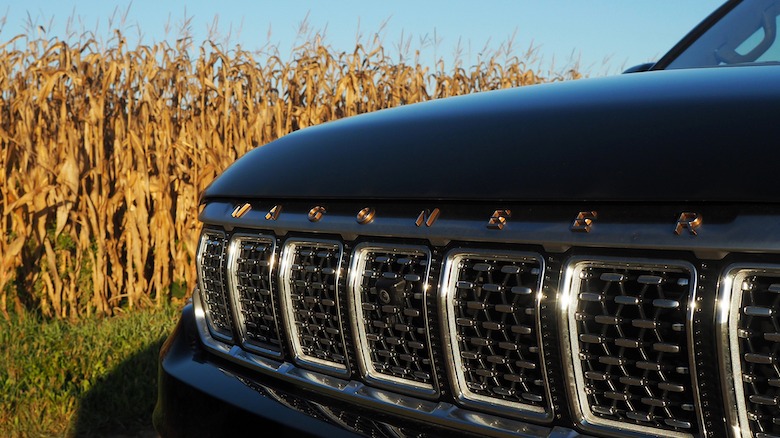 Chris Davies/SlashGear
Not cheap, then, but neither is the competition. Six figures is par for the game when you want a sizable family hauler that can double as an impromptu limo (and if you just want the space not so much the prestige, Jeep's regular Wagoneer adjusts the balance accordingly).
Style-wise, an Escalade or Navigator dress up their bulk with greater elegance. Despite Cadillac and Lincoln's recent efforts, though, I think the Jeep's heaping of tech leaves its cabin the fanciest, assuming you're willing to cough up the cash. Its biggest shortcomings are thirst, and that gadgetry like hands-free driving assistance and a PHEV powertrain just aren't ready yet. Beyond that, though, Jeep's strategy to go big as it expands into a high-end segment is brash enough that the 2022 Grand Wagoneer holds its own.