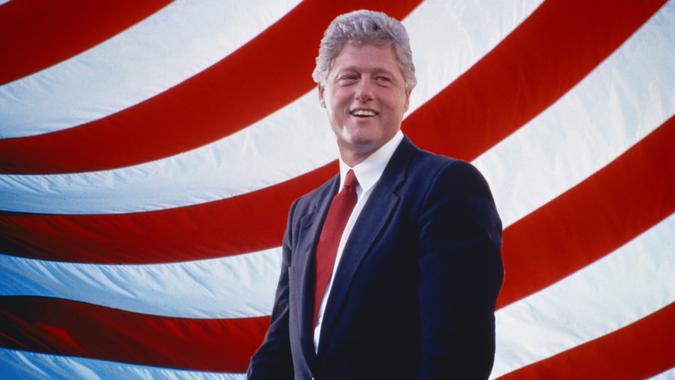 Joseph Sohm / Shutterstock.com
Bill Clinton's net worth is estimated to be at $80 million. Together with his wife, Hillary Clinton, the couple is worth $120 million. Though he's worth a pretty penny today, the former president was actually millions of dollars in debt after he left the White House in 2001. However, lucrative public appearances and book deals were able to bring the Clintons back into the black.
Exclusive: Americans' Savings Drop to Lowest Point in Years
Clinton: The Man From Hope
Clinton was born William Jefferson Blythe III in Hope, Arkansas, on Aug. 19, 1946. His father died in a car accident before he was born, and when his mother married Roger Clinton Sr. when he was 4, he took his stepfather's last name.
Clinton attended Georgetown University in Washington, D.C., and graduated with a degree in foreign service. After graduating, he received a Rhodes Scholarship to University College, Oxford, and eventually attended Yale Law School. At Yale, he met his future wife, Hillary Rodham. They would go on to have one daughter together.
At the beginning of Clinton's career, his earnings never exceed more than $35,000 per year as attorney general and governor of Arkansas. However, that all changed when he ran for and won the presidency in 1992. Clinton was worth $700,000 in 1992 — the lowest net worth ever reported for an incoming president. Though the annual salary went up for the Clinton family, they accrued $16 million in debt by the time they left the White House in 2001. This was due to defense attorneys' fees for scandal investigations surrounding former White House intern Monica Lewinsky, the impeachment proceedings against Bill Clinton and action to suspend his Arkansas law license.
Important: Biden Wants To Shut Down Credit Bureaus — What Would That Mean for You?
How Clinton Paid Off Millions in Debt
In the 10 years after leaving the White House, Clinton made $100 million in speaking engagement fees. He also received the biggest book advance heard of at the time — $15 million — for "My Life," which was released in 2004. Bill and Hillary have earned more than $250 million from speaking engagements, book deals, investment income and consulting fees.
Find Out: How Much Is President Joe Biden Worth?
Typically, the couple earns $10 million to $30 million annually, along with Clinton's $200,000 per year pension as a former president. Bill and Hillary live in Chappaqua, New York, in a home they purchased in 2016 for $1.6 million.
Clinton gives back through the Clinton Global Initiative, which focuses on aid for issues like HIV/Aids and global warming. He was also named the United Nations Special Envoy to Haiti in 2009 and partnered with former President George W. Bush to raise money for Haiti following the 2010 earthquake.
More From GOBankingRates
Net worth information was sourced from Celebrity Net Worth and The Richest and is accurate as of Feb. 12, 2021.
About the Author
Sam DiSalvo is an LA-based comedian, writer and actor who's performed all over the country. Her written work has appeared in numerous digital publications. As a copywriter, she's worked with a variety of major brands including GoldieBlox and Thrive Causemetics. Sam loves dogs and is currently perusing leisure suits to buy for her corgi mix, Barry