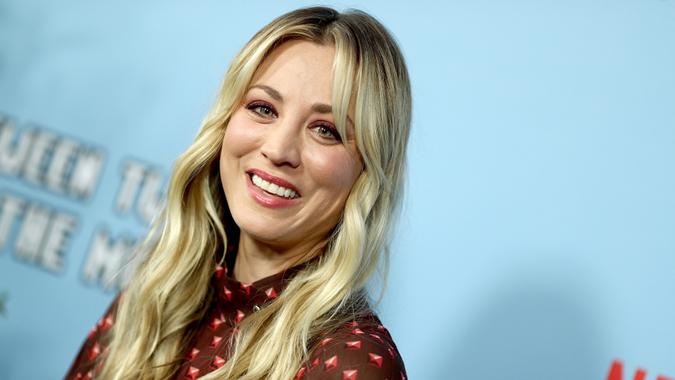 John Salangsang/Shutterstock / Shutterstock.com
Kaley Cuoco is nominated for her first Emmy Award, and she'll find out Sunday night at the 73rd Emmy Awards whether she wins Lead Acress in a Comedy Series for her role as Cassie Bowden in "The Flight Attendant," which airs on HBO Max.
Find Out: Mhe Most Successful Action Movies in the Past 10 Years
Did You Know? 10 Highest-Paid Movie Roles of All Time
Cuoco, 35, has been a core member of television casts for nearly 20 years since she took the role of teenager Bridget Hennessy on "8 Simple Rules" in 2002. Her career has evolved since then, and she now is an executive producer on "The Flight Attendant," which is nominated for Outstanding Comedy Series.
Read on to learn more about Kaley Cuoco, who has earned some of the biggest TV paychecks over the past decade.
Kaley Cuoco's Net Worth
Kaley Cuoco's net worth is $100 million, according to Celebrity Net Worth. Before landing the star-making role of Penny on "The Big Bang Theory," the California-born actress was cast as the oldest daughter of the characters played by John Ritter and Katey Sagal on "8 Simple Rules" from 2002 to 2005, then as Billie Jenkins on "Charmed" from 2005 to 2006. Cuoco first appeared on television in the 1992 TV movie "Quicksand: No Escape," and has been able to maintain a steady acting career since, with dozens of acting credits to her name.
It was her role on "The Big Bang Theory" that made her a household hame, however. Her character, Penny, was a struggling actress working as a waitress who moved into an apartment across the hall from two physicists and became immersed in their world. In the CBS hit, which ran from 2007 to 2019, Penny married one of her neighbors, quit acting and transitioned into a successful businesswoman, and announced her pregnancy in the final episode.
She received a star on the Hollywood Walk of Fame in 2014.
Ouch: Critically Acclaimed Movies That Bombed at the Box Office 
'The Big Bang Theory' Salary
In 2014, Kaley Cuoco reportedly signed a three-year deal with Warner Bros. TV for a salary of $1 million per episode for "The Big Bang Theory" seasons eight through 10. Prior to her change in contract, Cuoco was making $350,000 per episode, Deadline reported.
When the show was renewed for a 12th season, Cuoco took a $100,000-per-episode pay cut in hopes that it would help her co-stars Mayim Bialik and Melissa Rauch — who joined the show in season three — receive pay raises, according to The Hollywood Reporter. Even though Cuoco took a pay cut, she still earned an estimated $900,000 per episode, which tied with her co-stars Johnny Galecki, Simon Helberg, Kunal Nayyar and Jim Parsons for the title of highest-paid TV comedy actor.
Thanks to the success of "The Big Bang Theory," Cuoco became one of the highest-paid actors on television. She earned an estimated $130 million-plus during the course of the show.
Better Together: 25 Celebrity Couples Worth Hundreds of Millions

Relationships
Cuoco and tennis player Ryan Sweeting got engaged in 2013 after three months of dating and married three months after that on Dec. 31, 2013. The couple separated on Sept. 3, 2015, and their divorce was finalized on May 6, 2016.
The former couple had signed a prenuptial agreement, which stated that Sweeting would not receive spousal support from Cuoco, though she would pay him $165,000 in two payments, People reported. The documents also stated that Cuoco would pay for Sweeting's attorney fees, though not in excess of $55,000. Cuoco received the couple's Tarzana, California — a 5,200-square-foot, $5.49 million mansion previously owned by Khloe Kardashian and Lamar Odom. She also retained ownership of their Santa Barbara-area beach house.
On June 18, 2018, Cuoco married professional equestrian Karl Cook, now 30. They became engaged on Cuoco's birthday in November 2017 after dating for nearly two years, People magazine reported.
However, on Sept. 3, 2021, the two announced their divorce in a joint statement to People.
See: 30 of the Most Expensive Celebrity Divorces To Rock Hollywood
"Despite a deep love and respect for one another, we have realized that our current paths have taken us in opposite directions," they said. "We have both shared so much of our journey publicly so while we would prefer to keep this aspect of our personal life private, we wanted to be forthcoming in our truth together. There is no anger or animosity, quite the contrary."
Cuoco filed for divorce the same day, citing irreconcilable differences, according to the divorce filing obtained by People. The documents indicated the couple had a prenuptial agreement, and Cuoco asked the court not to award spousal support to either party. She also said the couple would split their property, while she would keep her jewelry and personal items along with her "earnings and accumulations … before marriage, during marriage and from after the date of Separation."
The separation date was not listed.
Jami Farkas and Laura Woods contributed to the reporting for this article.
Last updated: Sep. 16, 2021
About the Author
Gabrielle joined GOBankingRates in 2017 and brings with her a decade of experience in the journalism industry. Before joining the team, she was a staff writer-reporter for People Magazine and People.com. Her work has also appeared on E! Online, Us Weekly, Patch, Sweety High and Discover Los Angeles, and she has been featured on "Good Morning America" as a celebrity news expert.