As the first LEGO set of its kind, this feels like a set that was tailor-made to be displayed on a shelf. It looks coolest when it's closed and has all the interiors visible through the Bat-shaped window. Otherwise, opening it doesn't make it very display friendly, mostly because the right side has that Bat-shaped space. Keeping it open would just leave a dead space where you'd see whatever is behind the shadow box through the Batman symbol. Though you might be able to use that to your advantage if you were to display other Batman collectibles behind it. But that probably depends on how big and deep your shelf is. 
The platform that holds the Batmobile looks best when it's part of the tableau layout, but then it covers up the wall of tools, which is actually a great space for the minifigures to be displayed. Speaking of which, this is a great assembly of characters for this particular LEGO set.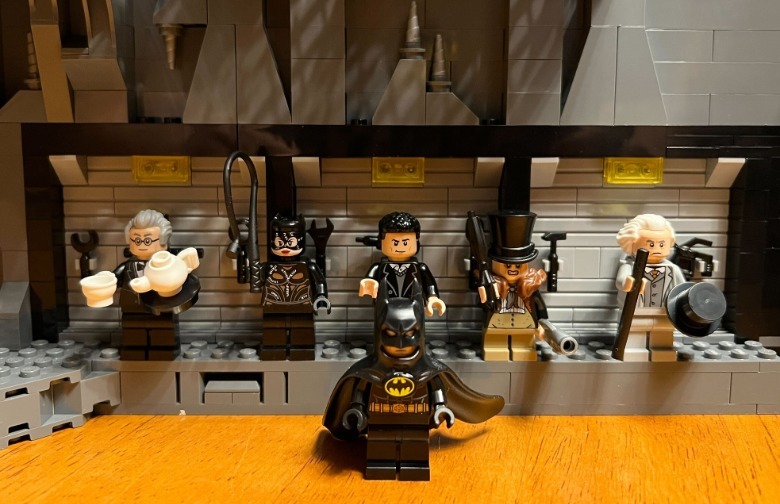 Ethan Anderton
Easily the best figure is the Batman with the molded cape, but since they're all unique to this particular set, you can't help but appreciate the exclusivity of having both Penguin and Catwoman, even if the Batcave set doesn't feature a prime place for recreating a scene from "Batman Returns." However, there is an open cave setting where they could be placed along with Max Shreck. After all, how cool is it to have a LEGO minifigure of Christopher Walken?
When all is said and done, this LEGO Batcave looks amazing. While it might have been cool to have sections recreating Penguin's underground lair or Catwoman's apartment within the shadow box, that admittedly would take away from the Batcave aesthetic of the entire set. For the Batman fans out there, the arduous process of building this one ultimately has a pleasing result. 
You can order the LEGO Batcave right now for $399.99.