The Bachelorette star Gabby Windey has revealed where she and her ex-fiance Erich Schwer currently stand in their relationship following their split announcement.
Bachelor in Paradise alum Joe Amabile asked Gabby how her single life has been going and if she's currently cool with Erich during the December 15 episode of the "Click Bait with Bachelor Nation podcast," which was also co-hosted by The Bachelor alum Natasha Parker.
RELATED LINK: 'THE BACHELOR' FRANCHISE COUPLES NOW: WHO IS STILL TOGETHER?? (PHOTOS)
"Straight to the point! I think naturally — I think we ended pretty amicably," Gabby explained before suggesting the former The Bachelorette couple haven't been staying in touch following their split.
"There's always time when you don't speak to your ex after [a breakup], but I don't wish him ill will at all. I genuinely think it unfortunately just wasn't the right time for us."
Gabby shared how she and the New Jersey native are in "two different places" of their lives right now, which was "hard" for them to figure out while dating on The Bachelorette's nineteenth season given the process is so rushed.
"I think you don't realize the bubble you're in until you try to make the relationship work outside of the show… There's so much more learning after you leave the bubble, and I think we are just in two very different places in our life."
But Gabby concluded that she's doing well now and there seems to be no hard feelings between them.
Erich proposed marriage to Gabby on The Bachelorette's Season 19 finale, which aired on ABC in late September.
But reports swirled about the couple's breakup in early November, less than two months after Gabby and Erich's engagement was made public.
Gabby broke her silence on the split and stated on Dancing with the Stars' Season 31 semifinals episode on November 14 that she and Erich "weren't each other's best match," nor were they "in step" or "in sync" in terms of their goals and approaches to life.
RELATED LINK: 'THE BACHELORETTE' COUPLES NOW: WHOM DID 'THE BACHELORETTE' STARS AND THEIR BACHELOR PICKS ULTIMATELY END UP WITH?! (PHOTOS)  
Erich explained on Instagram Stories the very next day how he couldn't put his finger on one thing that went wrong with his relationship. He said that he and the ICU nurse simply aren't each other's person.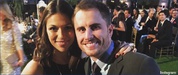 RELATED LINK: 'THE BACHELORETTE' COUPLES NOW
Erich teased late last month a new career project he's been working on, and based on his Instagram account, he is still single and just having fun with his boys.
Around that same time, Gabby opened up to Us Weekly about how her split from Erich "was hard."
"Ultimately, I'm just grateful that I was able to do it on my own terms and when I was ready. It was just a new experience overall — being so public and being thrown into this. I think now it's just kind of trying to move forward," Gabby explained.
And Gabby ultimately moved on by focusing her time, attention and energy on Dancing with the Stars, which has called "therapeutic" for her.
Gabby and her Dancing with the Stars professional partner Val Chmerkovskiy finished the season as the runner-up couple behind winners TikTok star Charli D'Amelio and her pro partner Mark Ballas.
Around the time Dancing with the Stars was coming to a close, Gabby started flirting with former Jersey Shore star Vinny Guadagnino on social media.
Beginning with a comment from Vinny on November 15 in which he called Gabby his "Baby Mamma," the pair sparked rumors they're romantically interested in each other, and fans have since been shipping them as a potential reality TV couple.
RELATED LINK: 'THE BACHELOR' COUPLES NOW: WHO DID 'THE BACHELOR' STARS AND THEIR BACHELORETTE PICKS ACTUALLY END UP MARRYING? (PHOTOS)
Gabby recently said she'd "of course" go on a date with Vinny if he asked her out, and she even called Vinny her "celebrity crush."
But Gabby keeps hinting the ball is in Vinny's court and he needs to be the one to ask her out.
Gabby revealed how her flirty relationship with Vinny got started during her December 15 "Click Bait" podcast appearance.
Gabby, who also briefly dated The Bachelorettes alums Dean Unglert and Blake Horstmann before her stint on The Bachelor's 26th season starring Clayton Echard, has been wanting a commitment from a man who will love her unconditionally.
As for Vinny, Jersey Shore fans probably remember that he hooked up with Nicole "Snooki" Polizzi and Angelina Pivarnick. He also dated Instagram model Elicea Shyann from 2017-2018.
In 2019, Vinny and his Jersey Shore co-star Paul "Pauly D" DelVecchio looked for love on Double Shot at Love, but a lasting relationship didn't come from the show.
Vinny also dated Too Hot to Handle star Francesca Farago in 2020, according to Life & Style.
RELATED LINK: 'THE BACHELOR' FRANCHISE COUPLES NOW: WHO IS STILL TOGETHER?? (PHOTOS)
Interested in more The Bachelor news? Join our The Bachelor Facebook Group!
About The Author:
Elizabeth Kwiatkowski
Elizabeth Kwiatkowski is Associate Editor of Reality TV World and has been covering the reality TV genre for more than a decade.