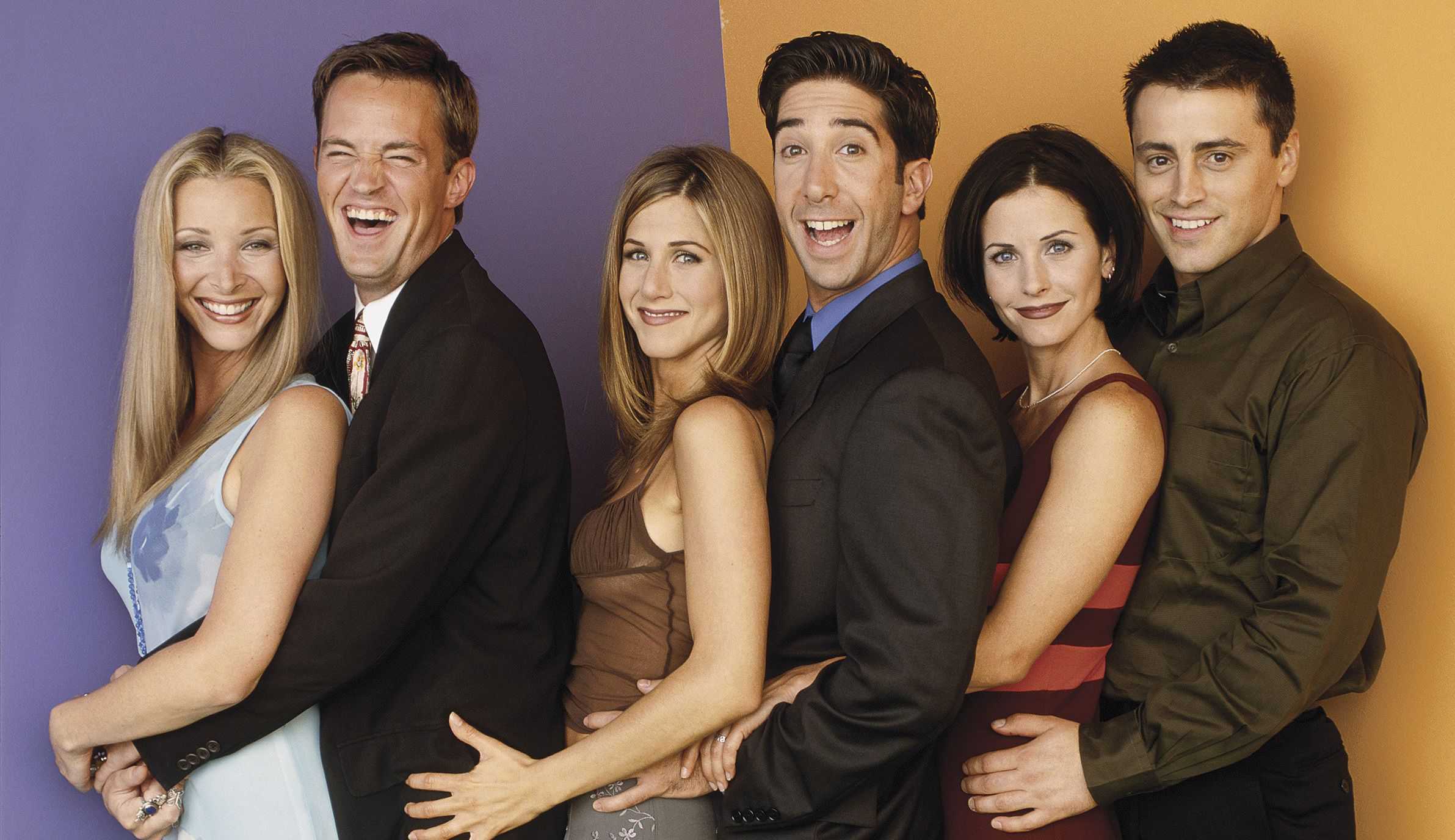 We met Chandler Bing (Matthew Perry) on Friends as the commitment-phobic financially responsible guy with a complicated job in tech and a love for sarcasm. When it came to the ladies, Chandler was the complete opposite of his roommate, Joey. Shy would be an understatement, and as Joey would put it, Chandler 'repelled girls all the time.' Despite his shortcomings in the flirting department, Chandler had his fair share of love interests, some a little extreme than the rest. Here's his love life in a nutshell:
1. Chandler Broke Up With Julie Because Of Her Weight
It's only when Chandler was about to be married to Monica that we got to learn of his college girlfriend, Julie (Stacy Galina). Julie overheard that Monica was going to be married to Chandler Bing, and 'wished her goodluck'. Asked whether he knew the girl, Chandler told Monica that he only dated two girls in college, both blonde and both not attractive. Julie Graff was Chandler's camp girlfriend, with whom he had dated for two summers. " She came back the third summer and she'd gotten really fa…" Chandler could not finish his sentence because his wife-to-be had the same issues growing up. Monica made Chandler apologize to Julie, but it turned out that she had no idea why Chandler had broken up with her in the first place.
2. He And Janice Were On And Off Through The Seasons
Janice ( Maggie Wheeler) was Chandlers' love who we met when he was trying to initiate a breakup. Chandler was so bad at breaking up, and he had Phoebe (Lisa Kudrow) do it instead. Janice would show up next when Chandler, not wanting to be alone during New Year's eve, invited her to Monica's party and broke up with her again. Annoyed that Chandler had broken up with her twice, both Chandler and Janice would be in shock when they found themselves on a blind date thanks to Joey. The next time Chandler contacted Janice, his now-obvious backup, he discovered that she was married and pregnant. While dating online, in pure coincidence, Chandler discovered that he'd been chatting with Janice, whose husband had been cheating on her. The pair decide to date officially, much to the disgust of Joey. As was the norm, he found a way to break up with Janice. In between building a life with his other love, Monica, Janice would show up, sometimes wanting to date Chandler, going out with Ross (David Schwimmer), wanting to attend Chandler's wedding, sharing a labor room with Rachel, and even as a potential neighbor when the Bings decided to move houses.
3. His  Love Interest, Aurora, Had One Too Many Partners
When Chandler met Aurora (Sofia Milos), a former Israeli soldier, he was lost for words. It took him a while to find the right words to woo Aurora, who was way above his league. "Chandler…Chandler is my name, and…um…um…hi," he said. Aurora helped him out since he was being no good. Away from Joey's ( Matt LeBlanc) play that wasn't so good, Chandler went on a date with Aurora. When he came back, he was eager to spill the beans. She was the most fascinating woman with an unbelievable story about her time in the army. On the date, Aurora revealed that she had a husband named Rick, who was okay with her having a boyfriend named Ethan. She wanted a sexual relationship with Chandler. Chandler's friends thought he'd ended the relationship, but he was keen on seeing her again. He'd have all the fun with none of the responsibility. To his ultimate shock, there was an Andrew in the picture as well, and the best he could do for himself was break up with Aurora.
4. Chandler Had Feelings For Joey's Girlfriend, Kathy
Chandler first caught sight of Kathy (Paget Brewster) when she was seated at the coffee shop. Only after he and Kathy 'with a K' introduced themselves did he learn that she was in fact waiting for a date. Kathy's date turned out to be Joey. With Joey and Chandler being roommates, he learned that he and Kathy had a lot in common. They both loved the same show that aired late at night and found a wonder broom amazing. On Kathy's birthday, Chandler got Kathy a perfect gift, unlike Joey, who'd settled on a clock pen. The pair would have a couple of more moments, with Kathy cutting Chandler's hair and the two of them eventually sharing a kiss. Try as he could, Chandler could not shake off everything he felt about Kathy, neither could she. The chemistry was intense, undeniable, and so strong, that it took a while before Joey saw what everyone was seeing. He and Chandler almost fell out, and he had Chandler sit in a wooden box to prove his loyalty. Finally, Kathy decided she was not going to come between two friends. Chandler was ready to let go, so was she, but Joey gave them a nod.
5. In The End, He Married Monica Geller
While he'd been looking for love in the wrong places, sometimes falling in love with the same girl as his roommate, the love of his life was in the apartment opposite his all along. Chandler and Monica (Courtney Cox) first got together during Ross and Emily's (Helen Baxendale) wedding. The pair agreed that the sex was only a one-time affair that wouldn't go past London, but London time proved to be a myth. Chandler and Monica's escapades went on and on, until one by one, each of the friends uncovered the relationship. Joey was first in line, and he had to keep it a secret for a long time until Rachel made the discovery through the phone. Phoebe saw Monica and Chandler from Ugly Naked Guy's apartment, and Ross was the last one to discover his brother and his best friend had been at it for a while. Chandler and Monica eventually became Mr. and Mrs. Bing and adopted two beautiful babies.
6. Before Monica, There Were A Couple Of Short-Lived Relationships
Although Chandler finally ended up with the love of his life, there were a couple of situations that do not necessarily qualify as relationships. First, Chandler fooled around with one of Joey's sisters named Mary Angela( Holly Gagnier). Except he did not know who Mary Angela was because they all looked alike. Susie ( Julia Roberts) was Chandler's childhood crush who he'd embarrassed in public. When the pair reconnected, she only wanted to prank Chandler back. Chandler briefly got together with Ginger ( Sherilyn Fenn), who ironically broke up with him because he had a third nipple. He found himself cozying up with Rachel's boss, and Rachel did not obviously approve of the relationship. Marjorie (Christina Moore) and Chandler would have ended up together, had it not been for the fact that she screamed in her sleep. Overall, Monica, the one who was there all along, was the last woman standing.