A team of archaeologists has unearthed the tomb of a priest who lived about 3,000 years ago in what is now Peru. The discovery represents the first priestly figure of its type in the region.
According to a release According to the Peruvian Ministry of Culture, the tomb was discovered in the Pacopampa archaeological complex, a site excavated by a joint team of Peruvian and Japanese archaeologists since 2005.
The priest's final resting place
The ancient priest's tomb comprised a large circular pit three meters wide and about one meter deep and was built during the Pacopampa I phase (around 1000 BC). The body, which belonged to an adult, was placed with its arms and legs crossed and buried face down.
Three ceramic seals with engraved images were also found at the site, one of which depicts a jaguar. It is believed that these stamps were used for body painting.
Similarly, archaeologists discovered decorated pottery inside the tomb.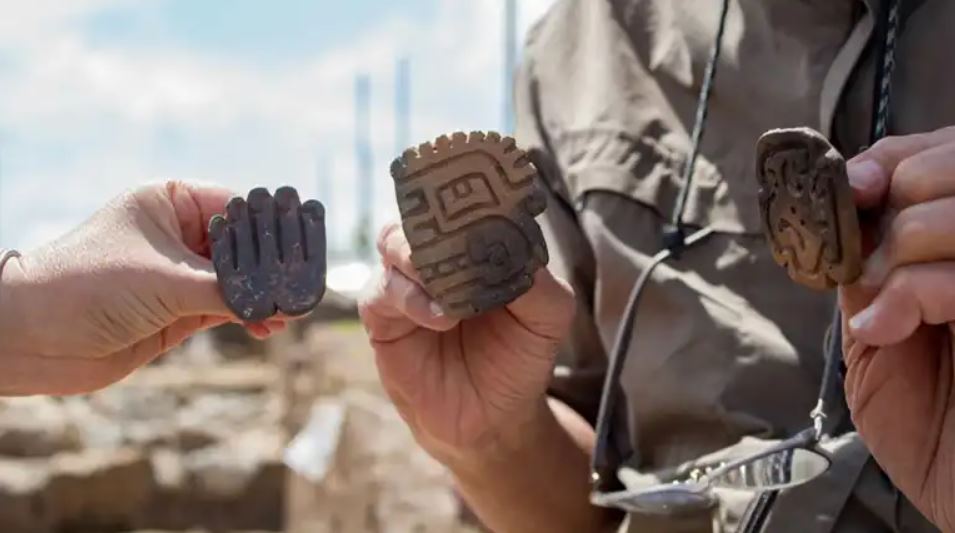 Some ceramic objects found in the tomb. Credit: Ministry of Culture of Peru.
The face of the priest was covered in red cinnabar, a natural substance that would have been difficult to obtain. The highlands of the central Andes region are thought to be the origin of cinnabar, and its presence in burials suggests that only the elite had access to it through long-distance trade, he explains. Yuji Seki, archaeologist at the National Museum of Japan and co-director of the archaeological team.
You might also be interested in: The woman with the long skull who led a civilization 3,000 years ago.
Connection with the supernatural world
For the team of archaeologists, this person may have been "more of a shamanic type figure who 'manipulated' the powers of jaguars, snakes and birds of prey like a shaman."
It is possible that people came to him for answers or help in healing, and that the shaman used his supposed connection with the spirit world to help them. "In other words, He must have the ability to act as a mediator between the spiritual world and the earthly world.. "The seals found in his tomb could be symbols of authority."
According to archaeologists, the site was an important pilgrimage center to which ancient Peruvians traveled for sacred purposes.
There are now plans to open a formal research center, the Pacopampa Interpretation Center, at the site, which will allow researchers to deepen their analysis, but also, in the future, offer tourists something to visit.
References: Live Science.
A publication of mysterious science. All rights reserved. – Redistribution and redistribution of this content without prior consent is expressly prohibited. Website protected by Safe Creative.
Thanks for reading. We invite you to follow us on our Facebook, to be up to date with all the news we publish daily. You can also join our community on Telegram. We are waiting for you!