An archaeological team has discovered two lead sarcophagi in a 2,000-year-old Roman necropolis in Gaza, Palestine.
The sarcophagi would have been made for personalities, according to Indian Jamal Abduraida, Director General of Antiquities of the Ministry of Tourism and Antiquities.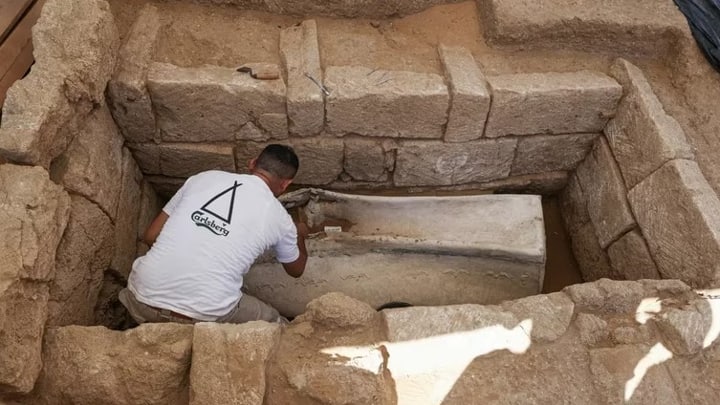 One of the sarcophagi discovered. Credit: AFP.
one of the sarcophagi it is decorated with an ornament in the shape of bunches of grapes and the other with images of dolphinsthe necropolis is therefore believed to include the remains of high Roman officials.
"It's unprecedented," Abu Reida said.
Old major trade route
At the 4,000 square meter site, located on Gaza's northern coast and 500 meters (0.3 miles) from the sea, archaeologists have unearthed at least 125 graves as well as various antiquities including ceramic pots and glass containers, from the Roman, Byzantine and Canaanite periods.
The area is rich in antiquities as it was part of an important place of trade for many civilizations, ancient Egyptians and Philistines described in the BibleUntil the Roman Empire and the Crusades. This makes these finds of great importance to archaeologists and historians, who will continue to work in Gaza in the months to come.
Excavations at the site are being carried out in cooperation with the French humanitarian organization Première Urgence Internationale and funded by the British Council.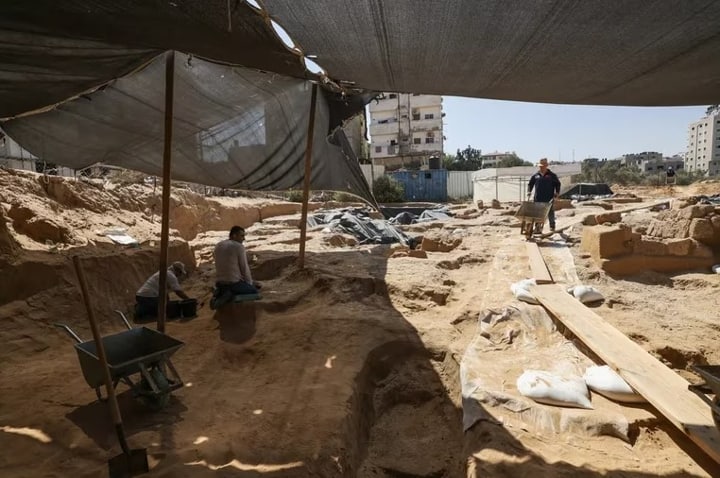 Excavation site where the sarcophagi were found. Credit: AFP
Although Gaza is a site of frequent aerial bombardment and land, air and sea blockade; the sarcophagus was found intact and was transported to the Pasha Palace Museum in Gaza for further examination, the results of which will be released in the coming weeks.
References: CNN / History / Infobae.
A publication of Science of mystery. All rights reserved. – Redistribution and redistribution of this content without prior permission is expressly prohibited. Site protected by Safe Creative.
Thanks for reading us. We invite you to follow us on our Facebook, to be aware of all the news that we publish daily. You can also join our community at Telegram. We are waiting for you!