A planet similar to Jupiter, located 520 light years from Earth has baffled scientists, as its survival defies various theories.
Recently, an international team of astronomers revealed that a gas giant exoplanet managed to survive the violent explosion of its host star as it began its dangerous journey. transformation into a red giant.
The lucky planet has been called a "death-defying planet" and even a "zombie planet", but it has been officially dubbed Find (8 UMi b)and orbit around a massive star named Baekdulocated in the constellation of Little Bear.
The two celestial bodies are separated by a distance of 0.46 astronomical units (AU)about half the distance between the Earth and the Sun.
Remarkably, Halla managed to survive despite her star undergoing a cataclysmic transition that, in theory, should have engulfed her.
How This "Planet That Shouldn't Exist" Was Detected
Halla was first discovered by a team of Korean astronomers in 2015. Researchers studied Baekdu using data from NASA's Transiting Exoplanet Survey Satellite (TESS).
The study revealed that the star is currently feeding on helium, indicating that it has already entered the red giant phase and has exhausted its reserves of hydrogen for nuclear fusion. Technically, the star should have engulfed the exoplanet during this expansion phase.
How did Halla survive?
Astronomers have put forward various theories in an attempt to explain the event, one of which proposes that Baekdu was the product of two stars that previously mergedin a process that prevented one of them from growing enough to destroy the exoplanet.
And a second possibility suggests that Halla is a young planet that orbited two stars and that a cloud of gas created by the violent collision between them gave rise to its origin.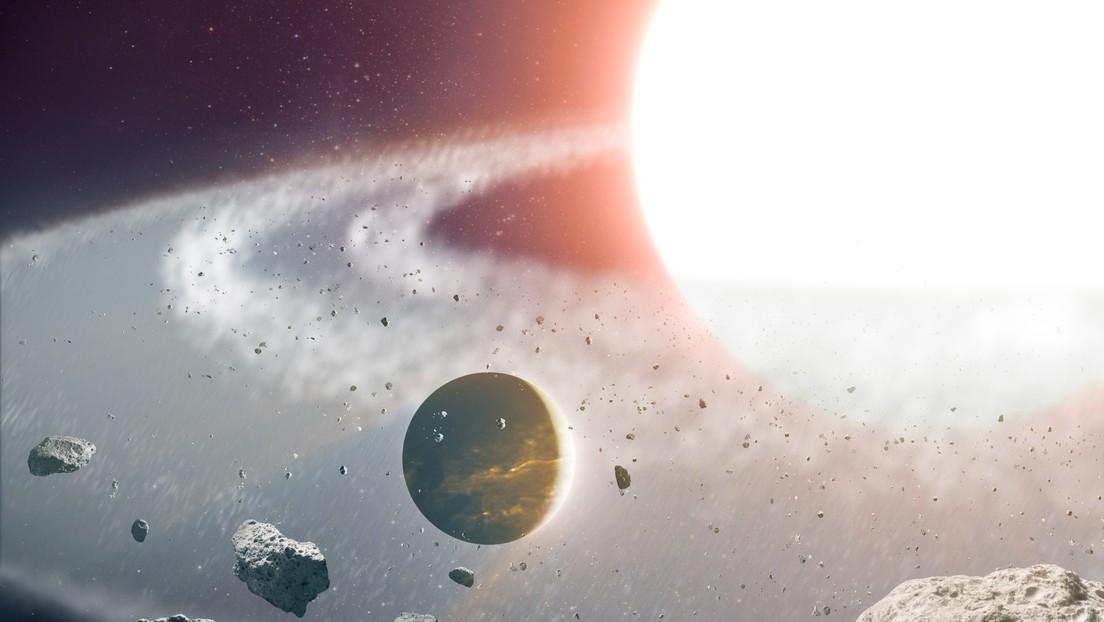 The illustration shows a planet resisting the transformation of its parent star into a red giant. Credit: WM Keck Observatory / Adam Makarenko.
This would make Halla a "second generation" planet created by material from a stellar fusion.
"It is more likely that the system was similar to the famous fictional planet Tatooine from 'Star Wars'', which orbits two suns," says Professor Tim Bedding, astronomer and professor at the University of Sydney.
"If he baekdu system was originally made up of two stars, their merger could have prevented either of them from expanding enough to engulf the planet."
You might also be interested in: They pick up a signal from an exoplanet while searching for potentially habitable worlds.
This theory is based on the fact that the twin stars would have sucked stellar matter from each other, preventing expansion and allowing Halla to escape sinking.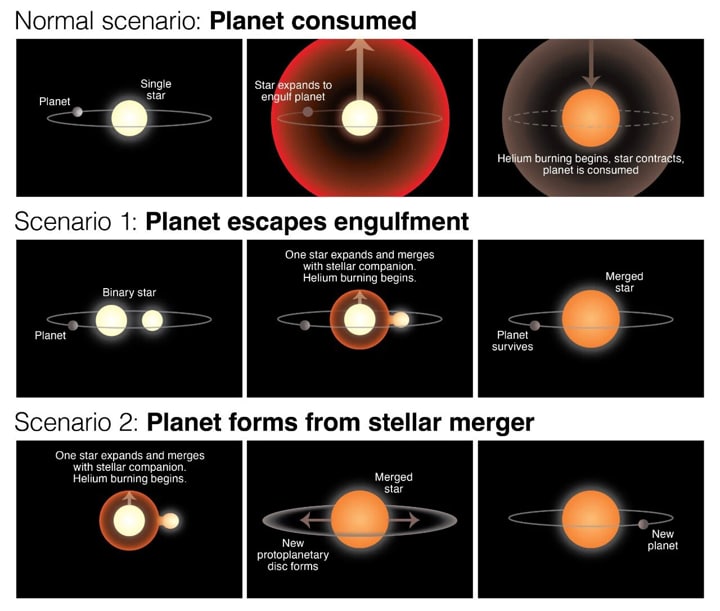 According to astronomers, this discovery demonstrates that many planets can hide in environments that scientists had no idea existed. Open the way to the discovery of more unusual exoplanets. The research was published in the journal Nature.
References: CNN/Space.
A publication of Science of mystery. All rights reserved. – Redistribution and redistribution of this content without prior permission is expressly prohibited. Site protected by Safe Creative.
Thanks for reading us. We invite you to follow us on our Facebook, to be aware of all the news that we publish daily. You can also join our community at Telegram. We are waiting for you!