A team of linguists has deciphered a writing system that hadn't been used for centuries, shedding new light on its history.
Long ago, a mysterious scribbled script in an unknown written language was discovered in Central Asia. Today, thanks to the work of a team of researchers from University of Cologneparts of this ancient script are beginning to be revealed, allowing us to learn a bit more about the ancient culture that used it.
For more than seventy years, the so-called "unknown Kushan script" had baffled scholars. This writing system was used approximately between 200 a. C. and 700 BC by the first nomadic peoples of the Eurasian steppelike the Yuèzhī, and the reigning dynasty of Kushan.
It has been found at many sites, in present-day Tajikistan, Afghanistan and Uzbekistan, but has never been successfully deciphered.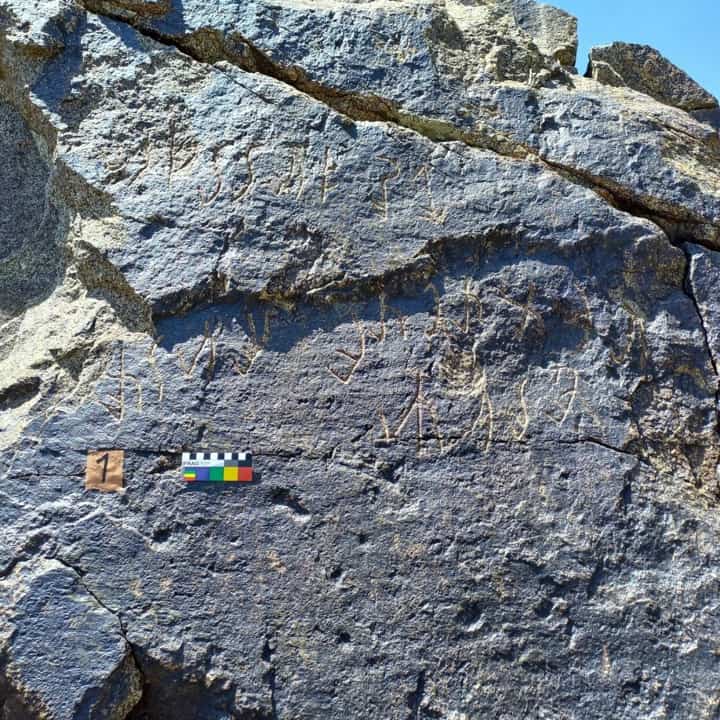 Kushan script characters on a rock in Almosi, Tajikistan. Credit: Bobomullo Bobomulloev.
Deciphering over 2,000 years of unknowns
First, the linguists Svenja Bonmann, Jakob Halfmann and Natalie Korobzow They examined photographs of inscriptions found in caves, as well as figures on clay bowls and pots from various Central Asian countries, to piece together the pieces of the puzzle.
To decode the message, they used a method similar to that used on the Rosetta Stone, written in 196 BC. C., this ancient rock presents a decree written in three languages: ancient Egyptian hieroglyphics, demotic writing and Greek writing. Since scholars could still understand ancient Greek, the Rosetta stone it became a valuable key to deciphering Egyptian hieroglyphs.
Experts have made a breakthrough in understanding the language on the type of script and language, studying a bilingual inscription found in Tajikistan, Bactrian and Kushan, and a trilingual inscription from Afghanistan, written in Gandhari or Middle Indo- Aryan, Bactrian, and unknown Kushan script.
This is where scholars noticed the real name Vema Takhtu, which appeared in the two parallel Bactrian texts, and the title "King of Kings", which could be identified in the corresponding sections of the Kushan scriptfinally made the breakthrough possible.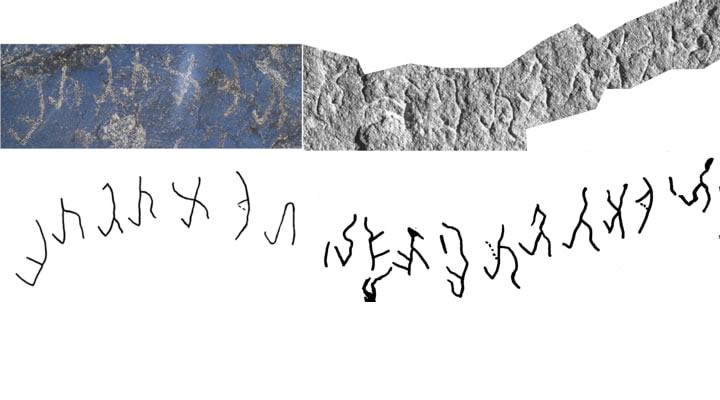 This is one of the segments that allowed more characters to be deciphered. Left: Real name Vema Takhtu on an inscription in Tajikistan. Right: Inscription in Afghanistan. Credits: Bobomullo Bobomulloev, College de France/Natalie Korobzow.
Subsequently, using the Bactrian parallel text, linguists were able to analyze other sequences of individual characters, including 15 different consonant marks and four vowel diacritics, determining the phonetic values ​​of the individual characters.
At some point, experts said, the newly deciphered script became one of the official languages ​​of the Kushan Empire along with Bactrian, Gandhari/Middle Indo-Aryan and Sanskrit. To describe the recent identification, researchers propose the preliminary name 'Eteo-Tocharian'.
You may be interested: They create an artificial intelligence to translate texts from ancient Mesopotamia.
Svenja Bonmann, from the Department of Linguistics at the University of Cologne and head of research, said in a statement: "Our deciphering this script can help improve our understanding of the language and the cultural history of Central Asia and the Kushan Empire, similar to deciphering Egyptian hieroglyphs or Maya glyphs for our understanding of ancient Egypt or the Maya civilization."
Currently about 60% of the characters can be read and the team is working to decipher the rest. A detailed description of the decryption was published in the journal Transactions of the Philological Society.
References: Phys/Smithsonian Magazine.
A publication of Science of mystery. All rights reserved. – Redistribution and redistribution of this content without prior permission is expressly prohibited. Site protected by Safe Creative.
Thanks for reading us. We invite you to follow us on our Facebook, to be aware of all the news that we publish daily. You can also join our community at Telegram. We are waiting for you!