During excavations at an archaeological site from the Ice Age, they discovered giant prehistoric axesin the county of Kent (England).
The discovery was made by researchers from the Institute of Archeology at University College London (UCL). THE 800 prehistoric artifacts They found themselves on a hill above the mediterranean valleyburied in deep Ice Age sediments that filled a sinkhole and an ancient riverbed, archaeologists describe in their study.
Giant hand axes from prehistory
Among the artifacts, which researchers say are over 300,000 years old, were discovered two large flint knives, carved on both sides to produce an asymmetrical shape and described by archaeologists as "giant hand axes".
"We call these tools 'giant' when they are over 22cm long and we have two in that size range. The largest, at a colossal 29.6cm in length, is one of the longest ever found in Britain," said the team's lead archaeologist.
The two hand axes discovered at the site have an unusual design with a long, thin, pointed and nicely worked tip and a thicker base.
One of the stone axes found. Credit: University College London.
Archaeologists mention that It is still unclear what the usefulness of the device could bebut it may be a symbolic use, or have been used to sacrifice animals and cut meat.
"These hand axes are so large that it is difficult to imagine how they could have been easily held and used. Perhaps they served a less practical or more symbolic function than other tools, a clear demonstration of strength and skill." explain Letty Ingreysenior archaeologist at the UCL Institute of Archeology and research director. So far, experts they don't know why such big tools were made, or what species of early humans made them. However, they think the giant axes could help understand why the place was important to ancient people and how it helped them adapt.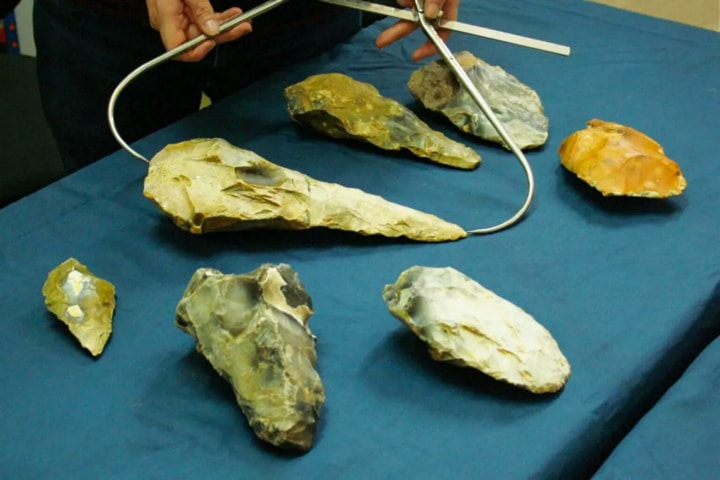 The size of these hand axes has surprised archaeologists, as they are unsure how easily they could have been held and used. Credit: UCL.
According to experts, the site where the utensils were found dates from a period in the ancient prehistory of the British Isles, when Neanderthals and their cultures began to emerge.
You may be interested: They find 2.9 million year old tools made by a species that is not an ancestor of humans.
Dr Matt Pope said the find "has provided us with an incredibly valuable opportunity to study how an entire Ice Age landscape developed over a quarter of a million years ago".
The research was published in the journal Internet Archeology.
The references: National geographic / Institute of Archeology at University College London.
A publication of Science of mystery. All rights reserved. – Redistribution and redistribution of this content without prior permission is expressly prohibited. Site protected by Safe Creative.
Thanks for reading us. We invite you to follow us on our Facebook, to be aware of all the news that we publish daily. You can also join our community at Telegram. We are waiting for you