A startling astronomical event will take place this June 21, when the Moon, Venus and Mars come into conjunction.
Signaling the beginning of summer in the northern hemisphere and the beginning of winter below the equator, on the solstice of this June 21, we can see the Moon in the apparent company of the planets Venus and Mars forming a conjunction.
He june solstice marks the longest day of the year for the Northern Hemisphere, as the Sun traces its highest and longest path across the sky. The situation is reversed in the southern hemisphere, where it is the shortest day of the year.
what is a conjunction
The approach of two or more celestial objects in their trajectory across the sky is called a conjunction.
It is common for the Moon to have a conjunction with the planets Venus, Mercury, Mars, Jupiter and Saturn. However, it is important to know that the planets do not approach each other. In reality, it is that they only appear close.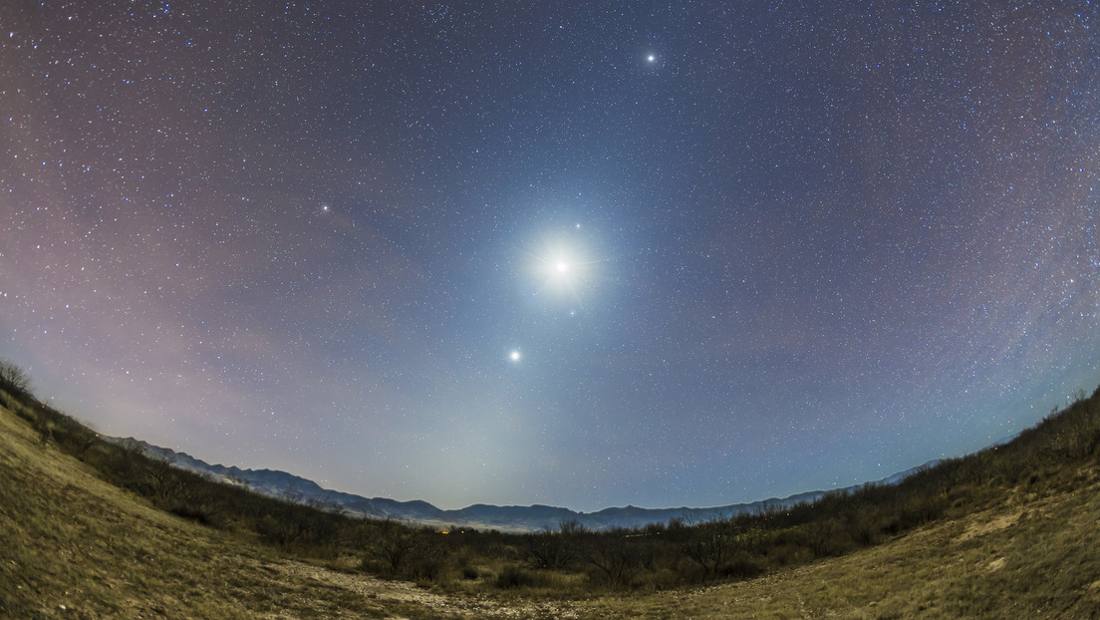 The Moon, the brightest object, between three planets: Venus, Mars and Jupiter.
How to see the conjunction of the Moon, Venus and Mars
To observe this marvelous cosmic trio, about an hour before sunset, just look west to see a crescent moon, near bright Venus and dimmer Mars.
The celestial spectacle can be appreciated with the naked eye, without any special equipment. However, binoculars or a telescope allow a closer view of the three planets.
Venus is unmistakable, to be luminous due to its proximity. Mars, located about 4 degrees to the upper left, appears to glow faintly and also has a characteristic reddish glow, making it stand out slightly against Venus and the background of the stars.
Other stars who will accompany them
If you are more of an astronomy fan, you will also be able to recognize some nearby stars participating secondarily in the show. For example, looking towards the northwest horizon, Pollux and Castor in the constellation Gemini twins.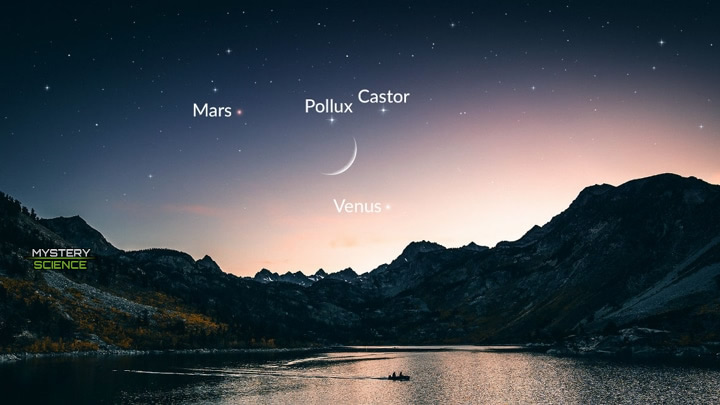 Also, in the opposite direction (higher and to the southeast), it will be present Regulus, the brightest star in the constellation LeoLeo.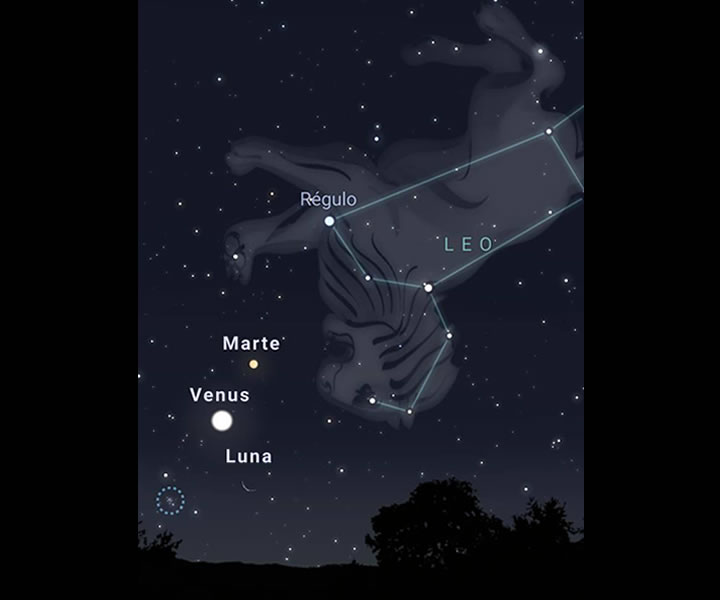 An unmissable astronomical event! We hope that the weather conditions are favorable in your place of residence and that you can enjoy it.
References: SkyEarth.
A Mystery Science publication. All rights reserved. – Redistribution and redistribution of this content without prior permission is expressly prohibited. Site protected by Safe Creative.
Thanks for reading us. We invite you to follow us on our Facebook, to be aware of all the news that we publish daily. You can also join our community at Telegram. We are waiting for you!