In an ancient grave in Poland, the remains of around 450 people, who were suspected vampires, have been discovered.
The discovery occurred while they were carrying out work to widen a street near a church, in the rural commune of Luzinoin the Polish region of West Pomerania.
Ancient Vampire Beliefs
A team of archaeologists then arrived at the site, who confirmed that some of the remains had been decapitated and that the heads had been deliberately placed between the legs of the deceased. and a coin placed in their mouth. This was a common practice in the Kashubian region in the 19th century, with which they sought to eliminate the "curse of the vampires".
The disposition of the bones and the objects found around them confirm the anti-vampire practices known from literature, folk tales and earlier archaeological research.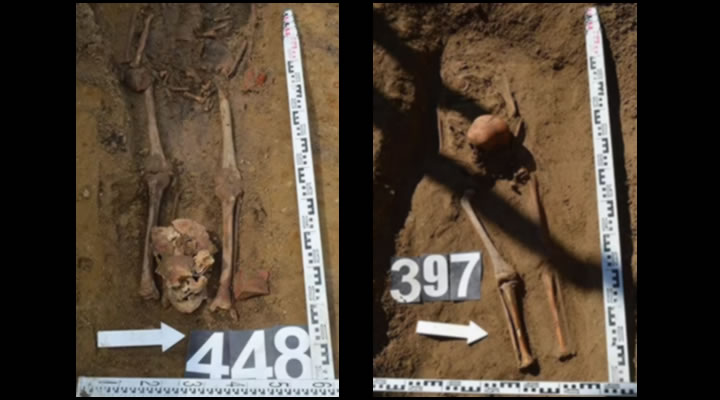 Credit: Maciej Stromski.
Maciej Stromski archaeologist in charge of the investigation, explained that in the past it was thought that to prevent the dead from returning from the tomb they were beheaded.
"Also, it was thought that if a family member of the deceased died shortly after the funeral, then he or she might be a vampire," Stromski said.
To deal with this eventuality, "after the burial, the grave was dug and the head of the deceased was cut off and placed between his legs", he explained.
Similarly, coins were placed in the mouth of the deceased, to neutralize the perceived threat of vampirism.
The event highlights deep-rooted fears and superstitious beliefs that were part of the local culture at the time. Even in other parts of the region, burial sites have already been found where a metal rod, or stake, was driven into the skull of the deceased.
According to archaeologists, after the investigation, the remains will be reburied in the area of ​​the church.
A publication of Science of mystery. All rights reserved. – Redistribution and redistribution of this content without prior permission is expressly prohibited. Site protected by Safe Creative.
Thanks for reading us. We invite you to follow us on our Facebook, to be aware of all the news that we publish daily. You can also join our community at Telegram. We are waiting for you!