The oldest human footprints detected so far in Germany have been discovered by an international team of paleontologists in an ancient lake in the Paleolithic complex of Schöningen in Lower Saxony.
A remarkable scientific discovery opens a window to the past, shedding light on our ancient human ancestors. A group of scientists, led by German researchers from the Senckenberg Center for Human Evolution and Paleoenvironment at the University of Tübingen (SHEP)they dug up fossilized human footprintsmade by a family of hominids 300,000 years ago approximately.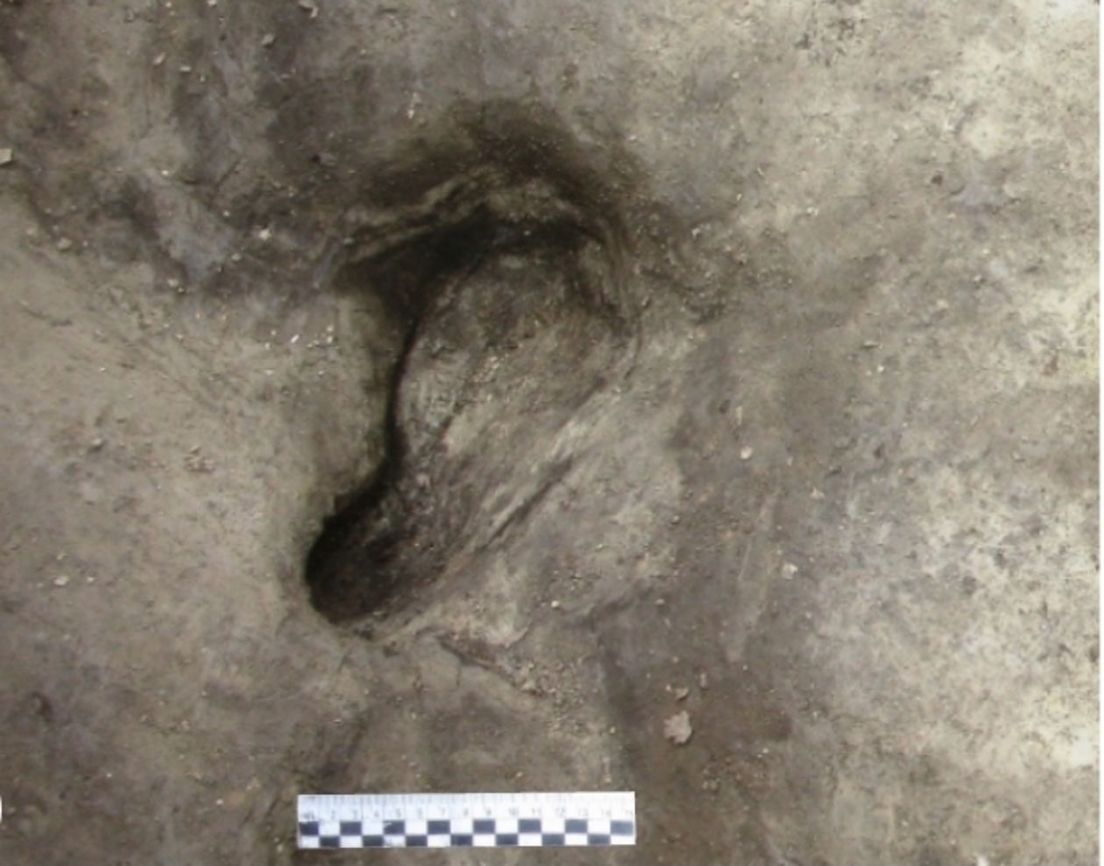 Hominid footprint found at the Schöningen site. Credit: University of Tübingen.
One of the prints would have belonged to an adult, while the other two were identified as belonging to younger people, presumably part of a family unit.
"Because of the tracks of children and young people, it was more of a family outing than a group of adult hunters," said Flavio Altamura, of the Senckenberg Center for Human Evolution and Paleoenvironment, University of Tubingen.
believes that these footprints were not created by Homo sapiens, but by the ancient "Heidelberg people" or Homo heidelbergensis, an extinct human species or subspecies. These hominids lived there (or at least visited), a lake bordered by open forest.
THE Homo heidelbergensis they were the pioneers in building houses and hunting large animals. However, approximately 200,000 years ago they disappeared from the face of the Earth. Experts attribute this disappearance to climate change.
With human footprints, other footprints of large mammals such as elephants and prehistoric rhinos have also been found. The set of engravings gives a fascinating insight into the ecosystem of the time in Germany.
The investigation
The University of Tübingen team made the groundbreaking discovery, methodically examining ancient evidence found at the site, examining in detail the fossil footprints from two sites in Schöningen.
These traces, together with information from sedimentological, archaeological, paleontological and paleobotanical analyses, have generated information about the paleoenvironment and the mammals that once inhabited the region.
Depending on the season, plants, fruits, leaves, shoots and mushrooms were available around the lake. "Our findings confirm that the extinct human species lived on the shores of lakes or rivers with shallow water. This is also known from other sites with Early and Middle Pleistocene hominid footprints." Indian Altamura.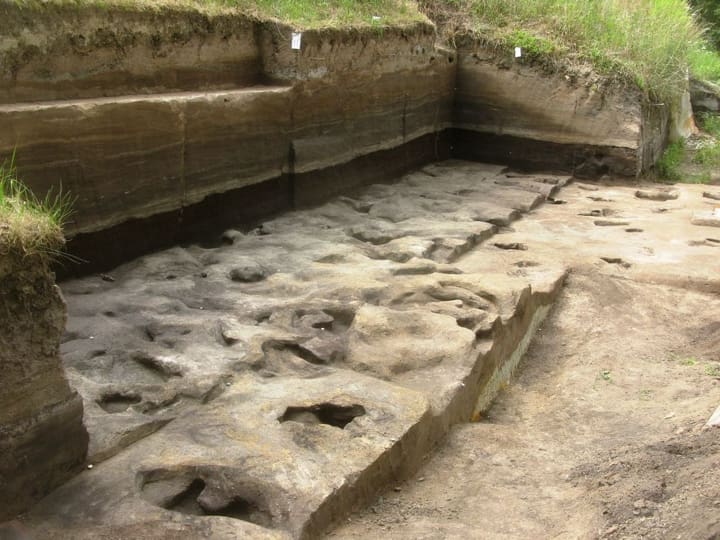 Fossil footprints discovered at the Schöningen site. Credit: Senckenberg / University of Tübingen.
More prehistoric finds on the site
A large number of well-preserved wooden tools trampled in the site's sediments have also been discovered at the site, providing further insight into the workings of these ancient human ancestors. It's hard to know for sure what these tools were used for 300,000 years later, but they may have been used for hunting, gathering, or building. Likewise, there is evidence of footprints of a remarkable length, 55 centimeters, of the extinct species of elephant Palaeoloxodon antiquus. These straight-tusked elephants were the largest land animals of the time; adult males could reach up to 4.2 meters (14 ft) in height and weigh up to 13 tons.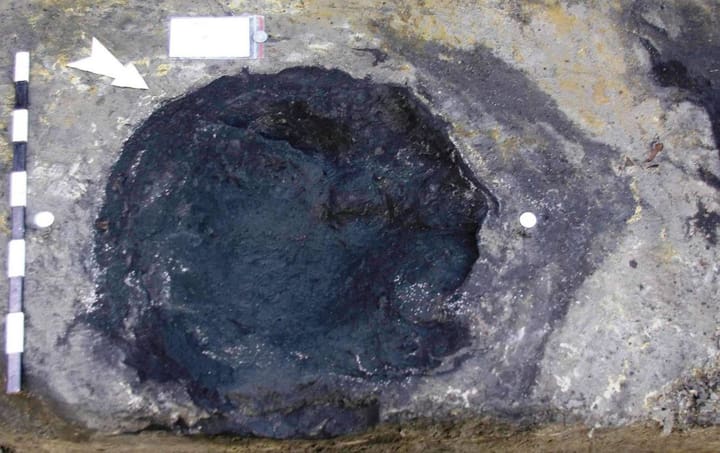 Fossilized elephant footprint. Credit: University of Tübingen.
You might also be interested in: The extreme drought reveals the footprints of one of the world's longest dinosaurs.
Similarly, the footprint of a rhinoceros has been identified Stephanorhinus kirchbergensis or Stephanorhinus hemitoechus. This is the first trace of this Pleistocene species found in Europe.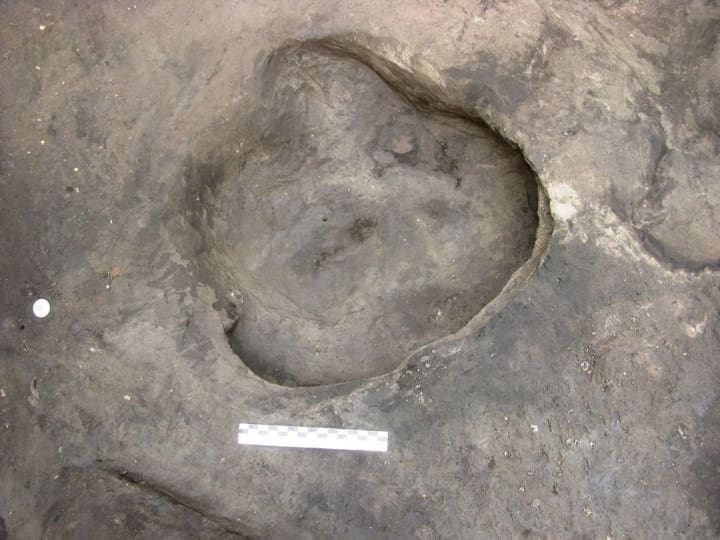 Footprint of rhinoceros Stephanorhinus kirchbergensis. Credit: University of Tübingen.
The recent finds are a veritable treasure trove of discoveries in an area already well known for its preservation of ancient human history. By delving into the past, we learn more about the ancient humans who walked the Earth before uswhich enriches our understanding of history, the evolution of our species and the understanding of our ancient past.
The finding was published in the journal Quaternary Science Reviews.
References: Science Alert/Live Science.
A publication of Science of mystery. All rights reserved. – Redistribution and redistribution of this content without prior permission is expressly prohibited. Site protected by Safe Creative.
Thanks for reading us. We invite you to follow us on our Facebook, to be aware of all the news that we publish daily. You can also join our community at Telegram. We are waiting for you!