19,325 new volcanoes have been revealed in the Earth's oceans thanks to data obtained by satellite and analyzed by an international team of oceanographers.
Led by the Scripps Institute of Oceanography from the United States, researchers used satellite radar data to measure the curvature of the ocean's surface topography (also called the vertical gradient of gravity), to identify the presence of volcanoes on the ocean floor .
Till date, only 20% of the seabed has been mapped. This makes the work of tsunami risk assessors impossible and limits oceanographers and geologists access to key sea temperature information. The Earth's mantle, the magnetic field and the eruption of underwater volcanoes.
The investigation
As detailed by the authors, the scientists used a methodology known as empirical orthogonal function analysis, which allowed them to demonstrate that the identified seamounts have a basal radius linearly related to their height.
By fitting the topographic defect of the vertical gravity gradient with a Gaussian function (in which the value of 'a' is the highest point of the volcano, 'b' represents the position of its center and 'c' the mean-absolute deviation – value related to the width of the volcano) it is possible to estimate the height of seamounts with an accuracy of about 270 meters.
You might also be interested in: They discover a "lost city" at the bottom of the ocean.
Thus, they identified 19,325 new seamounts, in addition to the 24,643 others listed above. The vast majority of these mountains – more than 27,000 – have been detected by satellite.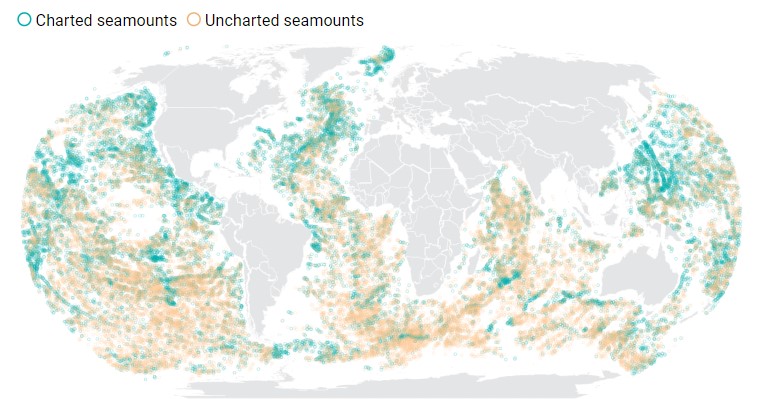 Satellites have detected more than 43,000 seamounts. But only 16,000 have been charted in detail by sonar from ships and submarines. Credit: D. AN-PHAM,/ DAVID SANDWELL.
However, the researchers believe that this number does not reflect reality. They believe the catalog will grow in the next decade thanks to the project International Seabed 2030which aims to bring together all available ocean data to produce the complete seabed map of the world by 2030. The study was published in the journal Earth and Space Sciences.
References: Science.
A publication of Science of mystery. All rights reserved. – Redistribution and redistribution of this content without prior permission is expressly prohibited. Site protected by Safe Creative.
Thanks for reading us. We invite you to follow us on our Facebook, to be aware of all the news that we publish daily. You can also join our community at Telegram. We are waiting for you!