A team of astrophysicists discovered that the rocky planet YZ Ceti blocated 12 light years from Earth, was sending repeated radio signals.
Researchers Sebastien Pineda from the University of Colorado at Boulder and Jackie Villadsen from Bucknell University, discovered the signals using the Karl G. Jansky Very Large Array radio astronomical observatory in New Mexico (USA), detecting the emission at specific orbital positions of YZ Ceti b, innermost of all Earth-like planets orbiting the small red dwarf star YZ Ceti.
According to scientists, the radio signal was created by interactions between the magnetic field of the planet and the star. The current hypothesis is that the powerful radio waves are generated when the planet's magnetic field passes through the plasma launched by its star.
However, for these radio waves to be detectable over long distances, they must be very intense.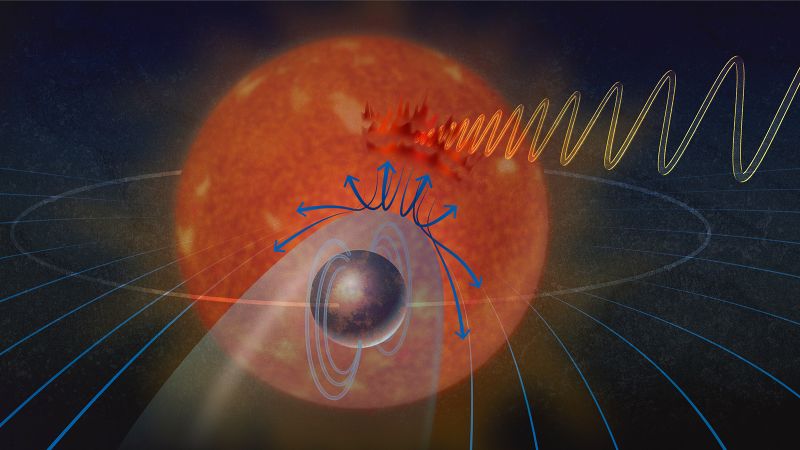 Illustrative image showing the plasma emitted by a star deflected by the magnetic field of the exoplanet that orbits it. The plasma then interacts with the star's magnetic field, creating an aurora and radio waves. Credit: Alice Kitterman/National Science Foundation.
Magnetic field: a fundamental factor for a habitable world
YZ Ceti is roughly the size of Earth and may also have one of the crucial factors that makes a world habitable: a magnetic field.
A magnetic field is what keeps a planet's atmosphere from being stripped away by powerful stellar winds, by deflecting the high-energy particles and plasma regularly ejected by the host star. SO, can prevent this planet's atmosphere from wearing down over timeSebastián Pineda explained.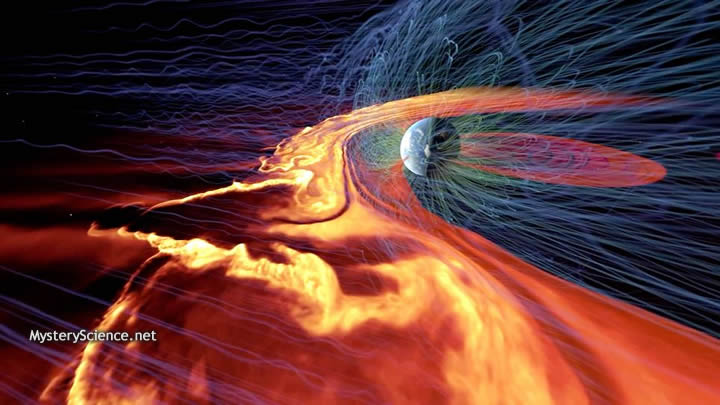 The Earth's magnetic field protects us from plasma and high-energy particles emitted by the Sun. Credit: University of Illinois.
Mars, for example, had an atmosphere and was a hot, humid planet before it lost its magnetic field and, without its protection, its atmosphere was gradually eroded by plasma from our Sun.
In the past, astronomers have found evidence of larger exoplanets with their own magnetic fields. But so far they have not been able to identify magnetic fields on smaller rocky worlds outside our solar system. In fact, they don't even have a reliable technique or way to search for them.
Joe Pesceprogram director who supported the study said: "This research not only shows that this particular rocky exoplanet likely has a magnetic field, but provides a promising method to find more." YZ Ceti and its known exoplanet, YZ Ceti b, provided "an ideal match" for this study because the exoplanet is so close to the star that it completes an orbit in just two days (for comparison, the shortest planetary orbit in our system). solar is that of Mercury, with 88 days).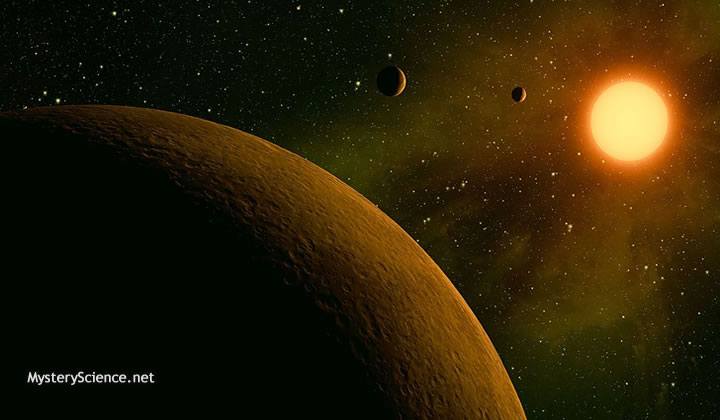 Artistic representation of YZ Ceti by its star YZ Ceti. Credit: NASA/JPL-Caltech.
When YZ Ceti's plasma detaches, it interacts with the star's magnetic field, generating radio waves intense enough to be observed on Earth. The intensity of these radio waves can be measured, allowing researchers to determine the strength of the planet's magnetic field. If the method works well, it will provide a way to detect magnetic fields in other stars.
The research has been published in natural astronomy.
References: Scientific Alert / Infobae / CNN.
A publication of Science of mystery. All rights reserved. – Redistribution and redistribution of this content without prior permission is expressly prohibited. Site protected by Safe Creative.
Thanks for reading us. We invite you to follow us on our Facebook, to be aware of all the news that we publish daily. You can also join our community at Telegram. We are waiting for you!