A team of researchers has identified a hitherto unknown species of giant eagle, who once lived on the Australian mainland.
more than 60,000 years ago, giant eagles flew over Australia. They had a wingspan of almost 3 meters (9.8 feet) wide and powerful claws reaching a length of 30 centimeters, capable of grasping a koala or modern adult kangaroos, which are about 1.3 meters tall.
Fun fact, this ancient bird shares similarities with the fictional giant eagles from the fantasy epic of JRR Tolkien "The Lord of the Rings".
Taking into account that the size of a small kangaroo is around 50 to 70 kilograms (110 to 154 pounds), this means that these ancient eagles, like the Tolkien's Great Eagles of Middle-earththey could have easily lifted Frodo and his hobbit friends, as they are only supposed to be about 1.2 meters tall and would theoretically have weighed much less than that.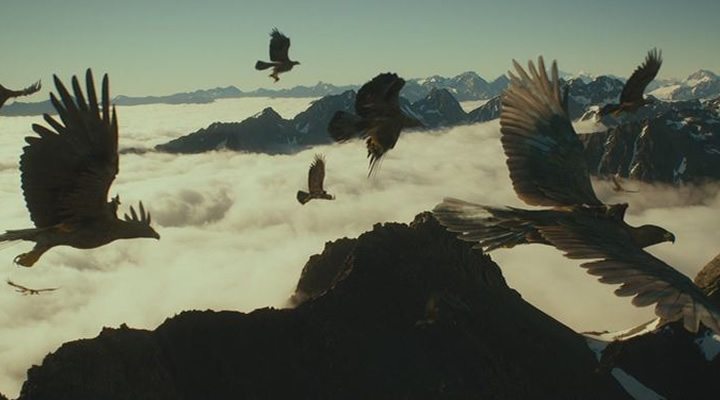 Mighty eagles that once soared over Australia share similarities to the fictional giant eagles in JRR Tolkien's fantasy epic The Lord of the Rings. Credit: Warner Bros.
One of the largest birds of prey in the world
According to new research by scientists at Flinders University in Australia, it is believed that They are the largest birds of prey that have ever lived on the continent. and possibly the largest continental eagles in the world.
baptized 'Dynatoaetus gaffae' or 'Gaff's mighty eagle', the species was described from fossils found between 1959 and 2021 in Mairs Cave in the south of the country.
Initially, in 1956 and 1969, only a sternum, a distal humerus and two nail phalanges were found. However, in 2021, another 28 bones from the specimen have been discovered, although most of them are incomplete. Inside the cave, the team managed to find a distal humerus fragment capable of reattaching to bone found more than 50 years earlier in 1969.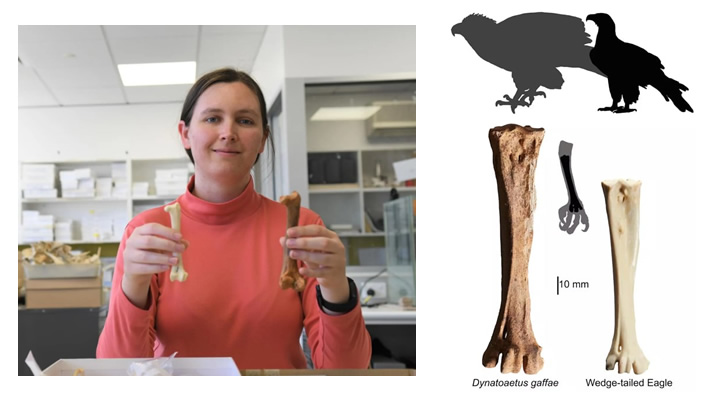 Comparison of the tarsometatarsus (foot bone) of Dynatoaetus and a female wedge-tailed eagle, with scaled silhouettes of whole animals. Credit: Ellen Mather/Flinders University.
He lived during the time of end of the Pleistocene, between 700,000 and 60,000 years ago. This era took place when giant megafauna such as the mammoth lived on the planet.
Under the reign of the eagle, Australia was populated by other giant creaturesincluding large flightless birds, giant kangaroos ('Procoptodon sp.'), giant lizards ('Varanus priscus') and bear-like marsupials ('Diprotodon optatum'), but Dynatoaetus gaffae was certainly quite colossal to catch them Why did he disappear?
The authors of the research believe this mighty bird died out when its favorite prey became scarce. Finally, Australia's giant eagles and vultures, along with other megafauna, became extinct around 60,000 years ago.
It is possible that, as it hunted certain large species, it could not adapt to the change in its diet when its preferred prey ceased to exist.
The research was published in an article by Ornithology Journal.
References: Live Phys/Sciences.
A publication of Science of mystery. All rights reserved. – Redistribution and redistribution of this content without prior permission is expressly prohibited. Site protected by Safe Creative.
Thanks for reading us. We invite you to follow us on our Facebook, to be aware of all the news that we publish daily. You can also join our community at Telegram. We are waiting for you!