Scandinavian scientists have identified the oldest known inscription referring to the Norse god Odinon a gold disc discovered in western Denmark.
The small object discovered with the inscription is a gold bracteatea sort of fine, ornamental pendant that was part of the 1,600-year-old gold jewelry hoard called the 'Vindelev's Treasure'.
For experts, the treasure was buried, either to hide it from enemies or as a tribute to appease the gods.
It was found in the center of the Jutland peninsula in 2020, it contained around 2.2 pounds of gold, including large medallions the size of Cymbals and Roman coins turned into jewelry. It contained 23 pieces of goldsmithery, one of them with the oldest runic inscription of the mythical Norse god of wisdom, war, death and also poetry.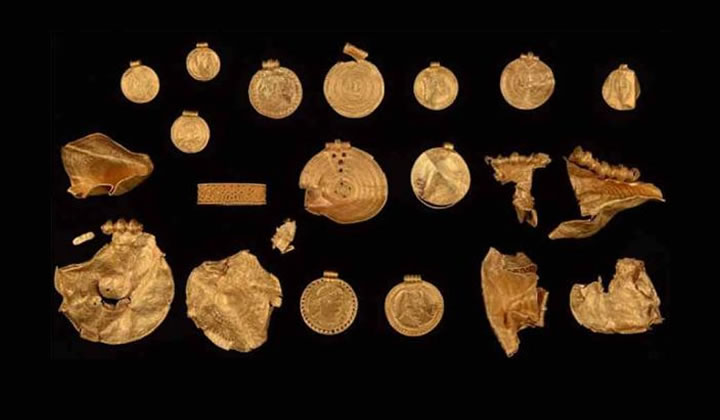 Some gold items from the Vindelev hoard. Credit: Vejle Museum.
The disc with the inscription read "He's Odin's man"probably referring to an unknown king or overlord, seen on the disc. The man it belonged to has not been fully identified by experts, but they believe he may have had the nickname or surname "Jaga" or "Jagaz". Scholars believe that this figure thought his divine right to rule "came directly" from Odin.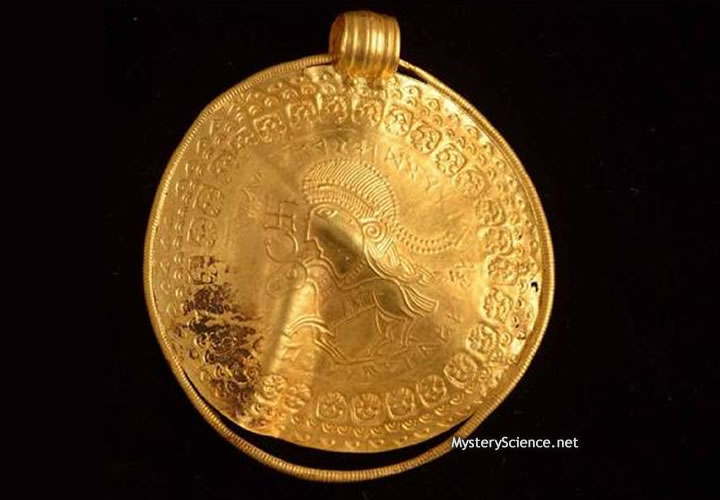 Disc with runes saying "He is Odin's man". Credit: Vejle Museum
Hard transcription work
The researchers indicated that it took a long time to decipher the inscription because it was very archaic and a lot of runes had disappeared. In addition, the text is written without spaces between words and in a language that has evolved a lot over the years.
Krister Vasshus, a scholar of ancient languages ​​said: "Not only has the structure of the language evolved enormously since the 400th century, but many words have also fallen into disuse." Usually we find short and very similar runic inscriptions, "but this time the text is long and consists almost exclusively of new words," he added.
On another side, Lisbeth Immer, a runologist at the National Museum in Copenhagen, noted that such well-executed runes and such a long text had never been seen in a Danish find from this period. "It can help us understand other prehistoric runic inscriptions, which we haven't been able to read yet," he explained.
Experts Krister Vasshus (left) and Lisbeth Imer (right) with the bracteates. Credit: National Museum of Denmark / AP.
Cult of Odin a century earlier than expected
This discovery revealed that the Danes believed in Odin, and therefore in Norse mythology, 150 years earlier of the assumptions above.
Until recently, it was thought that the oldest inscription with Odin had been discovered engraved on the Nordendorf fibulatwo mid-6th century brooches found in Nordendorf, near Augsburg, Bavaria, Germany.
While in Denmark, the oldest inscription to date was found on an amulet made from a piece of human skull found in ribdated to the beginning of the 8th century.
You might also be interested in: A thousand-year-old Viking treasure has been discovered in Sweden.
During the Viking Age, which is considered to span from 793 to 1066, Norsemen known as the Vikings undertook large-scale raids, colonizations, conquests, and trade throughout Europe. They have also reached North America.
Currently, the Vindelev hoard is currently in the National Museum of Denmark where it continues to be studied.
References: Live Science / Very interesting / National Museum of Denmark.
A publication of Science of mystery. All rights reserved. – Redistribution and redistribution of this content without prior permission is expressly prohibited. Site protected by Safe Creative.
Thanks for reading us. We invite you to follow us on our Facebook, to be aware of all the news that we publish daily. You can also join our community at Telegram. We are waiting for you!