Last week, the United States and Canada alerted and shot down unidentified high-altitude objects that "violated their airspace". However, they are not the only countries to report this strange occurrence.
On February 12, an unidentified flying object was reported near the coastal town of RizhaoChina, reported the Global Times, a Chinese state-run newspaper, citing local maritime authorities.
Chinese authorities are apparently preparing to shoot down the strange flying object that was seen in the sky.
According to the newspaper, the Qingdao Marine Development Bureau was preparing to shoot down the object and urged nearby fishermen to be on alert and "avoid risks".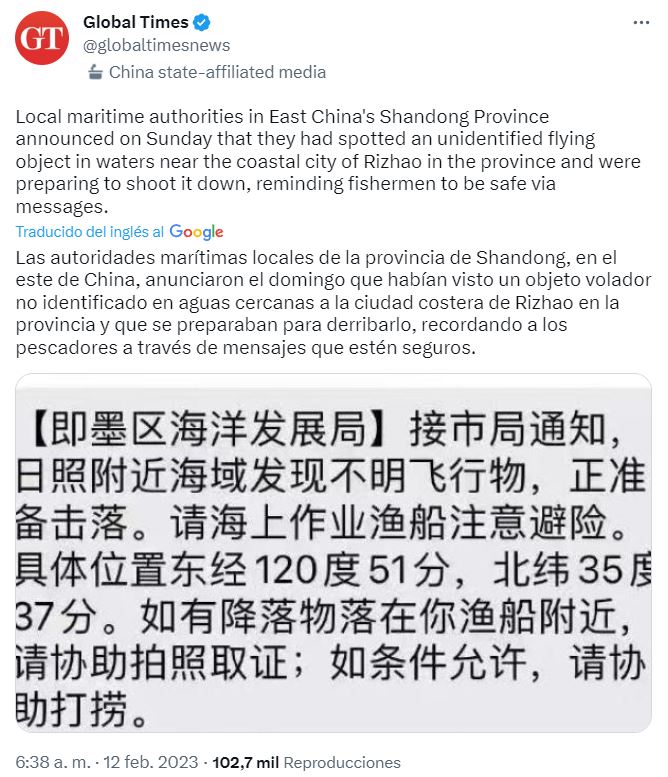 Other unidentified objects sighted in the United States and Canada
The sighting comes after US F-22 fighter jets recently shot down three objects in airspace over the United States and Canada.
One was shot down off South Carolina on February 4 and authorities say it was a Chinese spy balloon. The balloon was equipped to detect and collect intelligence signals and was part of a larger Chinese surveillance program that has been operating for several years, US officials said.
Chinese balloon appeared in US airspace
However, Beijing insisted it was a civilian plane collecting weather data that had accidentally veered off course.
He Friday, February 10, an object the size of a small car was sighted in the skies over distant Alaska. So far, authorities have not been able to say where the object came from or what it was used for, but the White House Homeland Security spokesman John Kirbysaid he was shot down because he posed a "reasonable threat" to civilian flight safety.
Subsequently, US Northern Command said wreckage recovery operations were continuing on the pack ice near Deadhorse, Alaska.
Then, on Saturday February 11, Justin Trudeaucanadian prime minister, said that an American fighter plane shot down an unidentified object flying high over the Yukon in northwestern Canada.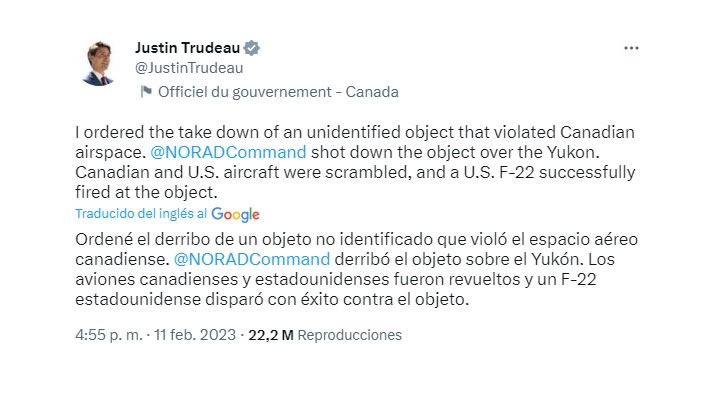 Anita AnandCanada's defense minister told a press conference that it was too early to speculate on the origin of the object, but that it was "potentially similar" to the spy balloon shot down on February 4, " though smaller in size and similar in nature". "cylindrical and floating.
Later on the same Saturday evening, February 11, it was reported that a unidentified object forced the closure of Montana airspace for 15 minutes. The incident was confirmed on Twitter by the senator Jon Tester.
Another unidentified object was shot down
And as if all this were not enough, this Sunday, February 12, in the afternoon, a last unidentified object which flew at an altitude lower than that of the supposed Chinese spy balloon was shot down. on Lake Huron (Michigan)according to two American officials.
This is the fourth time in eight days that a high-flying balloon or other craft has been shot down over the United States or Canada.
So far, the information available on these strange objects is limited, giving rise to many speculations.
A publication of Science of mystery. All rights reserved. – Redistribution and redistribution of this content without prior permission is expressly prohibited. Site protected by Safe Creative.
Thanks for reading us. We invite you to follow us on our Facebook, to be aware of all the news that we publish daily. You can also join our community at Telegram. We are waiting for you!