A team of Egyptian and English researchers discovered a collection of ornate jewelry in the necropolis of Tell El-Amarna, Minya Governorate; place where King Akhenaten established the capital of Egypt during his reign.
The Egyptian-English mission of the University of Cambridge made the discovery in a burial, during excavations at the General Cemetery of the North, according to reported the Ministry of Tourism and Antiquities of Egypt.
This necropolis was the cemetery of the city of Amarna, built in 1346 BC. C. to serve as the capital of the Pharaoh Akhenaten, the tenth ruler of the late 18th dynasty and husband of Nefertiti. Akhenaten advocated monotheism and the cult of the sun god Aten.
After his death, Akhenaten was removed from the royal lists and called a "heretic king" since according to some historians, Atenism was very far from the traditional polytheistic religions of Egyptian civilization. Its capital, its buildings and its cults were abandoned or eliminated and fell into oblivion.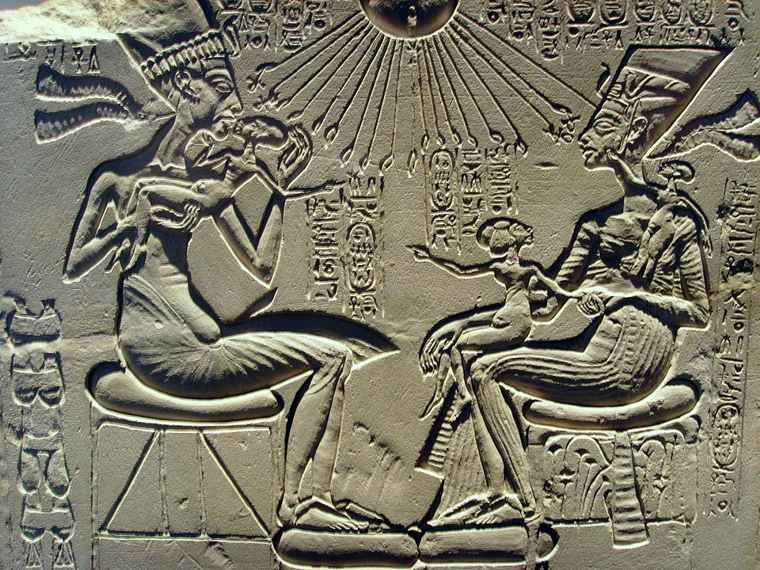 Pharaoh Akhenaten, his queen Nefertiti and their three children. Credit: public domain / Wikimedia Commons.
Discovery
Gamal El-Samastawy, Director General of Antiquities of Central Egypt, indicated that inside the tomb were found a set of gold ornaments consisting of three "Tawi" rings, which means 'the daughter of the Lady of the Two Lands'accompanied by a small necklace of hollow gold beads.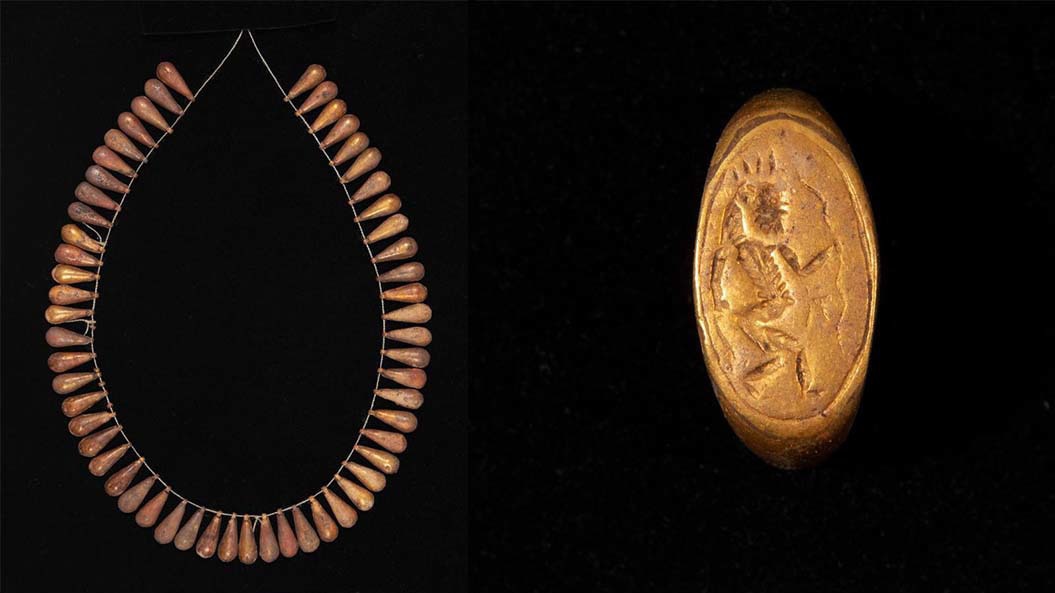 Jewels discovered. Credit: Egyptian Ministry of Tourism and Antiquities.
Two of the rings discovered were engraved with images and hieroglyphs.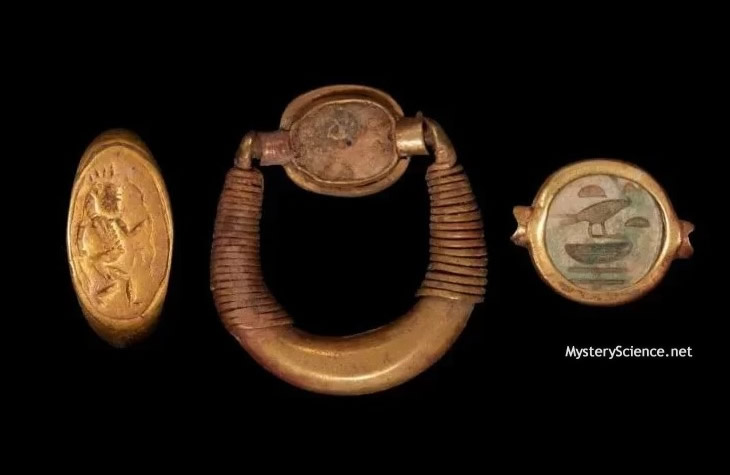 Gold jewelry discovered at Amarna. Ministry of Tourism and Antiquities of Egypt.
The identity of the woman, buried in a mat of plant fibers, is still unknown, however its importance is beyond doubt since she was found with this beautiful outfit.
You might also be interested in: Nefertiti: The legendary queen whose end is one of Egypt's greatest mysteries.
One of the rings found incorporates the effigy of the god Bes, who was the protector of childhood. Bes, was the ancient Egyptian god childbirth and fertility, as well as humor and war. He served primarily as a protector of pregnant women and children and is usually depicted as a dwarf with large ears, long hair and a beard.
Mostafa Waziri, secretary general of the Supreme Council of Antiquities, said that since 2010 the mission has been working on the site, seeking to study the social and economic situation of the former inhabitants of the city of Akhetaten (currently Tel el-Amarna) and the quality foods and common illnesses at this time in history.
References: Living sciences / Archaeology.
A publication of Science of mystery. All rights reserved. – Redistribution and redistribution of this content without prior permission is expressly prohibited. Site protected by Safe Creative.
Thanks for reading us. We invite you to follow us on our Facebook, to be aware of all the news that we publish daily. You can also join our community at Telegram. We are waiting for you!