A huge wingless cockroach, which believed to be extinct for over 80 years was spotted by a biology student while strolling on an Australian beach.
It has long been thought that 'Panesthia lata' had disappeared, after an invasion of rats arrived on Lord Howe Island, Australia in 1918.
However, Maxim Adams, an honors student at the University of Sydney's School of Biological Sciences, made the discovered by lifting a stone that was under a huge banyan tree when exploring North Bay, a white sand beach accessible only on foot or on the water.
Nicholas Carlile from the New South Wales Department of Planning and Environment (DPE), who was with Adams exploring North Bay, said they found whole families of this species of cockroach, "they were all under this banyan tree" .
The 'Panesthia lata' measures between 22 and 40 mm long, and has a metallic body color that varies from reddish to black. In their digestive tract, they have specialized microorganisms that help digest wood cellulose.
A few scattered populations of close relatives had been found on two nearby islets, but the specimens now rediscovered have developed their own geneticsaccording communicated the University of Sydney.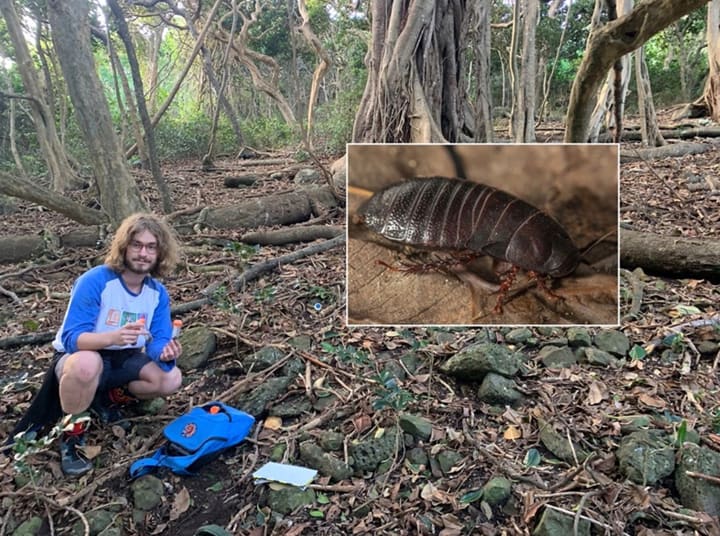 Maxim Adams under the banyan tree where the discovery of the "extinct" cockroach was made. Credit: Nicholas Carlile/ECD.
Atticus FlemingChairman of the Lord Howe Island Board, explained that it is a truly spectacular place, It is older than the Galapagos Islands and "home to 1,600 species of native invertebrates, half of which are found nowhere else in the world". How did these cockroaches survive?
Nathan Lo, an evolutionary biologist at the University of Sydney and leader of the research project, says genetic analysis shows cockroaches rediscovered on mainland Lord Howe Island are in fact survivors, genetically different from those found on the small island off Blackburn. Island remained free of rodents.
The cockroaches may have survived here thanks to decades of strategic rodent baiting by the Lord Howe Island Board to protect other endangered species such as the Lord Howe's GeckoLord Howe's skink and a giant land snail called Placostylus.
Lo also indicated that there is still a lot to learn. Researchers hope to study the habitat, behavior and genetics of Panesthia lata, and thus learn more about how they managed to survive, through further experiments on the island.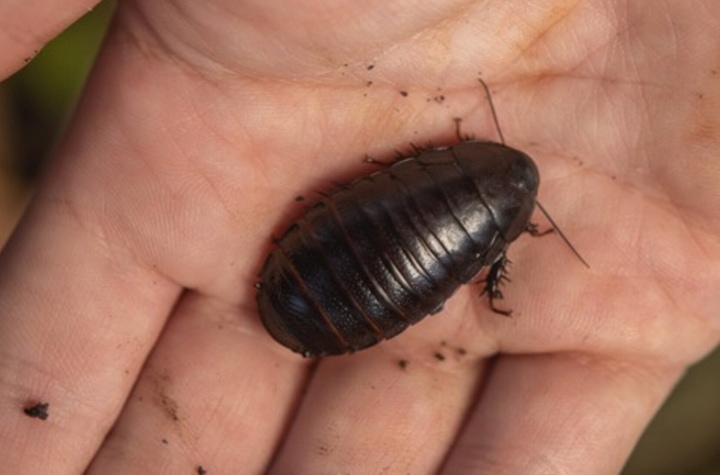 Credit: Justin Gilligan.
Significance of discovery
The reappearance of this cockroach is of great importance for the proper functioning of the ecosystem of the island, of which the 'Panesthia lata' is endemic, since the cockroaches play an important role as recyclers of nutrients by accelerating the decomposition of the trunks rotten trees which they feed.
You might also be interested in: They find a feathered dinosaur tail preserved in amber.
They are also a food source for other species within food chains. Such importance is attached to this unique species that scientists had explored the possibility of reintroduce it to the main island neighboring islets.
References: Europa Press / The West.
A post of Science of mystery. All rights reserved. – Redistribution and rebroadcasting of this content without prior permission is expressly prohibited. Site protected by Safe Creative.
Thanks for reading us. We invite you to follow us on our Facebook, to be aware of all the news that we publish daily. You can also join our community at Telegram. We are waiting for you!