Surely you have read or heard at some point about the news of the search for a well-known king who is said to be under a pyramid located in Mexico. This research is about 6 years old, and although it is not new, the discovery of the "river" of liquid mercury if it's all an event.
How was liquid mercury found in the ancient pyramid?
The famous pyramids of Teotihuacan hide many secrets, including this incredible "river" of liquid mercury. And, given the circumstances in which it was found, given the fact that it was an unforeseen event on the way to finding a grave, this being the real objective, Everything indicates that their existence was totally unknown.
The tunnel was hidden and untouched for nearly 1,800 years, beneath the Feathered Serpent Pyramid of Teotihuacan, until it was discovered by the archaeologist Sergio Gomez Chavez. The walls of the tunnel were carefully infused with powdered pyrite which served to reflect the mercury as if the subterranean chamber were surrounded by stars.
Inside, archaeologists were very surprised to find items such as jaguar carvings, necklaces made from human teeth, jewelry, among other items.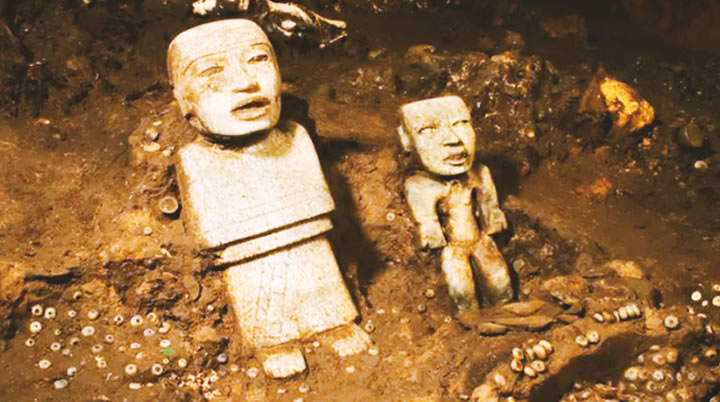 Some objects found in the tunnel under the pyramid.
But in addition, they came across something surprising: a small mountainous landscape with ponds of large amounts of liquid mercury similar to lakes or rivers.
It should be remembered that liquid mercury is a highly toxic substance that can cause serious harm to the human body if exposed to it for long periods of time.
Mercury was rare in ancient Mexico, although difficult to extract, it was highly valued for its refractive properties. Experts consider that its characteristics could have given it supernatural significance for rituals.
Even though this is not the first time mercury has been foundhad never been found in the area where it is now, as previous times it has been seen in the area Maya. However, it is not believed to be the same as the distance between the two places is considerable, i.e. this one is in the pre-Aztec region.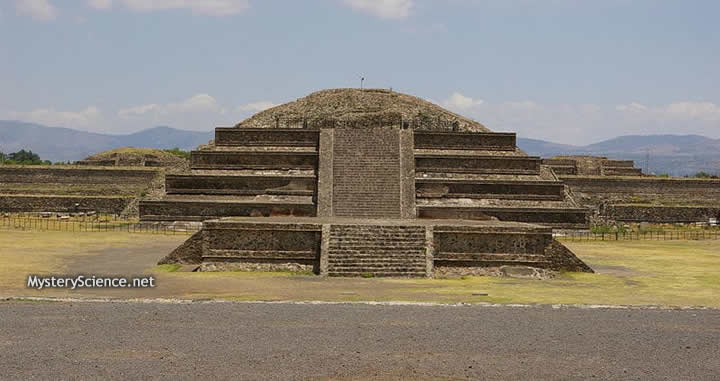 Credit: Wikipedia
Rosemary Joyce, professor of anthropology at the University of California, Berkeley, explained that ancient Mesoamericans could produce liquid mercury by heating mercury ore, known as cinnabar, which they also used for its blood-red pigment. Cinnabar was used by the Maya to decorate jade objects and color the bodies of royalty.
Is it a coincidence?
We reiterate that this was found on the way to the allegedly sought grave, in one of the alleged burial chambers. There are 3 of them, belonging to the Maya and Olmec civilizations, -although none of them with the quantity found in Teotihuacan-. For this reason, the hypothesis that this "river" was created as a gift to this king or, failing that, in his honor, is retained.
On the other hand, it is believed that, if it was in the first section of this relic, said sleeping room is located in the third room. If so, experts could uncover a lot more information about the ancestors. It is even believed that he is able to understand the government that was run, the way of life and many other information that was unknown until now. But, being able to study the remains a breakthrough for archaeology.
What connection can the river of liquid mercury have with the tomb of an ancient king?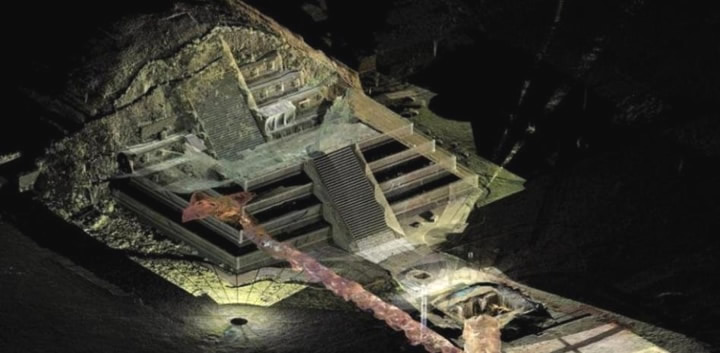 Illustration of the tunnel that may lead to a royal tomb discovered under the Temple of Quetzalcoatl in the ancient city of Teotihuacan. Courtesy of Reuters
Let's keep in mind that, being such an ancient pyramid, its structure is very complex. In fact, the data we have to date indicates that the the depth is about 60 floors, which indicates that a considerable number of relics were found in each of them.
Each level represents different things, and at least jewels, shells, and many artifacts have been saved from the start. This means that there are remnants of an entire civilization that came to inhabit this place.
You might also be interested in: Mysterious golden spheres found in a tunnel under the pyramids of Teotihuacán.
But why liquid mercury? The relationship believed to exist, and which so far seems the most logical, is that this metal symbolizes a river or a lake which would be the entrance to the supernatural world and the entrance to the underworld, due to its shiny and reflective qualities. To be that leader who rests somewhere in this place, who rules it, and because of that, the task of finding where his remains lie has become so difficult.
"Mirrors were seen as a way of looking at the supernatural world, they were a way of guessing what might happen in the future. It could be a kind of river, although quite spectacular," Gómez explained.
Why would the discovery of his tomb completely change what we know about this king today?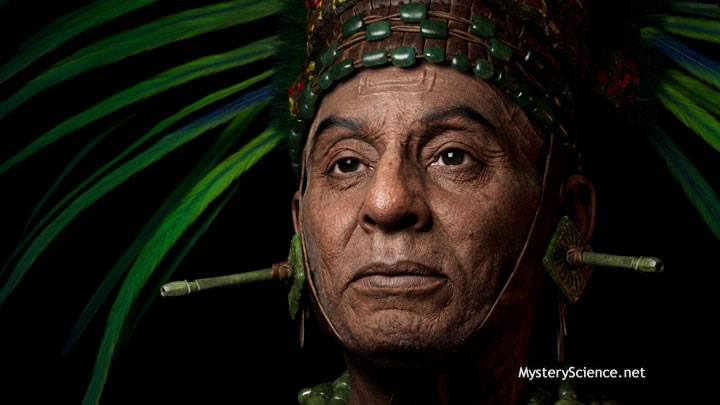 Deep within the complex, archaeologists yearn to find the final resting place of an ancient king.
It would be a global milestone for the simple fact that, as the Teotihuacan pyramid is part of an ancient city that existed so many thousands of years ago, the information obtained would change everything that is known about it until now. 'now.
We say this because there are no documents, writings or nothing too significant that reveals data about that time. So not just because of the curious liquid mercury found, but because of all the implication that at this point in the investigation, it's finally being seen more clearly.
References: ABC / The avant-garde.
A post of Science of mystery. All rights reserved. – Redistribution and rebroadcasting of this content without prior permission is expressly prohibited. Site protected by Safe Creative.
Thanks for reading us. We invite you to follow us on our Facebook, to be aware of all the news that we publish daily. You can also join our community at Telegram. We are waiting for you!