A set of dinosaur footprints that walked about 113 million years ago, have been discovered due to the extreme drought recorded in Texas, USAwhich dried up the waters of a river in the region.
The traces appeared in recent weeks when the paluxy river it has almost completely dried up in most of Dinosaur Valley State Park, a spokeswoman for the Texas Department of Parks and Wildlife said.
Over the past week, more than 60% of Texas has experienced extreme droughts, accompanied by heat waves that have reached extremely high temperatures, generating multiple warnings of possible threats to the health of millions of people.
According to a statement released by park authorities, the tracks were mostly left by acrocanthosaurusa theropod which, in adulthood, It was about 4.5 meters tall and weighed about seven tons.
In footage recorded by park workers, you can see the huge footprints left by this carnivorous dinosaur that had three fingers that open from the heel.
The toes of their feet feature sharp claws at the ends, specialized for traction for running and holding prey to the ground.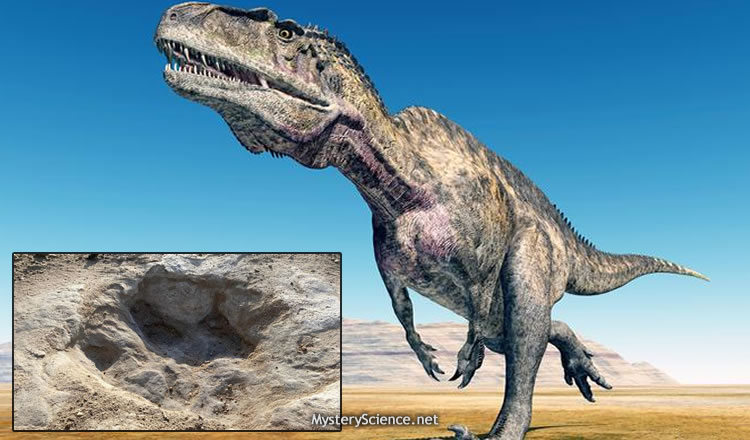 Right: Acrocanthosaurus was a large carnivore that lived millions of years before its famous relative Tyrannosaurus Rex. Left: Acrocanthosaurus footprint recently discovered in Texas. Credit: Dinosaur Valley State Park/AFP.
Similarly, traces of another species have been found: the Sauroposeidona creature that has reached about 18 meters high and weighed about 44 tonsadulthood.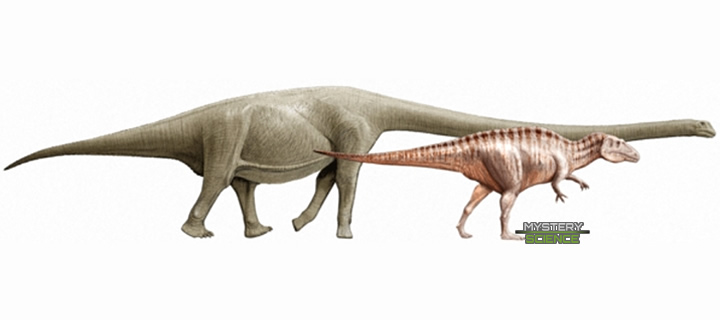 Illustrative image of a Sauroposeidon and an Acrocanthosaurus. Credit: Mike O'Brien.
The sauropods they include species of herbivorous dinosaurs such as Diplodocus and Brontosaurus, and had large, flat elephant-like legs. The theropods like Tyrannosaurus rex and velociraptors, they instead had characteristic feet with claws and three toes.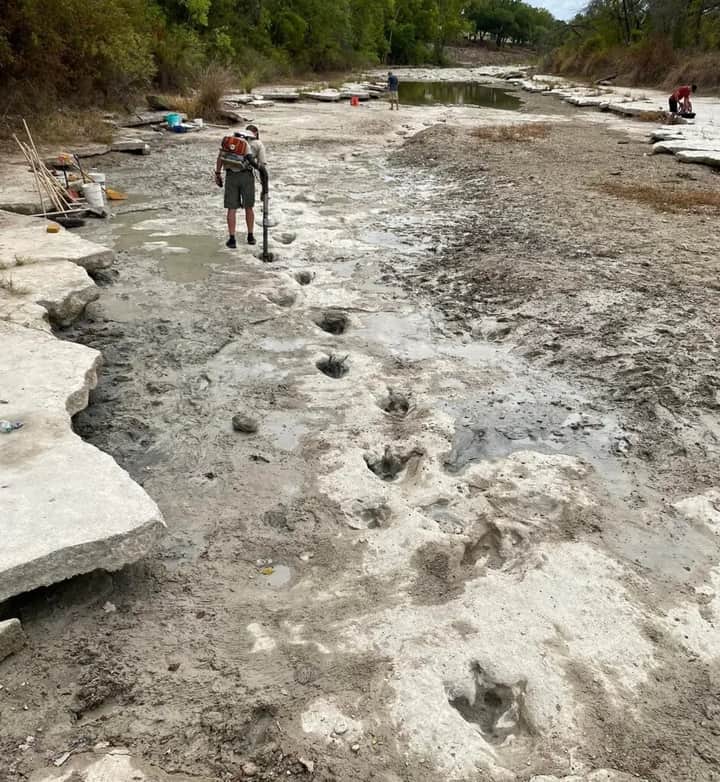 Credit: Dinosaur Valley State Park.
How were these dinosaur footprints preserved for so long?
The park website reports that the traces found emerged in the middle of the Cretaceous era, when the Dallas area of ​​Texas was at the edge of a sea. The silt of this shore had the ideal consistency to preserve the imprints due to carbonate deposits calcium from crustacean shells.
A video released by a non-profit organization that supports the park shows close-ups of the triangle-shaped footprints and claw marks embedded in the parched river bed.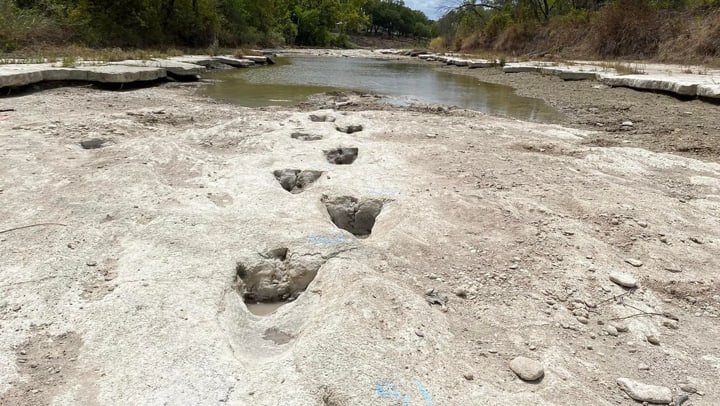 Credit: Facebook @DinosaurValleyStatePark
house of prehistoric animals
The Dinosaur Valley State Parkwas opened 50 years ago and houses possibly hundreds of footprints of different dinosaurs and prehistoric animals.
Traces of 100-million-year-old calcium carbonate deposits from other dinosaur species have been discovered in the area over the years, including Sauroposeidon proteans, giant herbivores that moved in herds and left footprints resembling those of an elephant. In 1909, a boy exploring the Paluxy River named George Adams, found the first theropod footprints in the area. Later, in 1937, Roland T. Birdfrom the American Museum of Natural History, found a large footprint of a sauropod, later discovering sauropod and theropod marks.
You might also be interested in: They find the embryo of a dinosaur fossil nestled in its egg.
Although the administration of Dinosaur Valley encourages tourists to visit the park to admire the tracks, it has issued a alert on July 8, to warn them of the dangers of swimming in the Paluxy River, as there is a risk of dangerous amoebas in the water.
Meanwhile, Park spokeswoman Stephanie Salinas García told CNN it's unclear how many new footprints have been found, or how long they will be visible.
References: History / DW.
A Mystery Science publication. All rights reserved. – Redistribution and rebroadcasting of this content without prior permission is expressly prohibited. Site protected by Safe Creative.
Thanks for reading us. We invite you to follow us on our Facebook, to be aware of all the news that we publish daily. You can also join our community at Telegram. We are waiting for you!