It's no secret that the depths of our oceans continue to be a place virtually unexplored and that we don't know what creatures can live there. This is the case of an enigmatic "living fossil" discovered in Portugal: a Shark with 300 teeth that has lived on Earth for 80 million years.
the mysterious prehistoric shark It is contemporary with Tyrannosaurus Rex. What surprises experts the most is that it has barely evolved in 80 million years. The specimen was found by scientists from the Institute of the Sea and Atmosphere of Portugalon the Algarve coast.
80 million year old shark
Also known as eel sharkflying shark, flying shark or chlamys, is a mysterious specimen that has been considered by science to be a real living fossil.
This mysterious marine animal has hardly evolved since the Cretaceous, around 80 million years ago. In fact, paleontologists have found fossils of this specimen with this antiquity, which are identical to the few specimens that have been captured alive today.
This prehistoric shark is considered a deep sea monster. A perfect nickname, since he usually lives at distances ranging from 1,200 to 1,500 meters deep.
It rarely rises to the surface, which makes it extremely hard to see. However, last week one of these extraordinary exceptions occurred and a specimen was caught off the coast of the Algarve, Portugal, around 700 meters deep.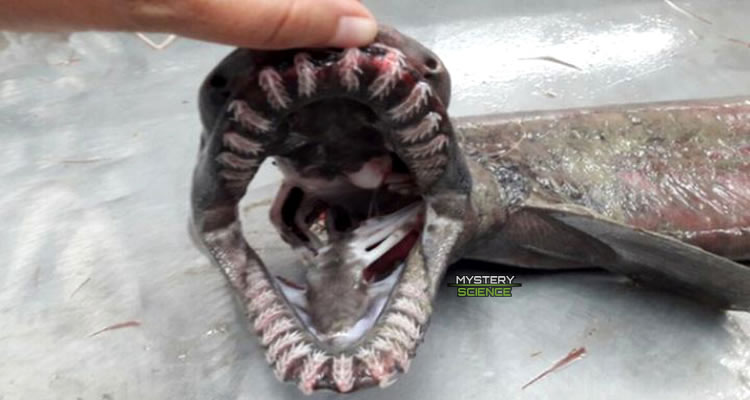 The shark has 300 teeth in its jaws. Credit: Marian Torres/BBC
The animal was caught thanks to a trawler working on a European Union project to study the environment. It is 1.5 meters long. Although experts assure that it can reach up to 5 meters.
The specimen is a male and what surprises the most, at first sight, are its teeth made up of 300 teethembedded in some rather creepy jaws. A puzzle for science
Currently almost nothing is known about the shark eel. Specialists believe that their diet consists mainly of squid, octopus and other molluscssince they are most abundant in the depths where it lives.
It should be mentioned that this is not the only living specimen of this prehistoric animal that has been captured. In 2015, an eel shark was caught in the Australian state of Victoria. In 2007, in the aquarium in Shizuka, Japan, another was also found, which is exhibited dissected in a museum.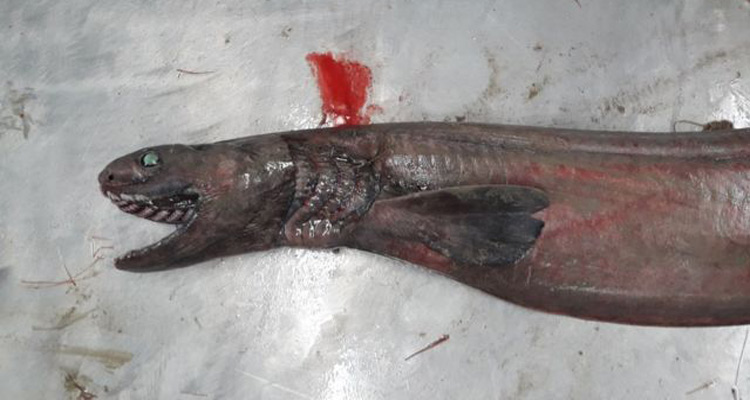 The specimen was accidentally caught by a trawler in Portugal. Credit: Marian Torres/BBC
Currently, experts in marine fauna assure that sharks are among the animals the most fascinating and enigmatic that inhabit the Earth. Get to the point where several specimens they barely evolved in millions of years, being contemporary with the dinosaurs.
You might also be interested in: They spot a rare "transparent" head fish while scuba diving.
In fact, the eel shark is thought to be the real culprit behind the hundreds of legends that exist about gigantic sea ​​serpents.
The animal will be studied to try to find out more about it, since the International Union for Conservation of Nature places the eel shark as a species of least concern. However, it is thought that the increase in commercial fishing in deep waters could lead to the mistaken capture of other specimens.
A post of Science of mystery. All rights reserved. – Redistribution and rebroadcasting of this content without prior permission is expressly prohibited. Site protected by Safe Creative.
Thanks for reading us. We invite you to follow us on our Facebook, to be aware of all the news that we publish daily. You can also join our community at Telegram. We are waiting for you!