An international team of scientists has discovered a giant sinkhole, inside a mountain, which has its own forest inside.
According to the news agency ChinaNews, the forest is 192 meters deep, 306 meters long and 150 meters wide. It is located in the autonomous region of Guangxi Zhuangin southern China.
Speleologists from China, the UK and France say the karst sinkhole is interconnected by an underground river and cave system, making it one of the largest ever discovered.
A virgin forest that could contain species not yet recorded
Zhang Yuanhaia senior engineer from the Institute of Karst Geology of the Geological Survey of China, said there were three large cave entrances inside, which are believed to be the remnants of the sinkhole's early evolution.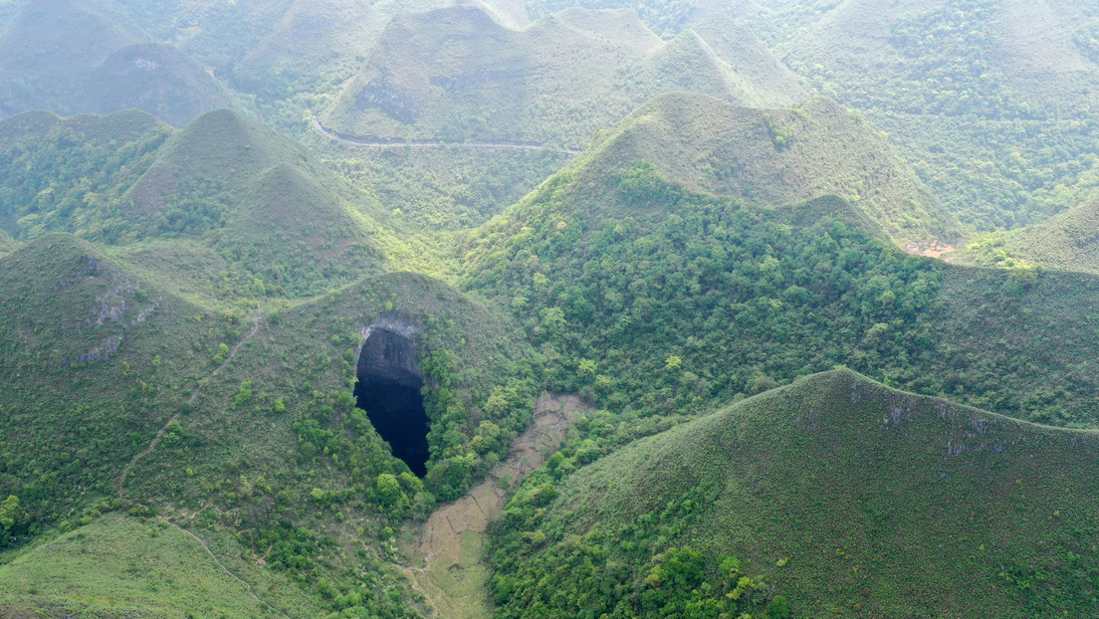 The giant pit discovered on a mountain in China. Credit: Xinhua / Sipa USA / Legion-Media
The bottom of the sump has a well-preserved virgin forest which includes ancient trees up to 40 meters high, stretching their branches towards the sunlight, which filters through the entrance to the chasm. The hole may even be home to species that science has yet to identify. According to declared Expedition team leader Chen Lixin "wouldn't be surprised" to discover new species that have not been reported or described by science so far inside the hole.
You might also be interested in: They discover evidence of an ancient rainforest under the ice of Antarctica.
The event is reminiscent of Arthur Conan Doyle's novel, "The lost World" where a team of researchers climbed to an isolated plateau in a tropical forest, in which they discovered a particular habitat unexplored and isolated from the rest of the world, with amazing species.
celestial pits
According to Xinhua, the huge sinkholes, also known as the tiankeng (heavenly pit) in Chinese. These are sinkholes, or giant pits, which have particular geological characteristics and are found in karstic regions formed by repeated landslides; mainly in China, Mexico and Papua New Guinea, where in most cases they function as water sources.
References: Live Science / La Vanguardia.
A post of Science of mystery. All rights reserved. – Redistribution and rebroadcasting of this content without prior permission is expressly prohibited. Site protected by Safe Creative.
Thanks for reading us. We invite you to follow us on our Facebook, to be aware of all the news that we publish daily. You can also join our community at Telegram. We are waiting for you!