Some DC heroes seek their retirement following the apparent death of the Justice League.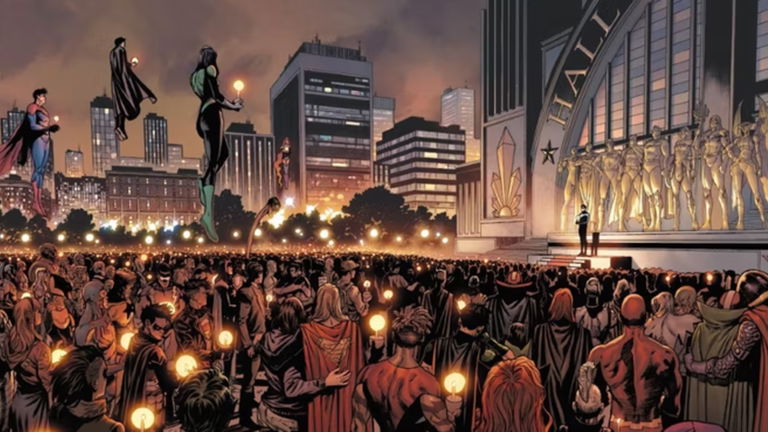 08/02/2022 04:00
After what seems to be the apparent disappearance of the League of Justice and Deathstroke's deadly assault on the Teen Titans Academy in the event known as Dark Crisismany heroes of the DC Universe have quietly hung up their suits to pay tribute to all fallen heroes.
Some DC heroes seek their retirement after the apparent death of the Justice League
Donna Troy reveals this shocking status quo in a preview of Dark Crisis #3 while she and her other fellow Titans worry about the state of Beast Boywho is hospitalized after Deathstroke I shot him in the head in the second number. Every city is in a latent state of panic where no one really knows what is going on. It's not just that the Titans were attacked, it's that the League of Justice their whereabouts are still unknown and it is not known if they will return at any time.
After the League of Justice ended up dying, it already felt like the end of the superhero era as we know it. the army of Deathstroke keep hunting them down and warning slade wilson it is spreading. He has promised that he will kill anyone who tries to be a hero and many have abandoned their role and duty out of fear and others want to be with his family and friends. And even those who still have hope feel guilty that they have not done enough to improve the current situation.
The attack he led Deathstroke against the academy of titans almost managed to end the life of Nightwing after the sacrificial attempt he made in order to stop slade and save both his friends and students. However, he was saved at the last moment by Jon Kentbut was demoralized by the fight after witnessing several young students from the titans traumatized by the carnage that Deathstroke had caused.
Everything seems to indicate that the event intends to build a new path within the era of heroes and that nothing will ever be as we know it. New heroes will hit the pages of DC Comics as the old ones disappear.
For you © 2022 Difoosion, SL All rights reserved.