This golden trophy was made by a fan with 3D printed figures from Pokémon Go, Pokémon Stadium and shows the original 151 from the first generation.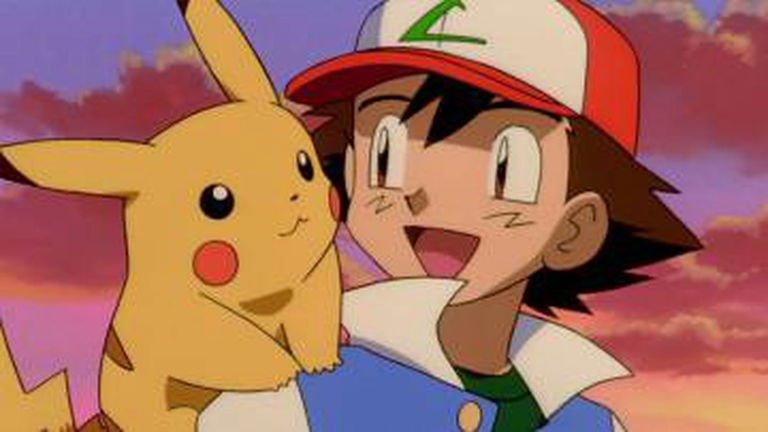 07/30/2022 17:00
Pokémon has been a benchmark in the entertainment industry for decades -starting in 1996, to be exact, by Nintendo and Game Freak-. This landmark of animation and videogames has gone through their respective stages, as is logical, as the years go by and other equally recognized franchises have emerged. But what is a fact, despite the fact that not only the idea of ​​a world of Pokémon that can fight within their universe with a wide range of powers was quite innovative for its time, is that few companies have scaled in the same way that this franchise so important.
It is surprising that the fan community remains so committed to Pokémon, even though most of them have become adults (since they were part of so many childhoods). We can even say that younger fans are still interested in the evolutions that Pokémon presents from time to time. And of course, reminisce about Ash's team's most memorable moments or discuss their favorite pokemon (among which we will always find the originals that evoke an atmosphere of nostalgia, especially among its most veteran fans), while also paying tribute to them in various and creative ways.
Over the years, Pokémon has become more and more popular thanks to these valuable contributions. Some of them are practically works of art that, although they are not in the official canon or have not been recognized by the franchise, deserve their own merit. And it is not for less, since the hours of hard work demonstrate the vast hobby of the fans and a great talent. Therefore, thousands and thousands of these proofs of the love that their public has for Pokémon circulate on the internet.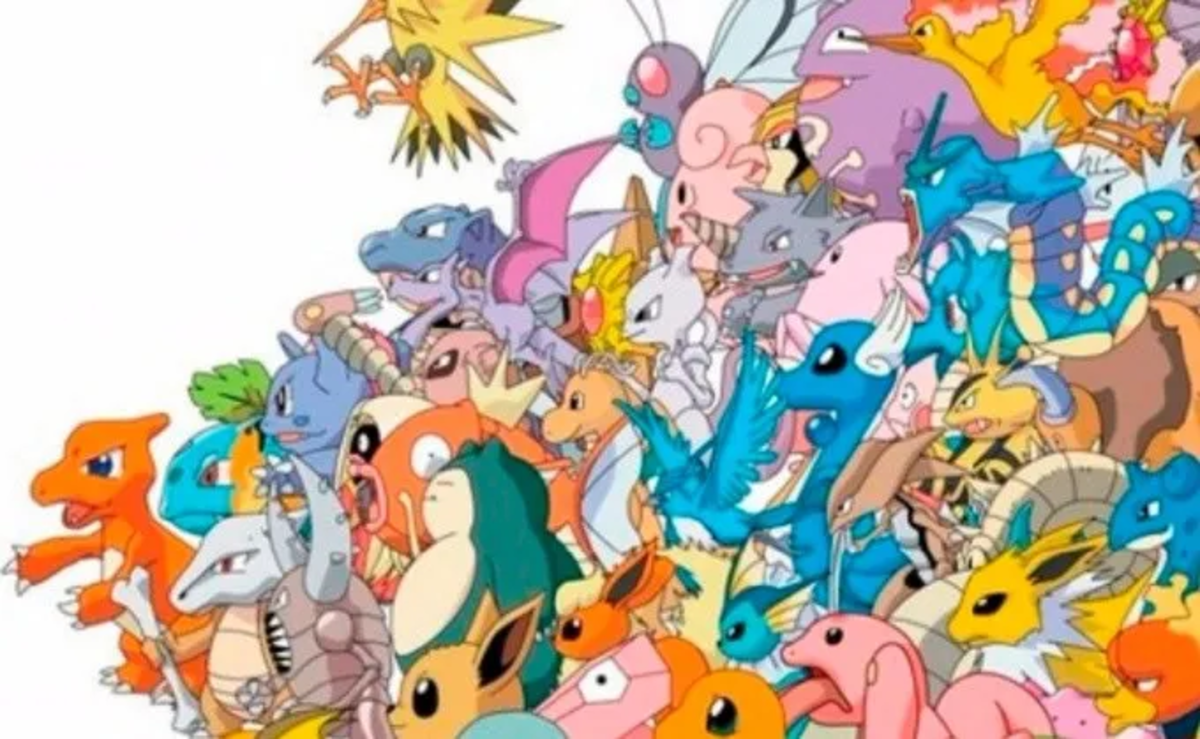 The original Pokémon are the ones that cause the most nostalgia
This creation that we found is quite special because a Pokémon fan decided to paste models of the original 151 pokémon to create a huge trophy representing Generation 1. The artist in question shared on his Reddit account, named Jerzkua very creative piece in which it brings together all the Gen 1 Pokémon with all their initials and, at the top, we have Mewtwo standing with Mew pointing out that it is the most powerful.
The golden trophy is very specific with the position that each pokémon has in it, since they are in numerical order and adopt a triangular shape in which the ones on top stand out, which are already standing. Furthermore, although not all of them can be recognized at first glance, The Pokémon fan has highlighted the evolution lines of the initial Gen 1 Pokémon: Pidgey, Oddish, Nidoran, Exeggcute, Dratini and a few others.
In the order you have placed them, Mew sits above MewTwo, who sits above Snorlax and below Aerodactyl, then the Legendary Birds, and finally Lapras.. The row that serves as the base for the trophy is the largest to give a balance to the rest of the Generation 1 Pokémon and, of course, make sure that they are all visible.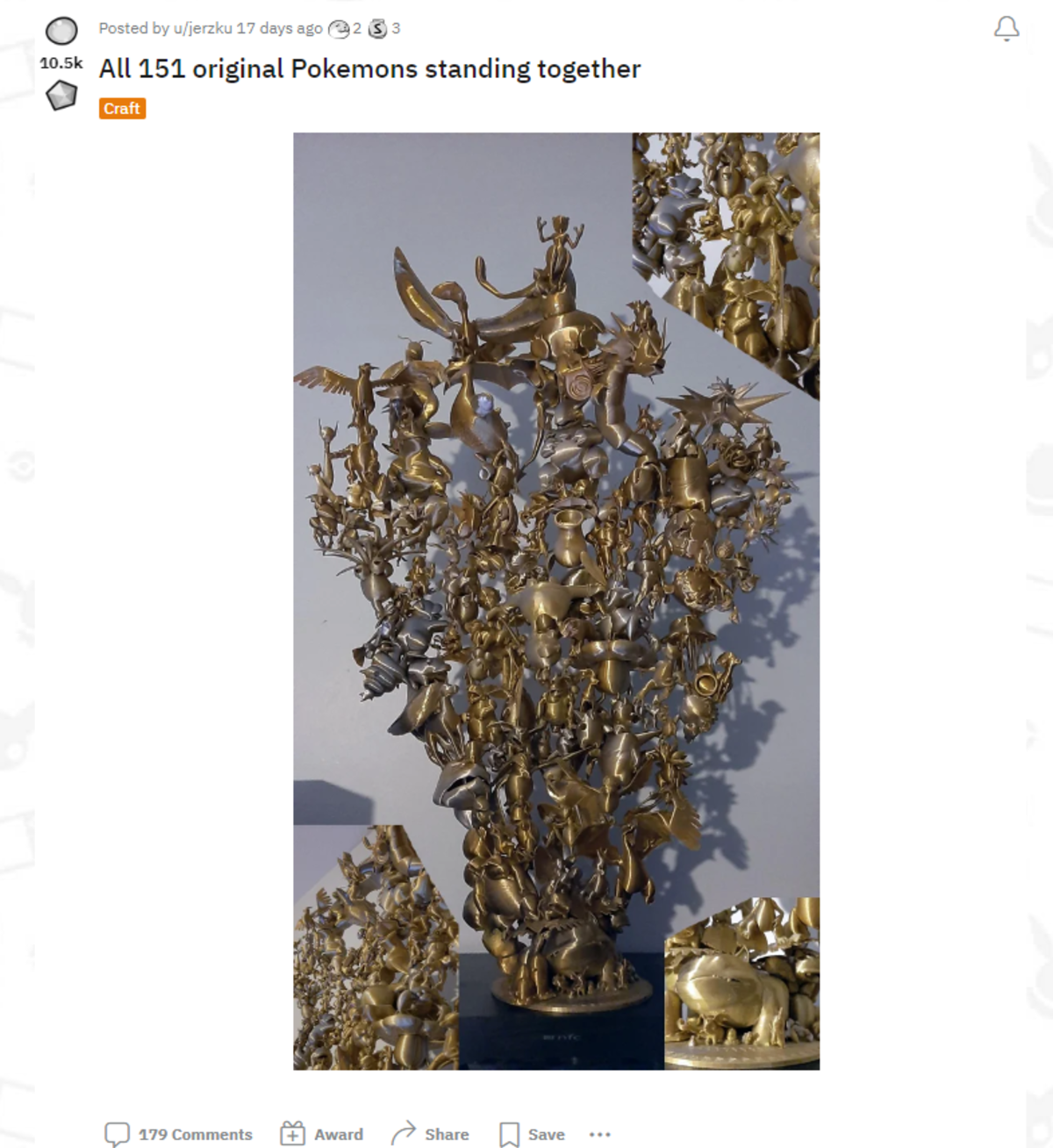 As it explains Jerzkuthe figures he used to build the trophy were obtained through a 3D impression of the Pokémon, which took from the models within games like Pokémon Go or Pokémon Stadium. And, what makes this work more impressive, is that there were figures that did not fit in the design of the trophy, so the fan created them by his own hand. Contrary to what many of us would think about the time it took the fan to sculpt the figures, it turns out that most of it was invested in the gluing process, to prevent them from collapsing at the slightest movement.
As for the color, it is likely that the Pokémon fan will create a very similar one again and take this creation as a reference, since it confirmed that in the future he would like to make one based on Pokémon Gold and Silver. Furthermore, he stated that he could sell it if someone offered enough money. But, beyond the possible purchase, fans were really excited about this trophy and some of them were asking for help finding their favorite.