Fridays are one of those days when your wallet will shake, because in our Hunting Bargains we leave you with a wide selection of products to Build the best Gaming PC. Without further delay, let's go with all the offers this week.
Cyberpunk 2077 – The best Easter Eggs
Headphones and microphones
ASUS ROG Strix GO for 83.99 euros. We start with these headphones that drop in price from 100 euros and are made up of 40 mm drivers to offer faithful and optimal sound and are even very light.
Asus ROG Strix Go – USB-C Gaming Headset (AI Noise Cancellation, Surround Sound, Comfort and Support for PC, Mac, Nintendo Switch, Smart Devices and PS4) – Black
Logitech G332 for 32.98 euros. At almost half the price we have these others with 50mm transducers, a microphone with which you will be heard loud and clear and that also has synthetic leather cushions to make them comfortable.
Newskill Seth for 54.95 euros. For 15 euros less than usual we can opt for these other wireless, with a range of between five and ten hours, which provide fantastic sound quality with their 50 mm drivers and thanks to padded pads you can use them for long sessions .
Newskill Seth
Razer SeirenX for 59.50 euros. A 45% discount on this Razer microphone specially designed for those who decide to broadcast on Twitch so that the voice is heard perfectly with its supercardioid pickup pattern that reduces ambient noise.
HyperX Quad Cast for 99.99 euros. In general, this microphone usually costs 40 euros more and with it your voice will be heard in luxury. It also reduces outside noise and comes equipped with a pop filter to dampen explosive sounds.
laptops
ASUS TUF Gaming F15 FX506HE-HN012 for 829 euros. Discount of just over 200 euros on this laptop equipped with an i5-11400H processor, with 16 GB RAM, a 512 GB SSD and an RTX 3050 Ti graphics card so you can play Dying Light 2 in Ultra at 1080p almost 60fps.
ASUS TUF Gaming F15 FX506HE-HN012 Intel Core i5-11400H/16GB/512GB SSD/RTX 3050Ti/15.6″
HP Victus Laptop 16-d1019ns for 999 euros. The same reduction has been applied to this laptop with an i7-12700H processor, with 16 GB RAM, a 512 GB SSD and a 3050 Ti graphics card so you can go through the world of Days Gone at 76 fps with the graphics in Ultra 1080p.
ASUS TUF Dash F15 FX517ZM-HN001W
ASUS TUF Dash F15 FX517ZM-HN001W for 1,299 euros. Discount of 500 euros on this laptop that has an i7-12650H processor, 16 GB RAM, a 512 GB SSD and an RTX 3060 graphics card with which the Back 4 Blood zombie hunt will be seen at 93 fps on Ultra at 1080p.
Desktop computers and components
MSI MAG Infinite S3 12TH-283XES for 1,150 euros. In the case of this desktop computer, its price has been reduced by just over 100 euros and, despite not having an operating system, it has an i5-12400F processor, 16 GB RAM, a 512 SSD and another hard drive. 1 TB and an RTX 3050 graphics card that allows FIFA 22 matches to be played at 127 fps with graphics in Ultra at 1080p.
MSI MAG Infinite S3 12TH-283XES Intel Core i5-12400F/16GB/1TB+512GB SSD/RTX3050
PC Gaming Expert for 1,579.90 euros. This other computer usually costs 500 euros more and inside you will find a Ryzen 7 5800X processor, 16 GB RAM, a 1 TB SSD and another 2 TB hard drive along with a Windows 10 operating system and an RTX 3060 so you can experience the action of Assassin's Creed Valhalla at 68fps at 1080p and Ultra.
MSI MAG Codex X5 12TE-1205XES
MSI MAG Codex X5 12TE-1205XES for 2,700 euros. Nothing more and nothing less than 700 euros discount on this computer with an i7-12700KF processor, 32 GB RAM, a 2 TB SSD and an RTX 3080 graphics card that will allow you to play whatever you want with great quality , such as Monster Hunter World at 60fps in 4K and Ultra.
Corsair CX450M for 72.20 euros. For those of you who need to change your power supply, you can opt for this one with a silent fan and thermal control. Its price has been reduced by 22 euros.
Accessories
Razer Gaming Tasatur for 62.90 euros. This Razer membrane keyboard will make you feel a soft touch on each of its keys that will light up individually or in general. It comes equipped with a wrist rest, multimedia keys and the best thing is that it is practically half the price.
Razer Gaming Tasatur – Razer Ornata Membrane Keyboard.
Trust Gaming GXT 940 Mouse for 27.93 euros. From 45 euros it has not stopped falling in price in recent days. It highlights its 10,000 dpi optical sensor, adjustable RGB lighting and the fact that it is made up of 10 buttons, eight of them programmable and two others for the thumb.
Logitech G300s Mouse for 29.86 euros. A discount of 17 euros is what this mouse has received that allows you to store up to three different profiles to establish a configuration with its nine programmable buttons in each one. In turn, it has an ambidextrous shape to use it without problems with either hand.
Logitech G920 for 279.98 euros. Those of you who love driving games can take advantage of the 120 euro discount on this steering wheel that will allow you to feel every curve and skid as if they were real.
Logitech G920
IntimaTe WM for 156.83 euros. Price drop in this gaming chair that was previously worth 222 euros and with which you will feel very comfortable thanks to its cushions, its retractable footrest and that on top of that guarantees a long life with its high quality parts.
microSDXC card for 49.69 euros. For 21 euros less than normal you can get this 512 GB microSD card so you can store all the photos, videos or any file you want on it.
Monitors and TVs
AOC Monitor G2790VXA for 169 euros. In the monitor section, there is this 27-inch Full HD with a discount of about 30 euros. It has a response time of 1 ms and a refresh rate of 144 Hz along with FreeSync technology to make the image look even smoother.
AOC G2790VXA – 27″ Full HD Gaming Monitor (1920×1080, VA, 16:9, HDMI, Displayport 1×1.2, 4ms, 144Hz, FreeSync Premium), Black
AOC Monitor C27G3U/BK for 219 euros The next one cost 50 euros more before and it is a 27-inch Full HD monitor with a response time of 1 ms, a refresh rate of 165 Hz, with the possibility of adjusting its height as you want and that comes equipped with speakers so you can listen to what you want without the need for headphones.
Optix MAG275R Monitor for 229.41 euros. Discount of 40 euros on this 27-inch Full HD laptop with a refresh rate of 144 Hz, a response time of 1 ms and that also takes advantage of FreeSync technology, in addition to night vision mode to improve screen visibility .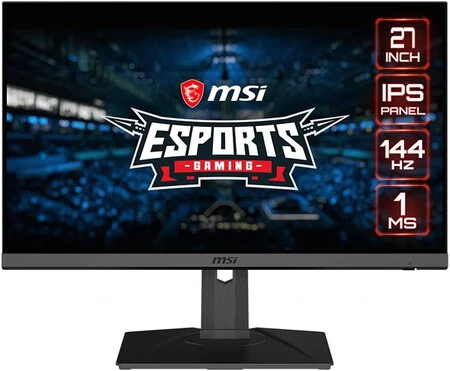 Optix MAG275R Monitor
SonyKD-49XG8096 for 576 euros. The next 49-inch 4K Ultra HD LED TV used to cost about 70 euros more and with it you will witness a spectacular image with excellent sound.
LG OLED42C24LA for 1,063.21 euros. We ended up with this 42-inch 4K OLED TV that previously cost almost 340 euros more. It is characterized by its amazing color fidelity, its surround sound and its slim and minimalist design.
More offers?
If after all this our Friday section falls short, you can be up to date and at all times informed of the main offers in the Hunting Bargains of Xataka, Engadget Mobile, Xataka Android, Espinof Y applesphereour other colleagues Buydiction and also in this flipboard magazine.
Note: some of the links in this article are affiliate links and may benefit VidaExtra.