What would happen if Nintendo, SEGA and Capcom combined the best of each house to shape an arcade game? The answer is Luigi's Mansion Arcade, an adventure starring the Big N's powerful ghostbuster in which the laughter and on-screen chaos masterfully outshines the horror elements. Especially when there are two Sucker 5000 in Game.
Luigi's Mansion Arcade It is one of those hilarious pieces of furniture designed specifically to not go unnoticed. The cockpit is huge, with room for two players to stretch their legs and even has exterior lighting in the form of a sign. That yes, inside you will not find neither sticks nor pistols, but two curious vacuum cleaners similar to those that the brother of the King of Platforms wields in his own Nintenderos Survival Horror saga.
But the best thing is not the design, but what is manifested on the screen. As it should be. The premise for players is not only very similar to the three published installments of the Luigi saga, but it can also be considered a completely rethought version adapted to the arcades of Luigi's Mansion: Dark Moon itself.
yes, visit Dark Town on a 55-inch screen and in the dark, it is an experience that is worth treating properly and separately, although with a partner properly equipped for what could happen to us.
Luigi's Mansion Arcade was originally released in Japan in 2015, brought to the United States in 2017 (more or less coinciding with the launch of Nintendo Switch) and in ArcadePlanet, the largest video game room in Spain, you can play in Andalusia. We put it to the test on the occasion of the recent Gamepolis, and we already told you one thing: if you plan to set foot in the Treacherous Mansion, do not go alone.
An express course for Nintendo ghostbusters
The premise of Luigi's Mansion Arcade and its level development is not very different from that of Virtua Cop or House of the Dead. The playable sensations, on the other hand, have nothing to do with it: they are those expected from a Nintendo game. More specifically, from the Nintendo that was able to amaze the whole world with motion control systems.
on paper, Luigi's Mansion Arcade It's a shooter on rails, so that except for specific moments in which we are allowed to choose between two paths, the only thing we have to worry about is cleaning the screen of enemies. A fairly accurate term, considering that our work tool looks very similar to a vacuum cleaner. Yes indeed, pretty cool vacuum cleaner.
Sitting in the cabin we have in front of us a pair of suckers 5000. However, unlike the SEGA Shooters, using them simultaneously as if they were a pair of pistols is practically ruled out. In fact, the closest thing to a traditional shot is the use of a Strobombilla, which dazzles ghosts and enemies and gives us a few valuable seconds.
Our work tool is simple but effective: near the sucker is the button with which we dazzle, while the handle closes ergonomically, being designed to absorb ghosts as if it were a trigger. Of course, the key to the game is that we do not shoot at any time: we dazzle and suck.
View from the cabin
Like in the games Luigi's MansionHowever, aiming accuracy is not as important as determination to suck up ghosts by pulling them as they try to escape as if your vacuum cleaner were some kind of spectral fishing rod after dazzling them. Of course, there are ghosts that are a real threat, final bosses in each level and lots of secrets and collectibles.
In fact, as in the console games, we can use the physics of our sucker to give life and joy to the decoration of each phase. Which looks scandalous if we compare it with the modest -but very successful- hardware of the Nintendo 3DS. And we are not going to deceive you, the design of the furniture both inside and outside earns it additional points.
The difficulty level of Luigi's Mansion Arcade is another of its successes: two episodes available at first based on Villa Tenebrosa (easy difficulty level) and the Clock Factory (medium level), leaving the Treacherous Mansion (the difficult level) blocked for when we know how to deal with the dangers.
And while there are elements that evoke horror movie clichés, Luigi's Mansion Arcade It has been designed to be a fun, carefree experience for all audiences.
What the Nintendo Switch needs to take back from Luigi's Mansion Arcade
Luigi's Mansion 3 is one of the best Nintendo Switch games. That is unquestionable. It already was before expanding its possibilities with its Expansion pass. However, it is a pity that the magic and possibilities of the Joy Con are so wasted five years after being one of its main claims. Luigi's Mansion Arcade it is proof that great things can still be done with them.
As we discussed, Capcom published and developed an arcade version Luigi's Mansion: Dark Moon using SEGA's arcade technology and once again demonstrating how much and how well he understands and transmits the essence of the Big N games. He achieved it with Zelda on Game Boy and then on Game Boy Advance and he demonstrates it again in arcades through a system that inherits those ideas that positioned the Wii as one of the most successful, best-selling and revolutionary consoles in history.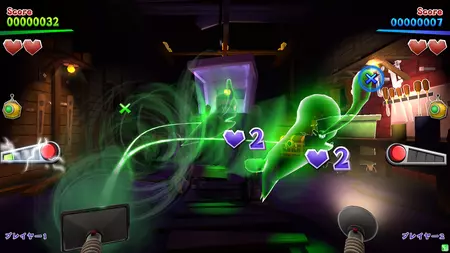 The way of interacting with what happens on the screen makes this arcade something unique and original. Not only when it comes to eliminating ghosts, bats or to King Boo himself based on interpreting how we pull them with our Succionaentes 5000, but on inviting us to extract the coins and secrets generously distributed along our paths using more intuition and physics than skill.
Because, perhaps, when it comes to labeling Luigi's Mansion Arcade as arcade, we should talk about rail shooters, but in practice it has nothing to do with Virtua Cop, Time Crisis or the incursions of Capcom itself with Resident Evil in the genre with The Umbrella Chronicles either The Darkside Chronicles. The reason? Reflexes and aim give way to fun and humor.
Luigi's Mansion Arcade It is not the best installment of its own sub-saga, and its duration – totally in tune with what is expected of an arcade game – does not play in its favor either; but it is a persistent reminder of what makes Nintendo's offerings different from the rest.
Part of that magic lies in how he brings well-established ideas to his field and, from there, turns them into universal fun. Another part comes from the overwhelming charisma of its intrepid heroes, even when they wander into haunted houses. with shivering legs.