Smilegate has revealed all the details of Magic Decks, the new update of this month of Lost Ark that will be enabled tomorrow, July 20, and that will be accompanied by a good shipment of news. For example, one of the most important will be the new advanced class The Arcanist.
It is one of the new variants of the Magician that joins the Barda and the Sorceress. Thanks to her special cards, she will wreak real havoc on her opponents by imbuing them with magic, allowing her to cause various effects, slash anyone with her rain of cards, or perform magical attacks.
Those looking for a new challenge can enter Horde Raid: Valtan on Hell difficulty. It is the most difficult of all and, unlike the others, it will award titles, achievements, fortress structures and other prizes to the best players capable of overcoming this tough challenge. Also, it will not count towards the weekly limit of attempts, so you can try as many times as you want.
It is also clear that it is summer, hence the Maharaka Festival is going to start, a limited event that will be held every two hours and that will take place in the pool of the Maharaka Paradise. In this place, the teams will shoot their opponents with water guns to kick them out of an arena that will reduce in size as the game progresses.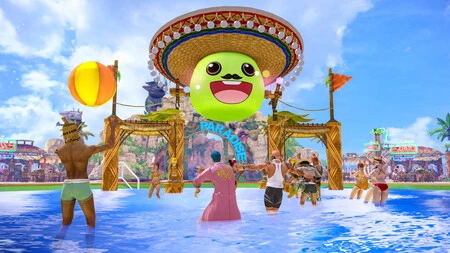 On the other hand, players will meet two new progression events: A Punika Power Pass and the Hyperexpress event, which can speed up a character's item level from 1,302 to 1,370, so it's a good opportunity to get more powerful.
In the patch notes You can take a look at the rest of the news, with a multitude of corrections, a new daily reward path and new cosmetic collections to give a more summery touch to the different characters, to which the Armored Wagon mount and the Starfish pet will be added .