The moment that all the owners of a Nintendo Switch have been waiting for has finally arrived. Bayonetta 3 has confirmed its release date for Nintendo Switch, which will be the next October 28. Indeed, the PlatinumGames witch will not miss the appointment to be ready to wage war in 2022.
Through a spectacular trailer, one of the most charismatic characters in the entire industry has been shown again. The protagonist of Umbra shows us how she is still able to hit anyone with her guns and using Witch Time, capable of slowing down time.
This time, the enemies will be the biological weapons called homunculi and to face them he will be able to use the Demonic Mask skill. With it, his demon powers are linked with his weapons and thus he manages to execute impossible combos.
Tokyo, China and various places around the world will be present at Bayonetta 3 on a journey where we will come across all kinds of Bayonettas. Also, in this installment we will control Viola, an apprentice witch who carries a sword and is accompanied by the demon Cheshire.
collector's edition
There is always a juicy reason to get the physical version of a video game and this time there is no exception. Nintendo has introduced Trinity Masksan edition that includes a 200-page book of illustrations, as well as three special covers.
On the other hand, the first Bayonetta will also return in physical format for Nintendo Switch, alone, and will do so on September 30. A good way to relive the brutal roller coaster that was the original title.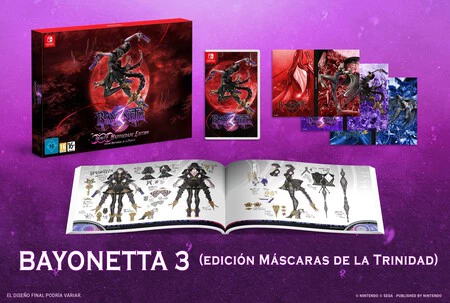 Also coming this year is a physical edition of the first Bayonetta game. We will share more information about it soon! pic.twitter.com/uh9baFTH4c
— Nintendo Spain (@NintendoES) July 13, 2022