On a Friday afternoon, it is very likely to find Álvaro Espinosa, a 22-year-old computer scientist, with a console in his hands in his trusted bar. sunk in a puff on top of a pallet, he has his third game of Mortal Combat, a fighting video game in which he has become an expert after many hours of screens. "It's the kind of activity that needs a couch and a friend by your side. Playing at home is not the same as playing here," explains Espinosa, who spends many "good and bad afternoons" at the Meltdown, a rock bar in the center of Madrid. Here a beer goes hand in hand with the possibility of participating in a tournament of Mario Karta Trivial night or a late night of comedy.
"Because the nights in Madrid can be much more than a drink and a disco", summarizes Kike Gutierrez (40 years old), who has run this bar in Almagro, in the Chamberí district, for five years. When he opened up, she decided to tap into her "retro" soul. gamer old" to combine business with pleasure. "It's a different way of interacting. They are a type of activity that can be done perfectly at home, but here we wanted to create the cozy atmosphere of the bar of all life. Only, instead of darts, we have consoles," he explains. During the first year, he stayed a good time with his friends after closing to catch a game. He now prefers to talk to his customers, advise them on drinks and games, and make sure every night is different.
Like this one, there are other places in the city where you can enjoy a geek atmosphere, in some cases even retro, every day of the week. 200 meters from Plaza de Callao, behind an iron gate surrounded by blue bricks, hides an arcade bar in the purest style of the eighties. The fluorescent lights and the walls full of graffiti signatures create an atmosphere of an extravagant den dedicated to the cult of arcade machines, true protagonists of the bar Next Level.
Two young men play 'Dance Dance Revolution' at the Next Level arcade bar in Callao. DAVID EXPOSITO
Between blockbuster posters like Return to the future, Star Wars either Nightmare in Elm streetLydia Núñez (20 years old) takes a breath after having given everything on the platform of Dance Dance Revolution, a dance simulation video game that was first released in Japan in the late 1990s in arcade form. "In addition to super fun, it is a safe and welcoming place. I like being here because I know I'm not going to run into any altercations like in any other cocktail bar", assures this fashion student.
Despite being designed as simple decoration, the video game machines are the main attraction of this bar. Some customers seek them out of nostalgia, others out of curiosity to try something they have only seen in movies or on television series. "My older brother was hooked on arcades when he was a kid," says Evelyn Mora, a 20-year-old studying social integration at university. She discovered the bar through a photo on social networks and wanted to see with her own eyes if her brother's attachment to her was justified. "The truth is that he is very cool. He has an air [la serie] stranger things", it states.
What affects the most is what happens closest. To not miss anything, subscribe.
subscribe
As if the machines with the 2D screens and the lever with the black ball weren't enough to make you feel part of an American movie set at the end of the last century, the roller dance rink ensures a full time trip. With 800 meters of indoor track, leopard roller skates and a fast food stall, on Saturday nights this space becomes a nightclub reserved for adults only. "It's not like it becomes a wild thing. The music changes and the sale of alcohol is allowed, although our customers come above all to have a good time on the rink," says Lucía Sánchez (21 years old), a rink manager and skating instructor.
Skaters in the Saturday-night session at the Rolling Dance disco, in Chamartín. DAVID EXPOSITO
Alba Cogolludo (28 years old) and Rebeca Domínguez (27) dressed especially for the occasion with high-waisted jeans, short shirts that show the navel and colorful hair bands. "We come looking for the eighties roll," they acknowledge while taking photos with acrobatic poses on the track. During the weekends, it is above all university students and Erasmus students who choose the Chamartín track as their night plan. "Dancing, skating and having dinner with friends for 20 euros. It is a plan", affirms Domínguez.
More than just throwing dice
On San Vicente Ferrer street, in the Malasaña neighbourhood, the Manuela and Estar cafes combine vermouth time with a Risk battle to conquer the world; the Replay Outlet café, in Ribera de Curtidores, has more than 1,600 board games available to its customers, who can play a game from breakfast until closing time.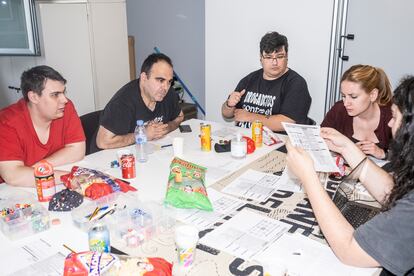 The group Bukaneros del Rol, during a game of the game 'Blades in the dark', in their premises in the Ensanche de Vallecas. DAVID EXPOSITO
In Vallecas, a group of role-playing game enthusiasts meets every week, whenever possible, to experience fantastic adventures around a table full of dice with up to 20 sides and character miniatures. "How is this different from improvisation, I don't know…", observes Francisco González, president of the Bucaneros del Rol leisure association, based in Ensanche de Vallecas. Since the group was formed – they have almost 80 members, of all ages and backgrounds – they haven't let more than two days go by without organizing a game.
"Each role-playing game is a world", adds Rodrigo Martínez (20 years old), when showing the hundreds of instruction manuals that they have stored. "Some don't need dice or tokens. The only thing that cannot be missing is the will to tell a story and the desire to be together".
subscribe here to our daily newsletter about Madrid.
50% off
Exclusive content for subscribers
read without limits