"Siroooooo, noooooo", shouted Ibai Llanos when he saw Siro López die. Screams similar to those of the streamers Auronplay, Elxokas or IlloJuan. Together they have almost 25 million followers on Twitch, the live video platform owned by Amazon. López had just died in the first test of the squid game, the Netflix series adapted for Minecraft, a very popular video game that allows you to create your own worlds. A week ago, dozens of gamers in Spanish to compete for a prize of 100,000 euros. Siro López, a 65-year-old veteran sports journalist from Galicia, was probably twice the age of the oldest of the rest of the participants.
López had played Minecraft for the first time a couple of days before, with his son Xavi as an unpatient teacher. He was nervous before thousands of spectators: "I have high blood pressure, I haven't taken the pills, it's going to give me the park", he said while waiting for the start. "I just want not to be the first to die," she repeated. He was not, but almost: he died in the first test.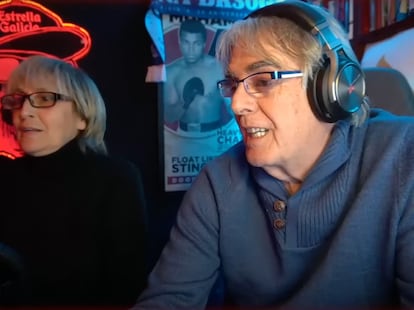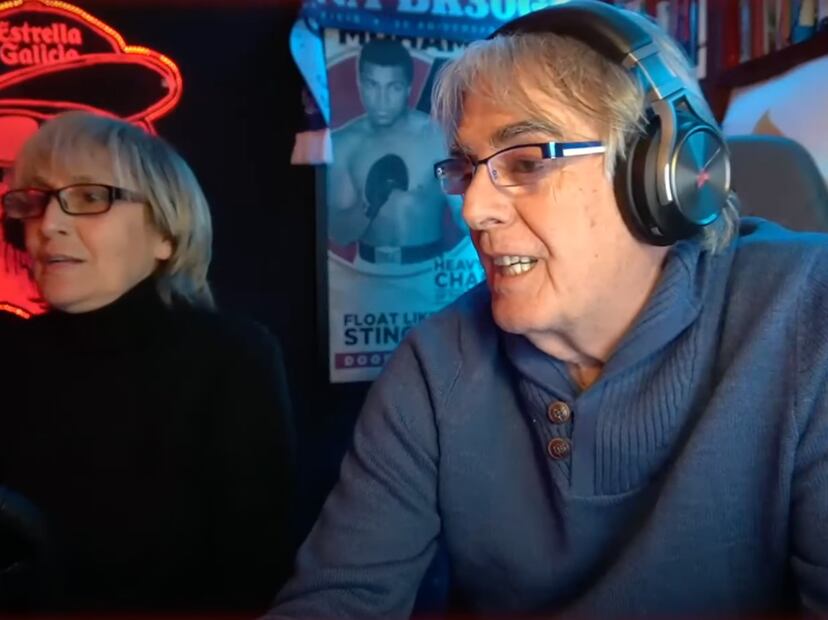 Siro López and Julia Giménez answer questions from their channel in a recent session.
In less than a year, López has earned the title of "grandfather of Twitch", in the words of Julia Giménez, his wife, who was baptized as Julita59 he is also a regular character on the channel. "I can't give up the grandfather label. We are that way. What we transfer is how we are at home, "says López in his home in Las Rozas, where he has set up a small room for a Twitch set, with its ring light, sponsors, colorful chair, announcer microphone and posters. It is common to see López with his boatiné gown and his glasses down trying to figure out how something works on the screen. "[El youtuber] Frank de la Jungla said the other day that he put on Siro's channel some night because he found it very funny to see us both with our glasses down reading the Twitch chat, "explains Giménez.
The entry and success of Siro López on Twitch is further proof of the platform's stealthy but constant evolution towards new audiences. Twitch started for video game players and most of its stars still are: Auronplay, Rubius, theGrefg focus their activity on playing and commenting on it live. But the success of Ibai Llanos, more open to other audiences, and his chime with Ramón García, his balloon world championship with Gerard Piqué or his recent adaptation of Masterchef as "disaster chefs" It has paved the way for several sports journalists, each with their own personality and goals. Unlike other platforms, the power of Spanish on Twitch is extraordinary: the three channels with the highest peak of viewers have been in Spanish, TheGrefg, Ibai and Elxokas (precisely a week ago when it was a finalist in the squid game).
López is the godfather of all and is the one that has come closest to the relaxed dynamics of the platform: playing, consulting rooms through chat, extreme naturalness, trolling without hesitation. López is a unique mixture of a teenager and a chive grandfather: "Where the hell is the pad?" López asked in a recent live show like any flustered man at the keyboard, he uses "bro", he asks what Onlyfans is when someone quotes him on the chat [es una plataforma con mucha oferta de porno] and use Discord [una aplicación de chat para gamers]. López is comfortable in that role: "I'm very Peter Pan, a 65-year-old body with a 25-year-old mind. Playing games amuses me," he says. Although López has channels on YouTube, TikTok and Instagram that work well, he does not manage them directly.
"I have managed to reach four different generations. In the eighties, with García on the radio, people who are now grandparents met me, then parents in the nineties, children in the 2000s and now grandchildren. I have linked four generations. I am like the Rolling Stones, I have managed to communicate with people from the eighties and people today, "he says. One reason why he has been so well received by young people like Ibai is precisely that the parents and grandparents of the young people remember Siro from other times.
The activity, especially of Ibai, has often generated controversy with sports journalists. Ibai has interviewed Messi, Piqué or Agüero and some journalists have publicly complained. "But it is that Sergio Ramos has also gone to the anthillLopez says. "I am a journalist and communicator, like José María García. Ibai is a communicator. I distinguish because it is not necessary to detract from what Ibai does. Not all good journalists are good communicators, nor do communicators have to be journalists. José María García was the great communicator of the 20th century. Ibai, from this one", he adds.
"The luck that Twitch and YouTube exist is to have been able to discover people like them," says López, referring to the streamers more famous. "They are guys who without these platforms might have been known, but it would have been difficult. Just as Ibai would have dedicated himself to something else. Perhaps he would have ended up narrating Athletic matches from Bilbao", he explains.
His son Xavi repeated to him from confinement to enter Twitch. The first step was a TikTok account where Xavi recorded his father in confinement while he ironed, slept or painted and combined it with some typical audios from animal documentaries La 2 where the life of the alleged gorilla Makumba was described.
Before entering Twitch, López and Giménez thought of Twitch the same as the vast majority of Spanish men over 60 years old: "I answered Xavi that people on Twitch have two fingers of a brain like him and some don't even have a brain. a neuron and the average age is 15-30 years. Who is going to be interested in what an old man of 65 says? You're goofy," he would say. Julia Giménez's speech was similar: "When I was little I took Xavi to school [ahora tiene 21 años] He was always with elRubius and followed all the youtubers. I would listen to them and ask him how funny he found it when he saw that boy say this nonsense or play a game, "he recalls. "Now I do it myself and the truth is that it is very funny. Xavi was right", he adds.
López had been participating for a few years in a basketball program called Colgados del aro, which was broadcast live on YouTube. It had its audience and was a remarkable success. Xavi had at least three arguments to convince his father: one, he had a good fan base, people who know him from Real Madrid and Colgados. Two, he had a relationship with Ibai and people from the world. And three, "he is a very funny man and he doesn't mind learning to play, maybe others streamers journalists do not quite understand that it is not necessary to be serious all the time", he adds.
López is in a privileged position to observe this new phenomenon. He has been at the forefront of sports journalism for 43 years. He started with José María García, he has been press officer for Deportivo de la Coruña and Sports on Telemadrid, he has collaborated on lots of programs, including El Chiringuito. What he does now is the same, but different: "I haven't changed my way of working. Basically, what I do is TV and radio from home, although with a different tone," he says, adding perhaps the greatest distinction between networks like Twitch and traditional media: "The greatest talent I have is naturalness."
On Twitch, the interaction with the chat where the audience gives their opinion and questions is incessant. It is the great feature of the platform: the community is very present. The streamers who start out end up knowing the nicknames of their most active users, who subscribe and pay to support the channel. The audience is also younger. "I recently did a survey to find out the age, there were about 2,000 of us: 62% were between 15-30 years old," says López, who, although he does not give figures because Twitch does not like it, could already live off the platform (for publicity and subscriptions) and from their own sponsors.
It is not always clear what the audience wants. López at first told anecdotes and talked about sports. For example, he showed his collection of 50 soccer team jerseys. But right away he noticed that he needed something more. "It is an entertainment platform. I first discovered the Geoguessr game, where you have to guess which country you are in," he explains. López has been connected an average of 4.5 hours a day in January. He has tried Formula 1 games, truck driving games or the collective games Fall Guys or Among Us.
The platform evolves towards a greater variety of audiences. López calculated that the final of the squid game it was the second most watched program that day in Spain. During the final between the last two competitors, one of them, Elxokas, had 1.2 million people watching live (all over the world, not just Spain). "There was a peak of 2.3 million accounts," says López, adding up the different accounts that broadcast the game. "This is not a bubble, it is here to stay. Young people are focusing on Twitch and YouTube and I would advise the big media companies to start worrying about reaching those people," she says. Sports journalism is the first to arrive. In addition to independent journalists such as Gerard Romero or Rubén Martín who are carving out a niche for themselves, El Chiringuito or Deportes Cuatro have broadcasts.
You can follow THE COUNTRY TECHNOLOGY in Facebook Y Twitter or sign up here to receive our weekly newsletter.