I never played GTA San Andreas. I'm lying, I never really had the best installment of Rockstar to date and therefore I never got past the mythical cj adventure. Obviously, several friends had their copy of the PS2 at home, passing through the triumphal arch the recommendations of the PEGI system.
Yes, I've dabbled in flying a stolen plane, parachuting, exploring a huge map, and wreaking havoc, but I'm lacking in really penetrating that world. All of that seemed like a fantasy to me and it wasn't until GTA IV that I got to enjoy Niko Bellic's story.
Los Santos is nothing but a remake of the same area that we could visit in GTA San Andreas, a perfect set-up, but with a difference of more than 20 years in the game. However, the spirit of gang members, gangs, it still breathes in the current installment. That is what I have found in GTA Online, with unexpected consequences.
Lamar and his pods
This could be the perfect summary of what my last adventure has been and what the rest of the post will be about. I admit it, the damn Lamar Davis in GTA V hit me like a kick in the crotch. I couldn't handle him, he was unbearable, useless and with a coconut full of sawdust. Still, he's the one who picked me up at Los Santos International Airport, so I owe him a modicum of respect.
Especially if he offers me any sum of money. Call after call, she insists that I visit him in suburban Chamberlain Hills, not far from where Carl Johnson lived, Big Smoke and company. Ultimately, I'm getting into the low rider update from GTA Online.
Lamar tells me that he has talked to a lot of people, but that I am his last hope and that he has an incredible plan thanks to his brain running at the speed of a Pentagon computer. Regardless of the effects of the drug on his body, he ends up convincing me. He abhors the plastic aesthetic of city cars, a position I share with him.
The workshop that he runs together with Benny, the mechanic, seduces me to unimaginable levels. There is a lot of material to work with here and although it is not that discretion is sought, I notice some vibrations that fit much more with the bodies that I keep in the garage. Therefore, to impose a superior style, he makes it clear to me that he must show off to everyone and only happy Vagos and Ballas they prevent it.
Heck, it's just like the old days. Really, GTA San Andreas It hasn't gone anywhere and it's still breathing in GTA Online; you just need to know where to look. He wants me to mount a huge candle between the two groups and thus be able to reign among the ashes, like Gwyn from Dark Souls.
The show starts and I need to get together with three other players. The plan is simple: pretend to be Vagos and Ballas, shoot everything that moves and promote destruction.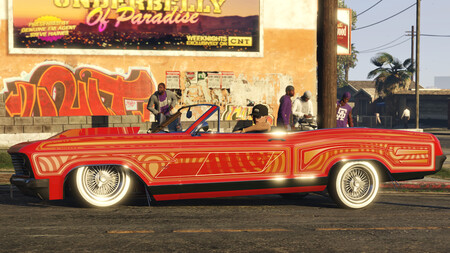 Feel like 90's
I get to be a Ballas with a partner from God knows where in the world. Language is common when it comes to guns, so we hop into a custom Chinese Vapid (which is virtually inconspicuous) and get to work.
Without order or concert we take a walk through the houses of Rancho and what we all expected occurs: a massacre. Bullets fly here and there, save for one tiny little detail. Children, young people and adults present in this publication, I am going to give you some advice. If you go armed to a dangerous mission, it is highly recommended carry ammunition even in your underpants.
Otherwise, you may peek out from behind cover, hear the unanswered trigger click, and before you know it, you're booked into the morgue. That said, the plan turns out to be a complete success and we return to the workshop. Lamar appears again to remember the old glories of the gangster era of the 90s, that in San Andreas these types of fights were common, so the old traditions should not be lost.
He comes so high that he tells us that he wants to instruct us, become a teacher for us. I am a student of the fatten the bank account. For this reason, he plays a new assignment and this time we play Asian territory.
It's all very simple, just like selling some cars to a group of South Koreans while Lamar keeps repeating that I'm a bird on the lowest branch of the tree. Consequently, all the feces fall on top of me. Have you ever met by Wallapop for a purchase/sale? It is a paradise of tense cordiality, in which some defect in the product can send everything to hell and end up without the 15 euros of the radio cassette in the storage room.
Everything is going well at the meeting place, except that the Ballas have found out about the exchange and decide to shoot in revenge. We lose the cars, the deal goes bust, and Lamar shows up in an Albany Emperor to tell us off. This time, marijuana has the desired effect and by chance of fate decides to forgive us this flagrant mistake.
Flour looks like, plaster is not
I remember Gerald. He was one of the few characters in the GTA Online primal that gave you quests. They weren't much, small rewards, but in this tiny world they felt like beastly progress. Don't ask me why or how, but the poor thing has been captured by Vernon.
I have no fucking idea who he is, but it's clear that Lamar has pissed him off a lot. Faced with such a situation, he has to play cavalry with another player and get him out of the clutches of the police, inside an armored van and guarded at the airport. Almost nothing.
We had a serious and obvious logistical problem, since we could not think of anything else but to go to the rescue with two-door sports cars. Worse yet, we don't realize the blunder until Gerald is circling the runway not knowing where to go.
After a harsh reprimand from Gerald in which he assures that will put the warm hat on Lamar and Vernon, we conclude the matter. Despite this, the new king without a crown asks us for one more commission, to which we must go to pay our respects.
Of course, first of all I receive 100,000 dollars for the prime gaming promo for GTA Online, which I thank with a smile. Now yes, it's time to go to Al's funeral, one of the Vagos that we killed a few missions ago. A godforsaken church near Sandy Shores is the key meeting point.
Group of four to go with terrible pints to the funeral. We look like something out of a music video from the early 2000s., with pants that have not been through the tailor even once. But since Lamar is the one bringing the suits and insisting on the '90s gangster look, keep your mouth shut.
Going to the funeral, Lamar tells us the truth. Al's funeral is actually a cover for coke smuggling, because the hearse's coffins are filled to the brim with white powder. I'm still snapping out of my shock as I'm already walking to the back of the church and watching the Vagos pay their respects.
They are sad? Yes, but the bitterness lasts as long as it takes them to remember that they are loaded up to their eyebrows with coffins, which leaves a little camaraderie at the height of bitumen. Order from Lamar's earpiece, shoot at point-blank range with small arms, not to miss class even in the middle of a firefight.
After murdering more people than I have fingers on my body, we pillage the hearses, leave behind us a real pickle, and deliver the packages to a very animated Lamar. I don't know how I went from believing that he was going to an act of respect to taking me coffins full of cocaine. I'm not sure what else Lamar and Gerald have in store for me, but I certainly GTA Online has not ceased to amaze me.