Share
We analyze Evil Dead: The Game on PC, a very dark asymmetric multiplayer.
It's been almost 40 years since the premiere of the first Evil Dead movie, one of those films that managed to define the horror genre in the cinema at such a level that today there are few films with a similar theme that do not pay homage to it. We could say that this was also the film that launched the talented director Sam Raimi to stardom (or at least popularize it), who is today known for the original Spider-Man trilogy, or more recently for his work in the second solo Doctor Strange film.
In short, The Evil Dead (original title of the first film in this saga) is one of the most important films in cinema, which is why it was so strange to see how this brand had been so abandoned. Yes, there had been numerous projects to bring her back to life, but they had all failed. This has changed in recent years, something that it is reflected especially in the fact that we have received a video game based on this franchiseand I can already tell you that it has turned out quite well.
Evil Dead: The Game: all the information
Evil Dead: The Game
Platform
PS5, PS4, Xbox Series X|S, Xbox One and PC
Release date
May 13, 2022
developer
Saber Interactive
Gender
third person action
Idiom
Texts in Spanish and voices in English
Evil Dead: The Game is an asymmetrical multiplayer based on the film franchise known as Evil Dead, which saw the light for the first time with the film The Evil Dead released in 1983. This title has been developed by Saber Interactive, but specifically by its subsidiary here in Spain, and it has reached us on May 13, 2022. We have received versions for PlayStation 5, PlayStation 4, Xbox Series X | S, Xbox One and PC (via the Epic Games Store).
Experience with Evil Dead: The Game
We have already commented on it, but first of all it is necessary to mention that we are facing a video game that focuses, mainly (later we will see why not totally), on its multiplayer facet, being in asymmetric mode, or said more easily, there are several survivors and a single player is responsible for defeating them.
This premise is not new, and therefore it does not come in reinventing the wheel, but we must mention that there are few titles that have managed to do this well, being Dead by Daylight one of the best known and one of the few that has managed to win over the general public. Examples of the opposite, that is to say of failures, there are quite a few, but we could mention Evolve as a clearer example, being a title with good ideas but that after months was already abandoned.
Then We will see if the developers of Evil Dead: The Game have managed to learn from the mistakes of the biggest failures of the genreor if on the contrary they have managed to correctly and efficiently adapt this premise to the Evil Dead franchise.
A very fulfilling third-person gameplay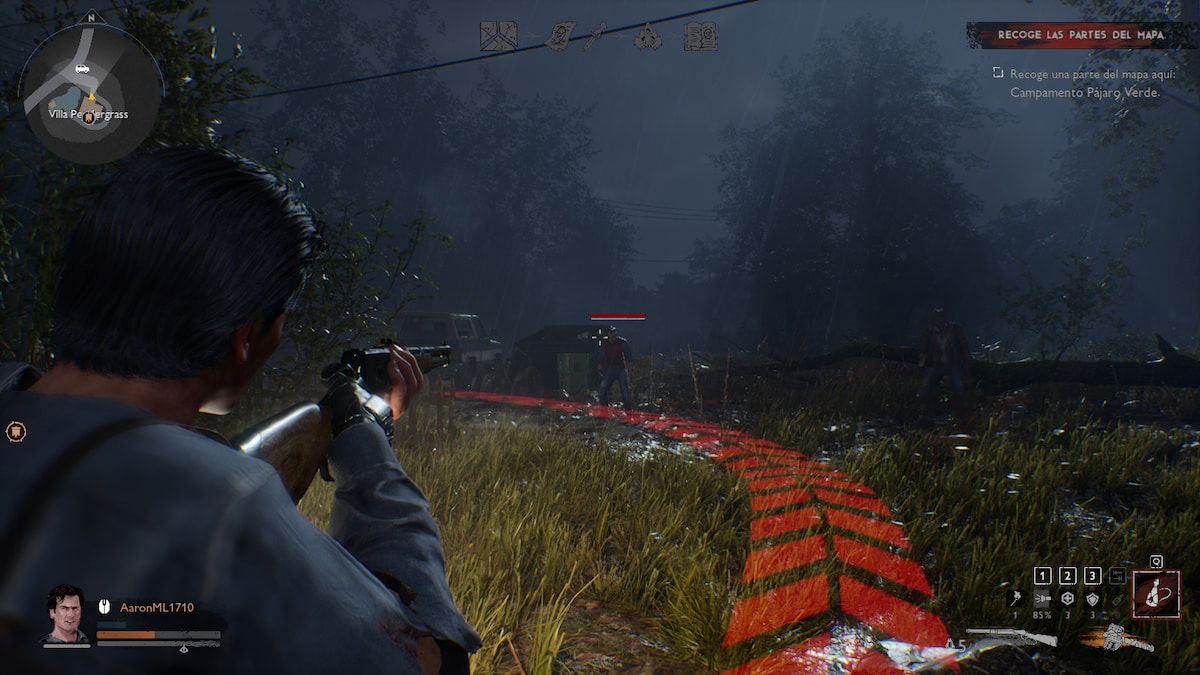 Today there are many third-person action video games, being the aforementioned Dead by Daylight, or all the latest Naughty Dog video games good examples of this. Not all video games of this genre have a similar gameplay, being the action genre, and the placement of the camera their only points in common, but it must be recognized that due to this market saturation it is difficult to propose something new.
Indeed Evil Dead: The Game does not propose much new thing to the genre, basically serving as a demonstration of how to do everything right, but without going too far into the genre. In our adventure against the evil one we will have two different weapons, one melee and one from a distance, which we will have to pick up during the games, either from the same ground or from the different loot boxes that we will find throughout the map. In most cases we will tend to use our firearm, mainly because it does more damage and because it is much faster to use, but ammunition is extremely scarce, forcing us to rationalize this resource, giving it a touch of survival that suits it very well. .
The games are frenetic, mainly because we will have a timer at the top of our screen at all times, something that will seem silly at first, but as we approach the end of the game it will be on our heels so much that it will reach bother us This wouldn't be so unpleasant if our character didn't feel so heavy, so to speak. It doesn't matter which character we choose. your movements will be clumsy and slowsomething that goes very well with the fact that in the movies they are normal humans, but that can bother depending on which players.
A very fun and varied multiplayer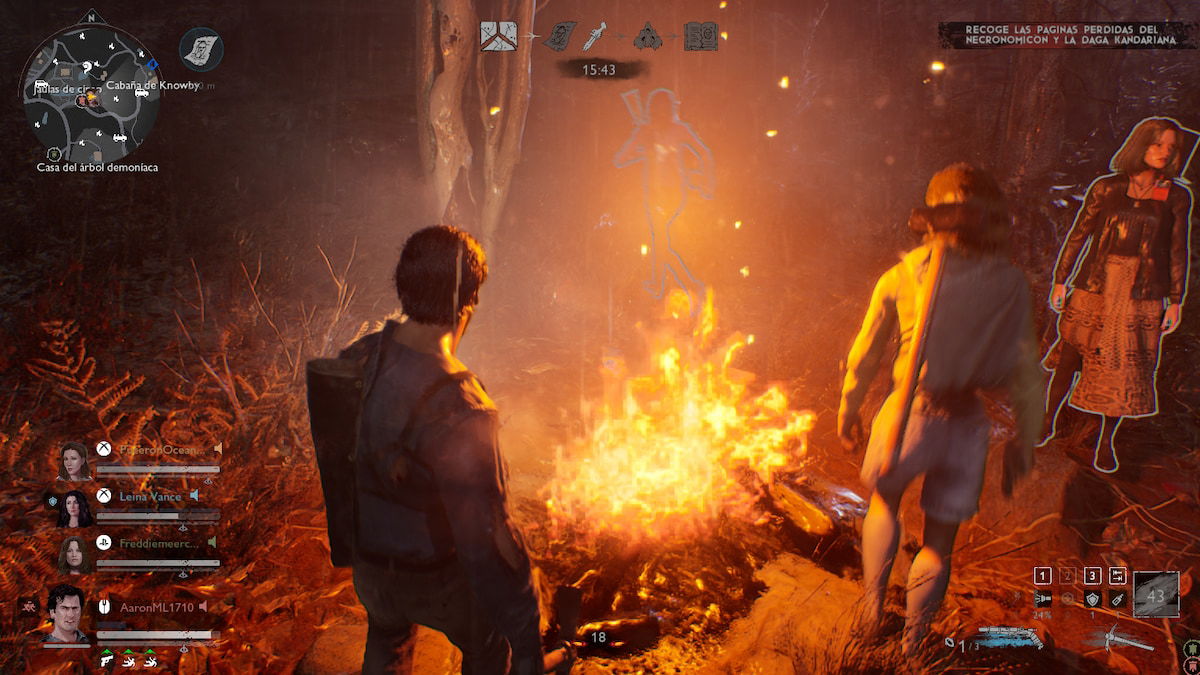 We have already said before that this title focuses mainly on its multiplayer mode (although later we will talk about its content for a single player), and that is that we are facing another asymmetric multiplayer. We have also commented that the great of the genre is, without a doubt, Dead by Daylight, but we have not said that the differences between Evil Dead: The Game and this more than mentioned title are tremendously notable, especially in its base. In short, in DBD (abbreviations of the famous Behavior Interactive title) the lone player must chase the survivors, being a kind of macabre game of cat and mouse, but Evil Dead: The Game focuses more on preventing the survivors from fulfilling their objectives.
For their part, as we have already mentioned briefly, players must meet various objectives to be victorious, but they must always do so together. This may seem like a trifle, mainly because in almost all these video games the normal thing is that there is a "lone soldier", who is dedicated to winning the game on his own, but in this title it will be more difficult. The mechanics of fear means that if the fear bar reaches a certain limit, we end up being possessed, preventing us from moving at will for a long time. The most important thing is that in order to lower the progression in this bar, and for many continue playing normally, we have two options, go with colleagues or stand in a lighted area, and although it may not seem like it, the first option is the best. This, in addition to other factors, manages to encourage teamwork, and the truth is that it is quite fun with friends, although with unknown people it is a lottery.
There are also options for those who love to play solo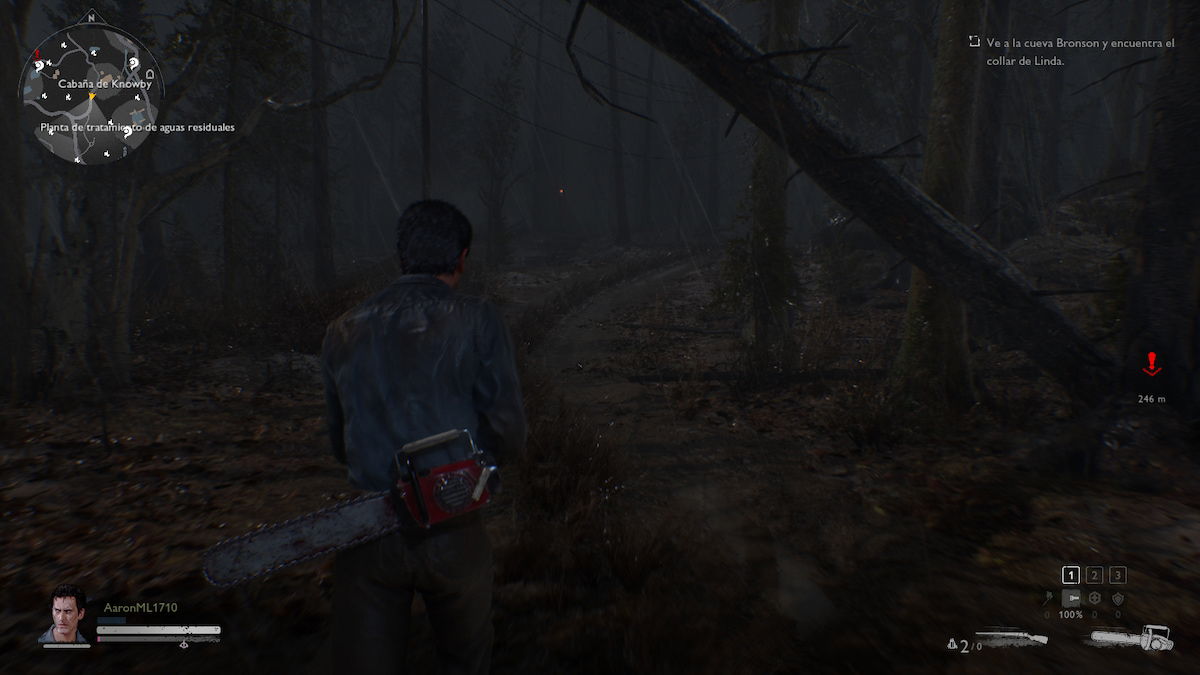 If you prefer to play alone, don't have friends to play with, or are simply playing on a console and don't have an active subscription to PlayStation Plus or Xbox Live Gold, don't worry, because you also have modes to play. Yes, this game is focused on its multiplayer mode, but it also includes different modes for those who prefer to play on their own, without depending on others.
To begin with, you can play the multiplayer mode but on your own, with artificial intelligences taking control of the other survivors and the hunter (to call it something), as well as being able to be the other way around, you taking the role of the hunter and the cpu controlling to all survivors. This may sound great, and it can get you out of boredom if you can't play online, but I'm telling you right now that artificial intelligences are not the best, and therefore the experience is not particularly good.
On the other hand, there is a much more complex single player modeAnd it's also much more fun. If you cannot play online, we recommend that you choose this one, since it is not the original experience of the game, but it is somewhat challenging, fun and with somewhat different mechanics from those of multiplayer. In this case, it shows that they worked so that everyone can enjoy this title, and that is something that is appreciated.
Technically it's amazing
Now we have reached the section in which the game stands out the most, and that is that its graphics and sound are the best I have seen in a long time in games of this style, and its optimization for PC is very well achieved.
Much of the work to make everything look so good is artistic design, and in this section the game stands out quite a bit, noticing where it comes from, and with scenarios that they could perfectly come out of any triple A survival horror with cutting-edge graphics. I don't think I can put a single hit on this aspect, since the lighting, particles and textures are among the best I've been able to find in any multiplayer game, and that's something that frankly surprised me. If we talk about the sound, I must say that the soundtrack is very good, although somewhat suffocating in moments of stress, something that is understandable for his work, but that bothers more than the situations themselves. For its part, the sound design is not the best we can find (weapons and steps could sound better), but it still performs wonderfully.
Now speaking of the optimization on PC (the platform where we have played it) I must say that this is not a game that will work on any computer, but if you meet the requirements it will work perfectly. We have been playing it in the highest quality and at more than 60 FPS totally stable, something that is partly thanks to Nvidia DLSS technology, but that also speaks highly of the work that the developers have done with this version of the game.
Conclusions and note of Evil Dead: The Game
Evil Dead: The Game doesn't reinvent the wheel, nor does it take a lot of risk in its gameplay base, but it does pretty much everything it does well. I don't think that in a few years we can refer to this game as the inventor or the game that rooted certain mechanics, but I do we can refer to it as a very good game from a well-known horror franchise.
A very well thought out gameplay (although a bit repetitive after several hours), a technical section that borders on the outstanding and the introduction of single player modes despite being a title designed to be played online are its greatest strengths.
If you are looking for a well-thought-out asymmetric multiplayer, to spend hours on (although not very often because it becomes repetitive) with your group of friends, this may be your best option. I can't speak for how the servers will be in a few months (mainly because we already know what has happened with other titles in the genre), but right now it's relatively easy to find a game, so you can launch without any problem.
75
Is Evil Dead: The Game worth it?
In favor

A very well thought-out third-person gameplay, which can be uncomfortable in certain aspects, but which in general represents very well what we saw in the movies in an interactive environment such as video games.
Inclusion of single player modes for those who cannot play online.
Very good technical section, which borders on outstanding and is worthy of admiration.

Against

It does not innovate in practically any aspect. It just does everything right, but everything it does we've seen before.
After several hours it gets a bit repetitive, especially if you don't have a group of friends to play with.

Conclusions
If you are looking for an asymmetric multiplayer with a horror theme, this game is perfect for you. Especially if you have no pretensions to find a change with respect to other greats of the genre, you will find in this title a great video game, with an incredible setting and technical section. If, on the other hand, you are more demanding in this regard, I would recommend that you wait to see if the price drops and if the player base is maintained over time.
Related topics: Analysis
Share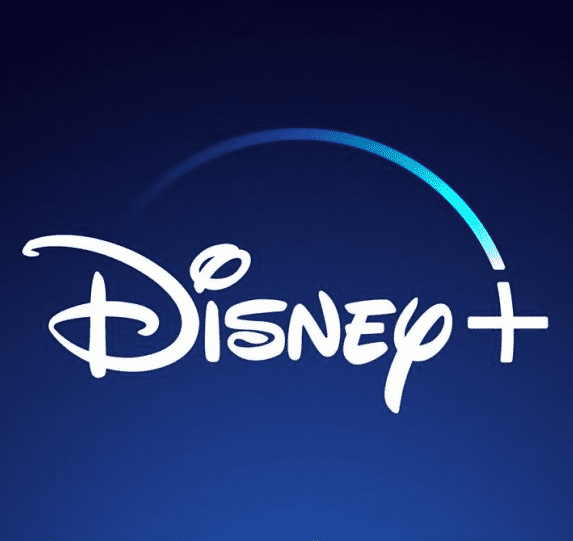 Sign up for Disney + for 8.99 euros and without permanence Subscribe to Disney +!