It is not easy to find games for more than five players. Even less if what you are looking for is a cooperative experience. So in my constant search for something to get hooked on with my group of friends I have almost accidentally come across V Rising.
I say that it has not been intentionally because I came to its beta with the idea of ​​meeting a Devil with vampires, but V Rising I leave with the promise of games with up to 10 players, Valheim-style base building, and the feeling of being in front of one of those little gems worth approaching.
Survival, vampires and castle building
I think the description of their mix of genres couldn't be more accurate. From an isometric view we control a vampire completely customizable that must take control of his world after years of sleep.
With basic attacks and abilities that will allow us to eliminate the enemies that surround our resting place, based on obtaining resources by cutting down trees and sucking necks, we will be manufacturing our first weapons, armor and tools to keep the cycle active.
The ultimate goal is to create a vampire that dominates them all, humans and brothers, controlling the region from the castle that we can create from scratch and commanding an army formed by uniting both simple villagers and powerful enemies to our cause.
a luck of survival in which to hunt at night to avoid the damage of the sun's rays, and continue crafting weapons and renovating our base when the shadows outside do not allow us to get from here to there with relative ease.
Demanding combat and addictive exploration
With different scenarios waiting to be cleared of enemies while we jump from one neck to another, the attacks with the mouse are not done with the click of a button, but we move with WASD to play more with the dodges and to be able to get away from danger with ease As long as we don't stop attacking.
Demanding because of how easily you can fall into a hornet's nest full of enemies with a much higher level than you, getting the hang of what you can and not besieging takes just half an hour and, from then on, the idea of ​​continuing to create to improve your statistics becomes one of those addictive loops in which, personally, I have quite easy to fall.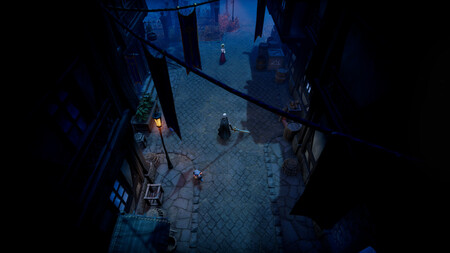 The closed beta that we have been able to test, much more solid than that of other volume and loin games with version 1.0, is only the prelude to an early access that will be inaugurated next may 17th in Steam.
If you are looking for something Valheim-like that you can enjoy with friends or alone in both PvE and PvP and all of the above mentioned catches your attention, take a look at V Rising when it launches. I have a feeling it's going to be one of those games that will get people talking.