During the last weeks I have been telling you about my experience with the different League of Legends game modes that rotate every certain amount of time. Two of the ones that have conquered me the most have been URF and ARURF, but in reality there is another one that has captivated me much more due to its peculiar proposal: Bombardment of the Nexus.
Without a doubt, it could be said that of all the alternative modes that exist, it is the most different from all of them and, of course, one of the most fun that Riot Games has been able to come up with since the popular MOBA existed. Such is the case that I completely forget about ARAM when the company is encouraged to temporarily bring this mode back.
Because not everything is planning strategies and fighting non-stop. We have the best example with this mode in which if they told me that it was inspired by Mario Party or other titles of the same type, I would completely believe it. A bet that could be considered risky, but that actually it came out round.
The magical Ionian forest in which the games will take place
Neither Howling Abyss nor Summoner's Cry. In this mode all the action takes place in a whole new map and unlike any other. It is an Ionian forest known as the Temple of Lilies and Lotuses in which it stands out for its colorful touch with trees everywhere, rivers, bushes to camouflage and other details.
But if there is something that draws attention to it, it is its small size, so it is easy and quick to get to any part of this place that is divided into three zones: the upper line in which two players will be dedicated to crushing the creatures that inhabit the surroundings; a central line that must be controlled by a single player; and a bottom line that will be protected by the remaining two players. Therefore, the function of each will vary depending on the position selected.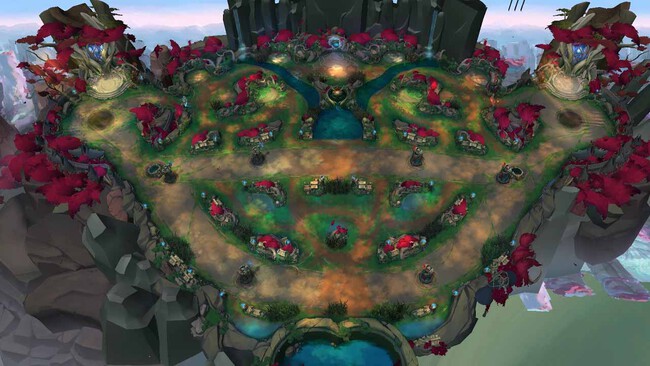 And it is that before starting the game it will be necessary to select in which position each one wants to play and then choose the desired champion to dispute the battle. Of course, previously you have to go through a blocking phase in which you can select up to five characters that we do not want to see or paint at any time. I certainly have some candidates that I usually opt for, although here it will depend more on the line in which each one plays to eliminate a character that may be undesirable from the field.
Even so, in this mode it is not so decisive to opt for one or the other, so in general nothing happens if you catch your favorite champion or one that you simply want to play. On the other hand, it should be noted that the games are very short compared to the rest of the modessince it is rare for any to last more than 20 minutes, to which is added the fact that the statistics, such as attack speed or mana regeneration, are increased.

Some crazy battles with minigames
The objective of Nexus Bombardment is the same as any other game mode, that is, destroy the opposing team's towers and base to claim victory. However, everything that happens in between is what makes it unique, because as soon as a few minutes go by completely random mini-games will appear in which all players will be involved.
In total there are 11 tests that can be played and that will take place approximately every three minutes, which means an average of between two and three mini-games per game, depending on how long it takes. The good news is that the first one will be revealed at the champ select screen, so this can also be a good reason to choose a suitable character to succeed.
King Poro
What is so important to win is because the minigames will provide a most succulent reward the one who manages to prevail against the opposing team. For example, this can mean the appearance of a cannon through which the players will be propelled, the invocation of the Poro King to throw us a cable, a battle cart to move at full speed around the map or also a spell such as the ability Zilean's ultimate to resurrect in the event of death.
These are just a few examples to give you an idea of ​​why they are so important, because they are capable of drastically tilting the balance in favor of one group or another. The bad thing is that this randomness factor can be a bit unfair, because not all prizes are equally good, which means that some can get an excellent power-up and others a reward that is not too useful depending on the state of the game. game at that moment.
A battle royale, the king of the hill, an insect race…
While the different mini-games are parading, the game will proceed as normal, like in any other way. It is when these crazy tests begin that chaos can be unleashed depending on the one that touches, among which there is a Battle Royale of different types. In this way, it is normal for a wave of fire to appear that will gradually cover the entire terrain and that will naturally annihilate anyone who crosses its path.
However, it can also happen that in this minigame in question someone becomes giant or everything turns dark and we become blind. In turn, there is also another test inspired by URF with a direct combat of 5vs5 to the best of three rounds, although there is another one with combats between smaller groups in which we will fight two confrontations of 2vs2 and another one of 1vs1.
Personally all of these are my favourites, but I also love one based on the typical king of the hill way to conquer a base or even another in which two bugs will move around the stage, having to crush the opposite to make them stop in their tracks, since the one who crosses the finish line first will win.
For all this it is clear that it will be difficult for there to be two identical games in Nexus Bombardment due to the wide variety of mini-games available. There will even be a sudden death in the event that 18 minutes elapse and no one has won, at which point the minions will become killing machines and a giant golem will also appear for each team that must be eliminated to know the victory. Likewise, his life will depend on the towers that have remained standing up to that moment.
In the end, between fast, interactive, frenetic and fun that the games turn out to be, I can't stop playing Nexus Blitz every time Riot Games decides to bring it back, which is unfortunately fewer times than I'd like. Of course this is another of the ways in which I would sign where necessary to make it permanent, because it is always good to have proposals so different from the usual ones and on top of that on a map that is not the one we are used to seeing on a daily basis.