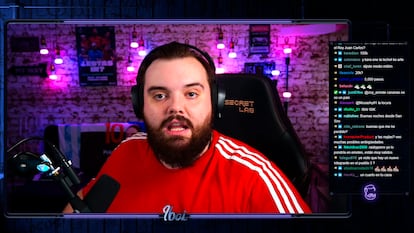 The streamer Ibai Llanos, during a broadcast on his Twitch channel.
Ibai Llanos himself announced it on Thursday night on his social networks: his Twitch channel just hit 10 million followers. There are only six other content creators to have reached that number in the history of the Amazon-owned interactive live streaming platform. Two of them are also Spanish: auronplay and Rubius.
10 MILLION ON TWITCH ❤️❤️❤️❤️
There are only six other channels in Twitch history with this figure. What fucking nonsense is this.
I LOVE YOU. LITTLE KISSES. pic.twitter.com/wm39GIEHrl
– Ibai (@IbaiLlanos) April 28, 2022
Llanos, which he prepares together with Ramón García the return of Grand Prix to Twitch, he has recently criticized that the platform to which he contributes so many users plans to make changes in its monetization. Twitch gets a percentage of the revenue from the streamers from your paid subscriptions generated, although Bloomberg announced this week that the company plans to raise that fee and keep half of that money.
Here's a look at the only six accounts to beat Ibai on Twitch:
1. Ninja: 17.6 million followers
Tyler Blevins, better known as Ninja, is the most famous professional video game player in the worldRobert Reiners (ETTY)
The most followed content creator on Twitch is Richard Tyler Blevins, a 30-year-old professional gamer known as Ninja. The American underpinned the popularity of his channel in 2018 when he broadcast a game of Fortnite along with two great stars of current music, rappers Travis Scott and Drake.
2. auronplay: 12.6 million followers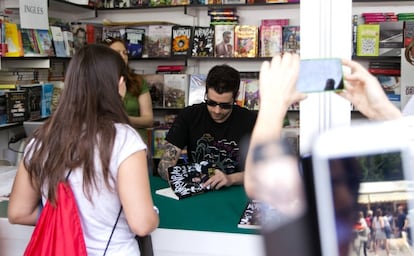 AuronPlay, signing copies of his book during the 75th; Madrid Book FairAlvaro Calvo (EFE)
Raúl Álvarez Genes, born in Badalona 33 years ago, attracted a large fan base with his YouTube videos before moving to Twitch. Although he is more than five million followers away from Ninja, the auronplay account It is the one that has grown the most so far in 2022, according to the media specialized in esports and video games Dexerto.
3. Rubius: 11.7 million followers
'El Rubius' at the 2018 Sitges Film FestivalRobert Marquardt/Getty Images (Getty Images)
Ruben Doblas Gundersen (Ruby), 32, born in Malaga to a Norwegian mother, published his first video on YouTube in 2006. Once he became one of the kings of this platform, he also made the leap to Twitter. Much of its current content is related to video games Minecraft Y grand theft auto 5. His fame has led him to launch his own comic, Virtual Heroadapted for television by Movistar Plus+, and even made a cameo in torrent 5.
4. Tfue: 11 million followers
The American Turner Tenney (Tfue), 24, is the most controversial content creator on this list. He started playing Call of Duty before going to Fortnite. In recent times he has focused more on apex legends, a not so popular game on the platform. His relationship with Twitch is quite complex. The company has suspended his account several times, while studying whether he had included racist content in it and, on other occasions, for unexplained reasons. Own streamer has temporarily removed his channel. All this has caused its growth to suffer over the years.
5. xQcOW: 10.5 million followers
Canadian Félix Lengyel, 26, has just broken his own personal audience record this Wednesday, April 27 on your channel: His broadcast reached peaks of 312,000 viewers. He did it by being one of the first to show his followers Overwatch 2, one of the most anticipated releases. At the end of last March, xQcOW decided also create an account on the short video platform TikTok, whose essence is very different from the long live broadcasts of Twitch. In these few weeks he has already added 375,000 followers in this new account, although he has only published one post in all this time.
6. Shroud: 10 million followers
Another Canadian, Michael Grzesiek (shroud), 27 years old, has recently dedicated himself to publishing content on Counter-Strike: Global Offensive, of which he was a professional player in the past. He took a similar leap to football excusers who become sports commentators. In 2019 he signed up for Mixer, Microsoft's failed attempt to compete with Twitch, but returned to his roots when that project closed in 2020. He managed to sneak in among the streamers with 10 million followers on Twitch in February 2022 and since then his account hasn't grown much more, so Ibai can top him at any time.
You can follow EL PAÍS TELEVISION on Twitter or sign up here to receive our weekly newsletter.