Whether it's because you like to drive through the streets with your favorite vehicles, try your luck at the casino or dedicate yourself to trafficking, in GTA Online there are countless ways to pass the time, so in the following guide we are going to tell you what will be the bonuses, discounts and much more that will await you until April 20.
All bonuses and discounts until April 20, 2022
Podium Vehicle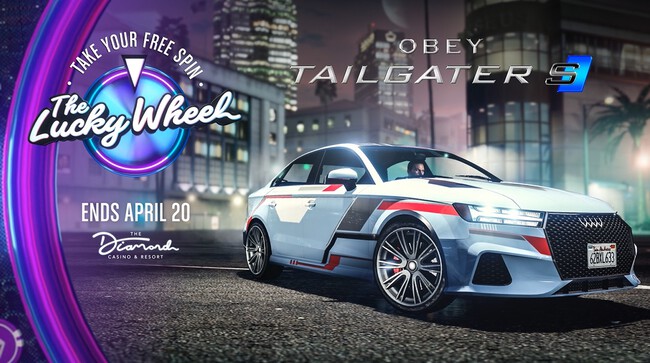 The Diamond Casino & Resort casino is waiting for you to come to the venue to participate in the Wheel of Fortune, which will allow you to choose to take clothes, money, snacks and a series of other gifts, among which is the podium vehicle. For this occasion we have chosen the Obey Tailgater Sa four-door sedan.
Items to get for free
When you have some free time there are certain objectives that you cannot ignore because thanks to it you will get several items for free. You just have to follow the instructions in these guides:
Exclusive PS5 and Xbox Series Bonuses
Those who play GTA V multiplayer on PS5 and Xbox Series X/S will have access to a series of special bonuses that will require them to visit Hao's Special Works at the LS Car Meet for all of the following:
time trial: During these days any Hao vehicle can be tested in the HSW time trial between the Ron Alternates wind farm and Elysian Island.
premium test vehicle: While you're here you can get behind the wheel of the Principe Deveste Eight premium test vehicle, specially designed to intimidate anyone.
Additional rewards and bonuses
Among the many activities available in Los Santos there are a few with which you will get a series of bonuses and rewards most interesting, so take advantage of your time to pass the time in the following ways:
Extraction: In this mode, a VIP's plane has had an accident and you have to protect it until it reaches a checkpoint, so one group will try to kill it and another will try to avoid it. No matter what happens, everyone will receive triple dollars and reputation points.
Work on special vehicles: Those who carry out these types of missions will receive double the rewards if they successfully complete them with the modified vehicles that are assigned.
arms dealers– Any bunker research to complete weapon research projects or vehicle modifications will be done twice as fast.
discounts
Karin Technical Aqua
Between the discounts that have been applied these days we find a 50% discount on bunker supplies, so that the investigations do not stop at any time. Additionally, Export and Special Cargo Warehouses are 30% cheaper along with the following vehicles:
Vehicle

Discount

Original price

discount price

Coil Rocket Voltic

30%

$3,830,400

$2,681,280

Declasse Tampa Armed

40%

$2,108,050

$1,264,830

Emperor ETR1

40%

$1,995,000

$1,197,000

HVY Nightshark

40%

$1,245,000

$747,000

Karin Sultan RS Classic

40%

$1,789,000

$1,073,400

Karin Technical Aqua

40%

$1,489,600

$893,760

Pegassi Bullfighter

fifty%

$998,000

$499,000

Bonuses with Prime Gaming
One of the simplest ways to win $100,000 for free is to be Prime Gaming subscriber. If this is your case, you will only need to link the account with the Rockstar Games Social Club and play at any time this week to get that amount of money.
More GTA Online guides