Share
Tactical turn-based battles in which we will fight to survive.
It will seem to many that the experiences that have occurred from the year 2020 to the present are being especially ominous. In fact, there compelling reasons to support that idea. However, although in many cases it seems that reality is stranger than fiction, if we take this game as a reference, there will be practically nothing in reality that is bigger than this fiction. And it is that, with a game like Warhammer 40,000: Chaos Gate – Daemonhunterswhich makes us advance 40 millennia in time, we will be able to escape from reality saving the galaxy with the ever-reliable Gray Knights.
Although this is a niche franchise, there will be few people who have never heard of Warhammer. Indeed, we are referring to that franchise of figures prepared to paint and emulate large-scale battles. Of course, in this case we are talking about Warhammer 40,000, which takes us to a dystopian future that combines fantasy and science fictionand its adaptation to video games with the striking tactical RPG that is Warhammer 40,000: Chaos Gate – Daemonhunters, sequel to the homonymous title published 25 years ago.
This new title from the extensive collection of video games from the Warhammer universe It will be released on PC on May 5. We have been able to test some levels that have allowed us know in broad strokes the mechanics and aspects that make this game shine. In the two hours of gameplay that we have been able to enjoy, we have familiarized ourselves with the controls through a tutorial, we have played two campaign missions, and we have tried a challenge that has put our assault team to the limit.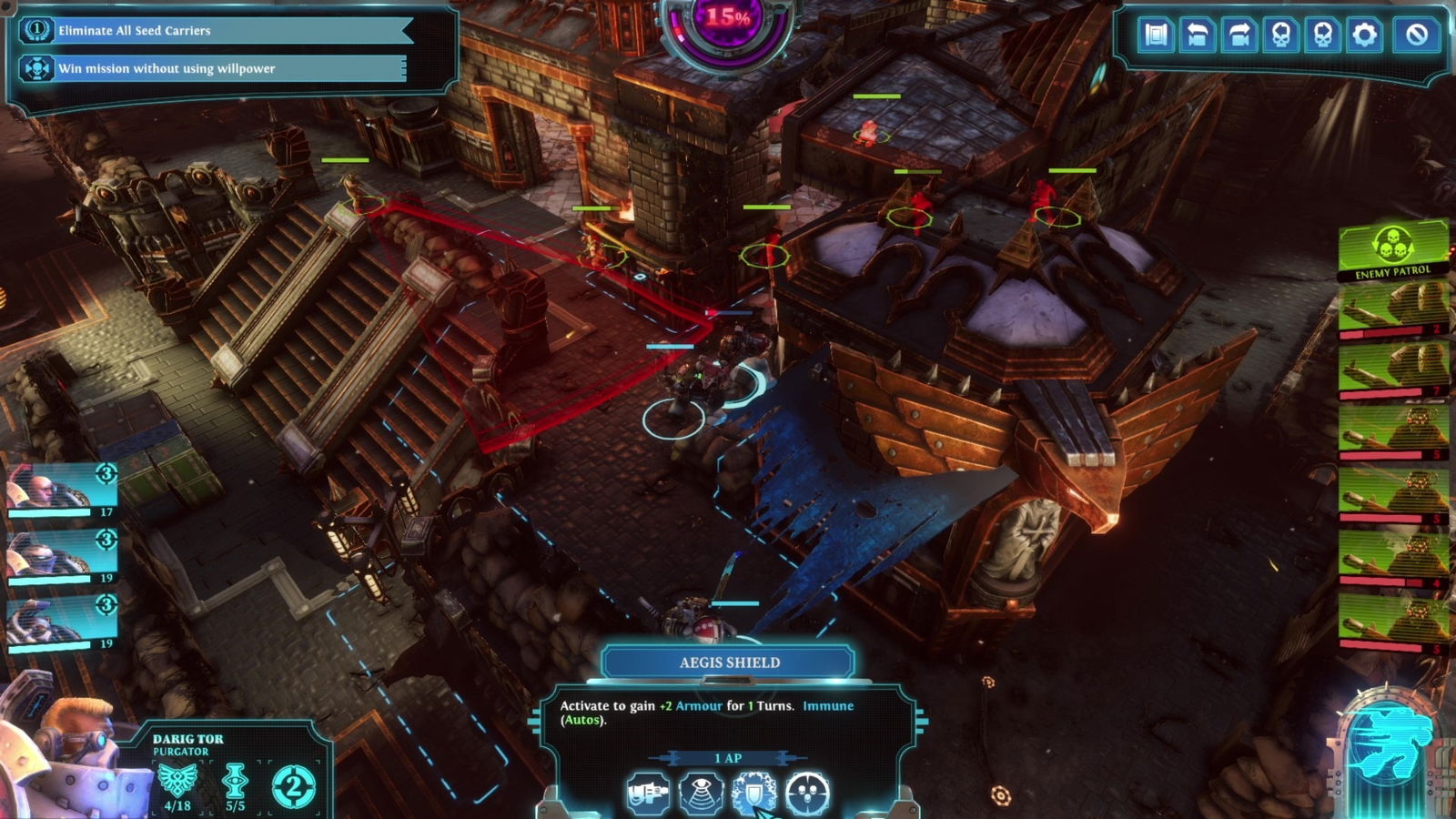 The future needs the Gray Knights
As we have mentioned before, this installment is a direct sequel to Warhammer 40,000: Chaos Gate, also a turn-based strategy title that was published in 1997 that, with a story premise along the same lines, represents a spectacular advance in the technical aspects and depth of the game. This is a perfect opportunity for newer players in the Warhammer 40,000 universe also discover valuable deliveries that marked the subsequent path of the saga in terms of video games.
Regarding the story, we will avoid giving many details so that everyone can enjoy its argument, but this contact with Warhammer 40,000 Chaos Gate – Daemonhunters leaves us a very clear idea of ​​the main premise of the game.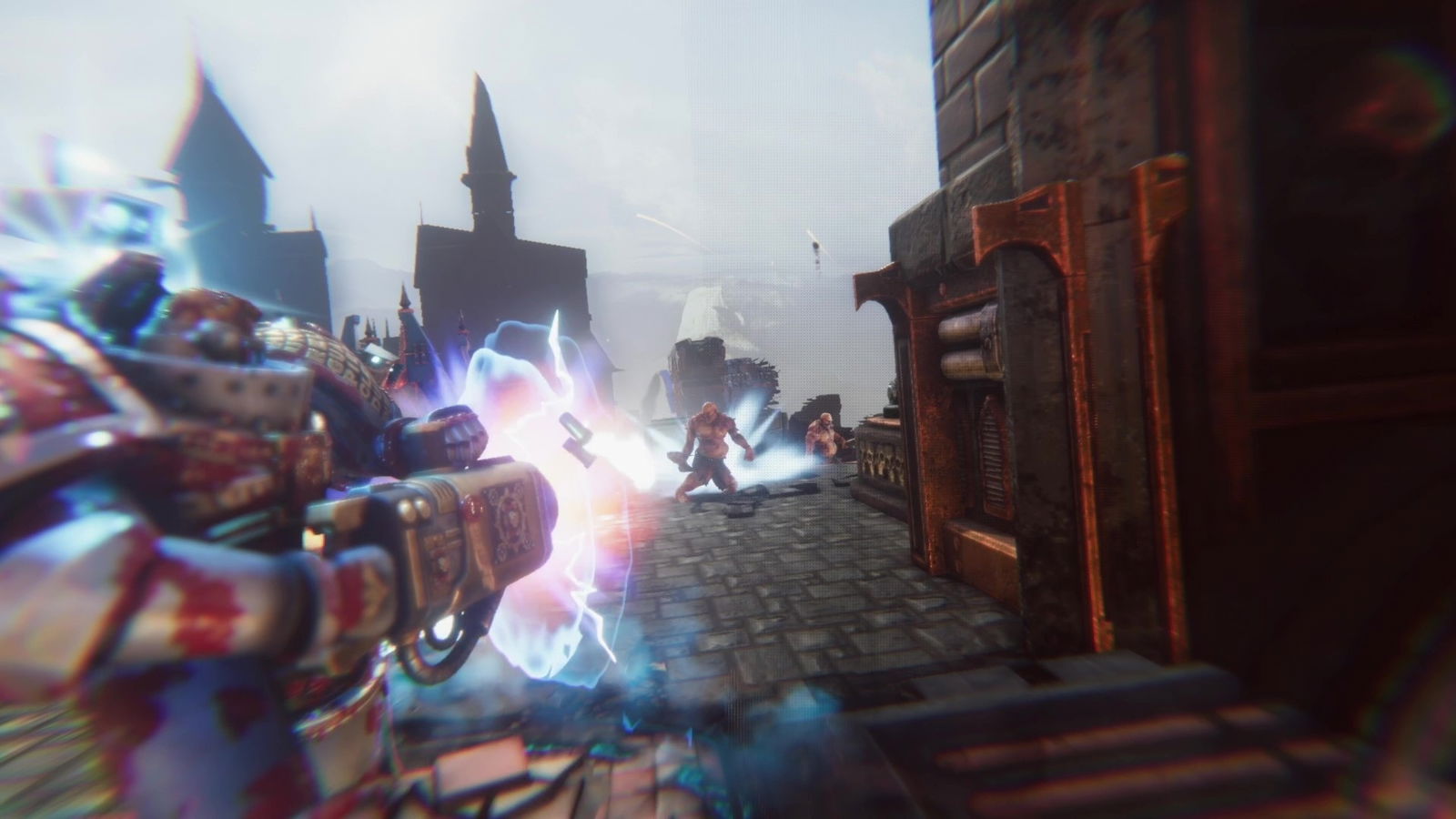 we will take care of lead a commando of Gray Knights that, under the orders of the Empire, they will have to fight against the Outbreak, a nest of corruption, miasma and destruction that rapidly eats away at worlds. To do this, we will have to get in the way of the plans of the Chaos Space Marines of the Death Watch.
Tactical turn-based combat in true XCOM style
Most of the game we will spend it in turn-based combat. As we mentioned, following a very "XCOM" style, we will have to choose in turns the different actions of our combat squad. We will place them strategically on stage, we will take advantage of the particular abilities of each one of them and, above all, we will do everything necessary to meet the objectives imposed on us. We will be able to attack with brutal combos at close range, shoot our enemies from a safe position, and even use the environment to cover our warriors or attack opponents.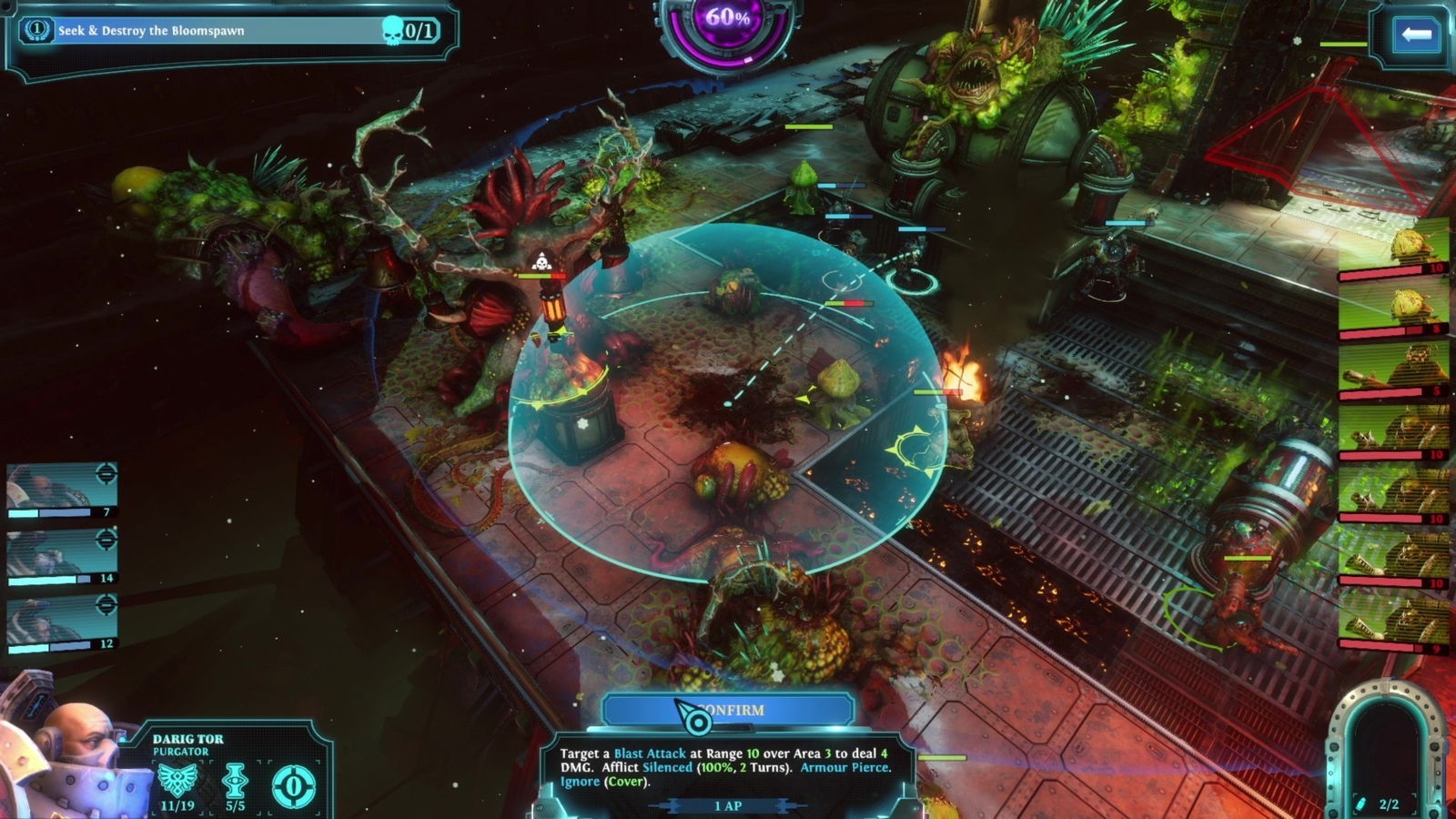 An important aspect to keep in mind is that the gray knights that we will have at our disposal will have a wide variety of statistics. At first glance, yes. it may seem that all units are very similar because of the great armor they wear, but when we have been playing for a while, we also end up differentiating one soldier from another. One can be specialized in support, with thrown objects and with medical powers; another, slower, can be a great tank with good physical attack and defense qualities; another may be specialized in psychic attacks; and another, can have great qualities to attack from a distance. Using them properly will allow us to overcome missions more easily..
It is also important to know properly choose our team before each mission. In these first impressions we have not delved much into this aspect, but we have been able to appreciate that, so that a mission does not go wrong, we must choose the warriors conscientiously. That is, if we know in advance that it is going to be a mission against heavy enemies in a very open space, it suits us choose characters with good defensive qualities or with healing powers. On the other hand, if we play a scenario with many covered areas, we can bet on ranged shooters or fast characters to favor ambushes. The preparation of the tactic is essential for the result to be satisfactory.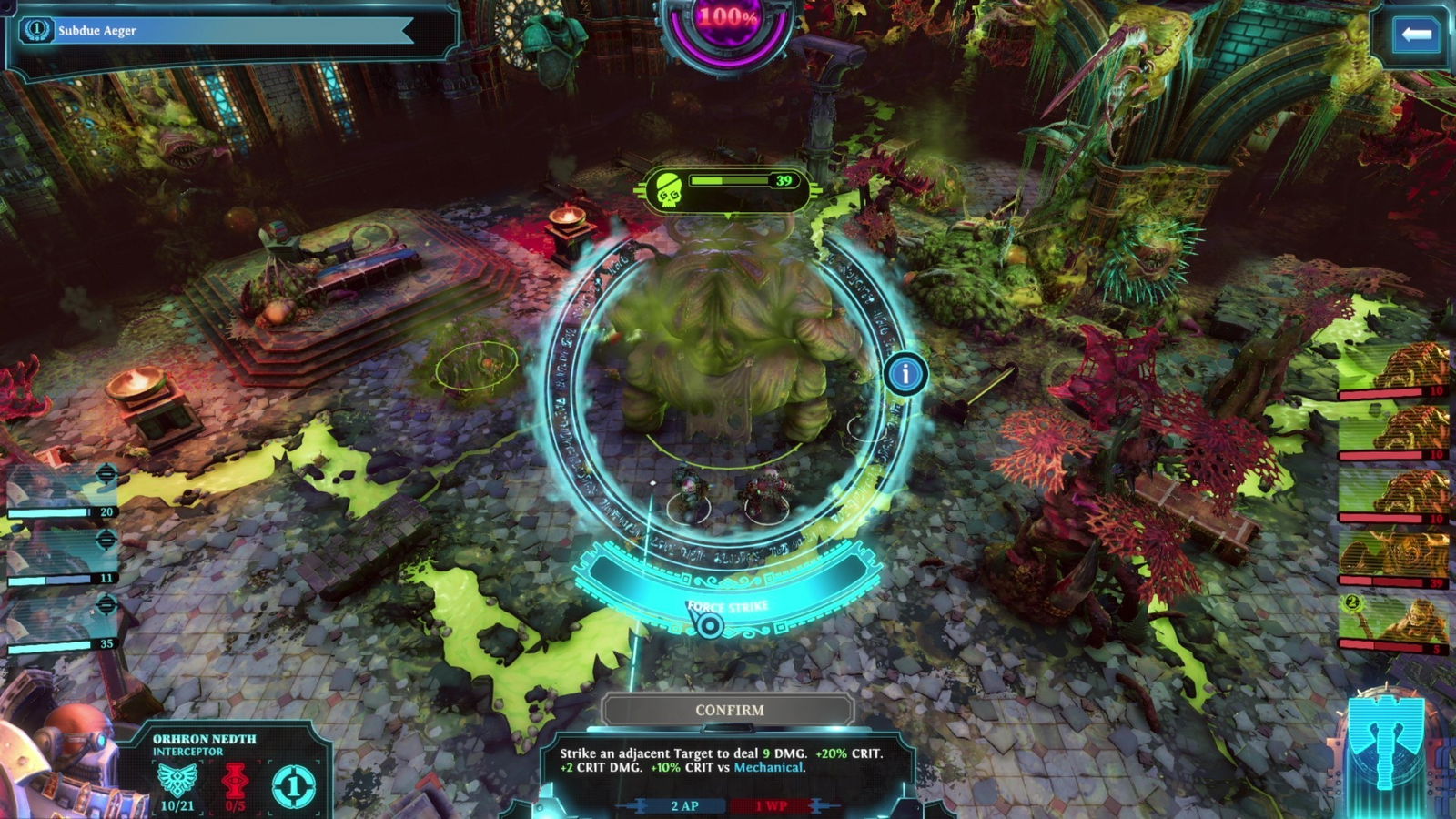 Challenges and objectives for fearless soldiers
It probably goes without saying that Warhammer 40,000: Chaos Gate – Daemonhunters will be a delight for players who love tactical turn-based combat. But it is that, in addition, the missions will not be enough simply to annihilate the enemy platoon. Sometimes, beyond exterminating the soldiers or monsters that come our way, we will have to accomplish more specific missions. For example, in one of the missions that we have tested for our first impressions, we had to destroy a core of the Outbreakthus stopping its expansion to reduce the threat that this biological plague poses to the Empire.
In addition, we will also find certain optional objectives that, if fulfilled, will guarantee us better bonuses. For example, they can offer us things like completing a mission without using the special powers of any of the characters; in this way, this objective encourages us to fulfill our mission using only the weaponry of our Gray Knights. This will present a great challenge to those who seek great challenges, since the psychic powers and the power-ups of our attacks allow us to obtain a palpable advantage in our raids.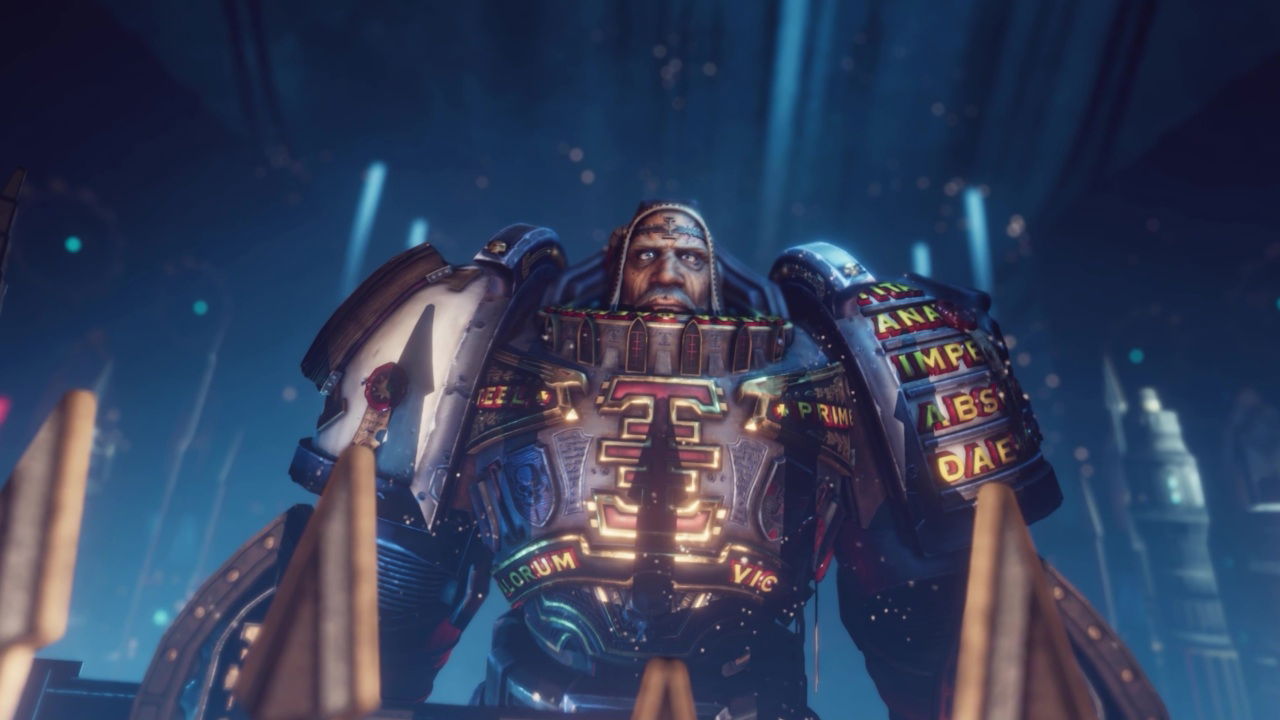 Do you dare to fight?
As a summary of these first impressions, we can affirm that this new installment set in the Warhammer 40,000 universe offers us a very exciting and rewarding experience. Lovers of Warhammer and tactical RPG video games will find a very special title in Chaos Gate – Daemonhunters, and, in the absence of playing the full game, its premise is most attractive.
It is true that, in terms of difficulty, the game offers an easy barrier to entry, but the specific objectives of the missions will make those looking for a difficult challenge also enjoy this installment. Warhammer 40,000: Chaos Gate – Daemonhunters will arrive on PC on May 4, so there are only a few weeks to wait for fans to enjoy this game that, once again, pays homage to the vast Warhammer universe.
Related topics: pc
Share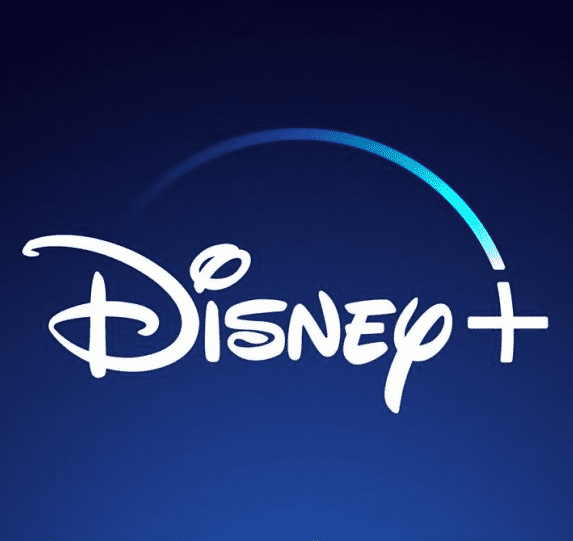 Sign up for Disney + for 8.99 euros and without permanence Subscribe to Disney +!