One of the video games that aims to make us have a lot of fun on Nintendo Switch when it hits stores next month is Nintendo Switch Sports, the sequel to the successful Wii Sports. This time it will leave us with a total of six sports designed to compete against our friends and family or even against other people in the world.
To be clear about everything that lies ahead, Nintendo has published a complete video in which he shows each and every one of the strong points of this title that will come out in a few weeks. This shows us that the different matches will be played in Spocco Square, a building created for sports lovers.
But the important thing is the games that we will have at our disposal, which will be the following:
Volleyball: in it the movements of the arms of the characters will be the same as we would do in real life.
Badminton: here it will be enough to shake the Joy-Con sideways to hit the steering wheel to sneak it into the rival's field.
Bowling: You can play normal games or add a little more excitement by placing obstacles on the track.
Soccer: the matches that can be played will be one against one or there is even the possibility of bringing together eight people, four for each side, in the same game.
jacket: based on hitting, protecting and counterattacking, we will have to hit our opponent with a sword until he is knocked off the platform.
Tennis: the matches will be two against two and will influence the movement of our arms and the strength when hitting the ball.
Any of these sports can be play with local or online multiplayer. In the latter case, up to eight people can also get together to play a soccer game or show that they are the best in Survival Bowling, a special Bowling mode with a capacity for up to 16 players.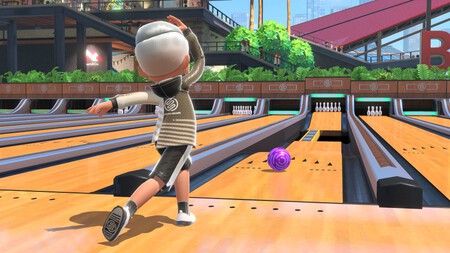 In addition, playing online will award points and ranks based on the victories that are obtained, which in turn will serve to unlock cosmetic items. And it is that the characters will be able to modify their physical appearance, as well as the clothes they will wear, although there will also be the option of choosing our own Mii.
All this will be from April 29the day that Nintendo Switch Sports will be published on Nintendo Switch. However, the big N is already working on more news, such as a free update that will arrive in the summer to add the option of hitting the ball with the real leg in soccer or another that will be available in the fall and will incorporate golf into the list of sports.