New World premiered at the end of September of last year, debuting as a mass success in a title that mixed in a very particular way the concepts of MMORPG and survival game that married really well in this proposal.
After initial success, NewWorld has been quite obviously losing many of its players in part due to other releases and also due to the lack of content end gamesomething that Amazon wants to solve by presenting the new March update for the game and a roadmap for the remainder of 2022.
This month's update, called Heart of Madness, focuses on offering us a new expedition called Heart of the Tempest in which players will be able to discover the illusory and supernatural dimension in which Isabella's mind is submerged, full of corruption and evil. chaos, in addition to other additions and quality of life improvements such as infinite ammunition or that only one player is needed at the entrance of the expedition.
Regarding the rest of the year, Amazon Games has not given specific dates for the new content, but we do know that we are going to have two important updates that will be distributed in the summer and fall and that will offer us two new expeditions, a new territory to explore, a new weapon, as well as various community events and improvements such as the Expedition Party Finder and the Leaderboard.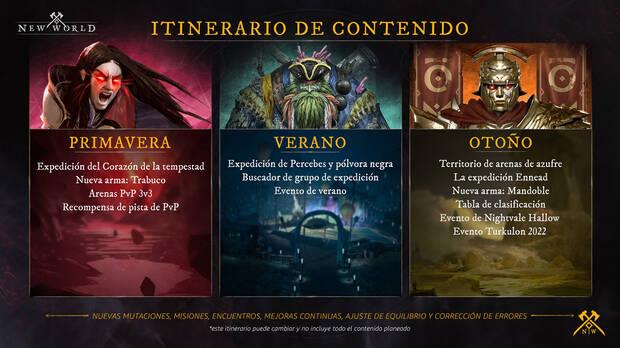 With this Amazon Games is obviously looking for New World to take flight since it currently has about 30,000 simultaneous players daily on Steam, a figure that is not bad but that is far from the peak of 913,634 simultaneous players that it once had in its premiere.
What do you think of Amazon's plans for New World? Will you return to the game to discover the new expeditions or try the new weapon?