In GTA Online you will always find ways to pass the time, be it with missions, jobs, races, as well as being able to take advantage of bonuses or try to unlock the items that are given away. All this and much more we will tell you in detail in the following guide of what you will find in the game Until 15 June.
All bonuses and discounts until June 1, 2022
Podium Vehicle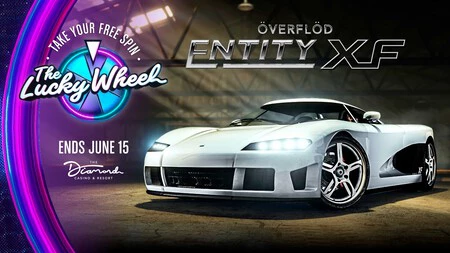 In the lobby of The Diamond Casino & Resort casino you will find the Wheel of Fortune. Participants will be able to win prizes such as clothing, food, money and even the podium vehicle, which on this occasion is the Överflöd Entity XFa hypercar that will not know the limits of speed.
Items to get for free
This time there is only one thing you can get for free and that is the vehicle Dewbauchee Specter. To do this you will have to go to the LS Car Meet and finish in the top five in the pursuit race series for three days in a row.
Exclusive PS5 and Xbox Series Bonuses
All players who have the version of PS5 and Xbox Series X/S will be able to enjoy these exclusive bonuses available at the LS Car Meet:
Race against the clock: In this week's special race you will have to go as fast as you can from the Ron Alternates wind farm to Elysian Island.
premium test vehicle: On the test track at Hao's Special Works you can see how the modified Coil Cyclone II performs from top to bottom.
Additional rewards and bonuses
Among all the available game modes there are several with which you will get along more money and reputation points than normalso do not miss all the following:
pursuit races: In these fast races you will be on the heels of a group of police cars, so you will have to get rid of them, but no matter what happens, you will earn double dollars and reputation points.
Gerald's contact missions: When you can call Gerald to see if he needs help with any tasks, in which case he will give you double rewards in return.
Jobs for the casino and casino story missions: In this place you will be able to carry out jobs and missions in which you will have to lend a cable to Agatha Baker and Vincent to get double dollars and reputation points.
Vendetta at the wheel: Vehicles can be equipped with machine guns and power-ups that are scattered around the map, but participating will give you double the rewards.
discounts
Dewbauchee Vagner
Penthouse owners at The Diamond Casino & Resort will be able to customize their bar for 30% less than normal, but can also take advantage of the 30% discount on luxury apartments and all of the following vehicle discounts of the most special.
Vehicle

Discount

ORIGINAL PRICE

DISCOUNT PRICE

Dewbauchee Champion

30%

$2,995,000

$2,096,500

exemplar dewbauchee

fifty%

$205,000

$102,500

Dewbauchee JB 700

fifty%

$350,000

$175,000

Dewbauchee Massacro

fifty%

$275,000

$137,500

DEWBAUCHEE MASSACRO Racing

fifty%

$385,000

$192,500

DEWBAUCHEE RAPID GT

fifty%

$140,000

$70,000

Dewbauchee Rapid GT Classic

30%

$885,000

$619,500

Dewbauchee Specter

fifty%

$599,000

$299,500

Dewbauchee Specter Custom

fifty%

$252,000

$126,000

DEWBAUCHEE VAGNER

30%

$1,535,000

$1,074,500

överflöd Autarch

30%

$1,955,000

$1,368,500

ÖVERFLÖD Entity XXR

30%

$2,305,000

$1,613,500

ÖVERFLÖD Imorgon

30%

$2,165,000

$1,515,500

ÖVERFLÖD Tyrant

30%

$2,515,000

$1,760,500
Bonuses with Prime Gaming
During the entire month of June you can get up to 300,000 dollars a week. One of the prerequisites for this is to be Prime Gaming subscriber and link your account to the Rockstar Games Social Club account, earning you $100,000 just for playing anytime during the week.
More GTA Online guides